Nearly a year before the US supreme court eviscerated Roe v Wade, the court allowed an unprecedented abortion ban to take effect in Texas, serving as a harbinger of what was to sweep over the rest of the country.
The most restrictive abortion law at the time, with no exception for rape, incest, or lethal fetal abnormality, Senate Bill 8 barred care after six weeks of pregnancy, and carried a private enforcement provision that empowered anyone to sue a provider or someone who "aids or abets" the procedure.
The move successfully wiped out almost all abortion care in the second-most populous state in the US. When Dobbs v Jackson Women's Health Organization hit, the state doubled down, criminally banning all care and solidifying itself as the largest state in the US to outlaw abortion.
In the two years since, Texas abortion providers – some of the first in the US to experience a nearly post-Roe world – reflect on the devastating and lasting effect of the severe law, the trauma they felt denying patients care, and the struggle they faced when deciding whether or not to flee the state or stay put.
Dr Jessica Rubino: 'The law forced me to be a bad doctor'
When Senate Bill 8 took effect, Dr Rubino felt like she was on a "sinking ship". The abortion provider and family medicine specialist was forced to turn away dozens of patients at Austin Women's Health Center – including one who was experiencing kidney failure. At the same time, patients below the six-week mark were rushing to choose abortion care before it was too late, leaving thoughtful decision-making behind.
"I had to tell people there's nothing I can legally do for you, unless you're on death's doorstep," said Rubino. "The law forced me to be a bad doctor."
"It was heartbreaking and soul-crushing," she continued. "I was watching a healthcare disaster play out in real time, knowing that this law not only affects our state but is causing a ripple effect in every other state. With SB 8 – and even years before the law – we saw the writing on the wall with Roe and tried to warn everyone, but I'm not sure who was listening."
Rubino also recalled a conversation she had six months prior to SB 8 with colleagues across the state who appeared united, vowing to continue providing care despite the law's consequences. People are going to die, she told them, we should take the "personal hit". However, that wave of defiance never materialized. Rubino lacked critical mass.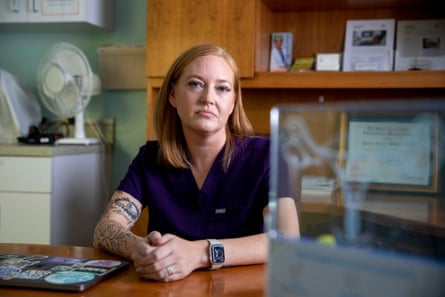 She soon fell into an "extreme" depression; it was difficult to get out of bed each day and she eventually sought mental health therapy and antidepressants. Her brain felt "broken", she said. After Dobbs, she stopped performing abortion for nearly a year, exacerbating her gloom.
"Having to deny patients the healthcare you are trained – and able – to give them is something you never get over. It's not only medically unethical, it's morally wrong," said Rubino. "It was traumatizing, and it still haunts me."
SB 8, she said, was the tipping point for abortion providers in Texas like her who have been forced to navigate onerous laws over the years that compromise the care they give, including a mandatory sonogram and 24-hour waiting period that incorporates relaying erroneous medical information, bans on insurance coverage for care, restrictions on minors' access to abortion, and more.
In May, under the advice of attorneys and those closest to her, Rubino and her family left Texas with no plans to return. She worked at a clinic in Bristol, Virginia, where she largely served patients in banned southern states, before moving to DC in late August to help expand abortion services at a reproductive health clinic there.
Rubino still struggles with the decision to flee Texas, while also acknowledging the legal inability to continue her calling.
"There is a sense of guilt, of letting down the community I serve. Sometimes I feel like I gave up on these people," she said.
She also worries that a national abortion ban could once again pull her away from the community she now treats. She considers one day working in the UK or New Zealand.
Rubino feels deeply anxious about the fate of the patients she has left behind and mentioned a recurring patient, a victim of domestic violence, whose partner blocked her access to birth control.
"She's going to call and I'm not going to be there," said Rubino. "She's not in a safe situation and we know staying pregnant can lead to more abuse, and even death by an abusive partner. The safest thing for her would be to get an abortion but now she's not going to have that choice."
Dr Ghazaleh Moayedi: 'Inhumane and illogical'
Testifying before Congress three separate times to oppose abortion bans and uplift the right to access, Dr Ghazaleh Moayedi has made her mark as an outspoken and passionate reproductive justice advocate for Texans.
But the road wasn't always clear for the doctor: unsure of what to do after graduating college, Moayedi's friend recommended she take a nanny job. Her boss was Amy Hagstrom-Miller, the head of a network of abortion clinics and then major figure in Texas reproductive rights who would go on to lead several legal challenges against the state, including a 2016 US supreme court victory. Moayedi began working in Miller's clinic, where she saw her interests collide.
As a "brown, Muslim" n Iranian American woman who grew up in Texas, Moayedi quickly realized the majority of state abortion doctors – largely white men – did not reflect the diversity of the patients they treated, and vowed to fix that.
"I could feel a palpable racial and cultural divide," she said. "None of the doctors looked like the people we take care of. I wanted to be a provider that helped represent the communities we serve. I decided to go to medical school with that goal as a driving force."
Moayedi has worked in Texas abortion care since 2014, weathering the roller coaster of state abortion laws, including a 2020 order to ban abortion under the pretense of the Covid emergency, which, at the time, upended her plans to start her own practice.
After SB 8, she transitioned her care to Oklahoma. When Oklahoma's abortion law took effect, she switched gears, providing ultrasounds in Texas to those traveling to and from out-of-state abortion care. Moayedi then became uncertain if she could safely venture to states where abortion was still legal, as the Texas attorney general, Ken Paxton, encouraged local prosecutors to go after providers shortly after Roe fell. She and abortion funds sued the state for legal protection, and paused their services in the meantime.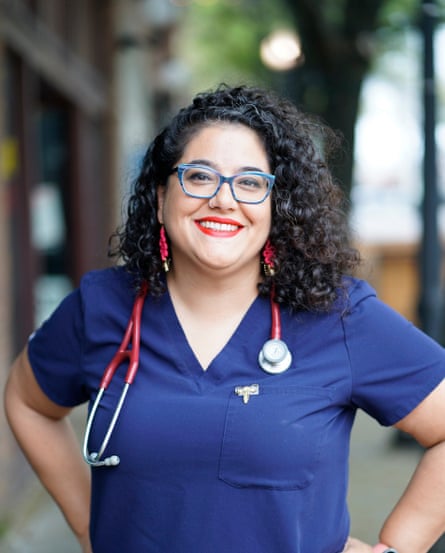 After securing a court victory, Moayedi has worked to build an abortion and miscarriage telemedicine practice, still in the process of getting off the ground. She is now licensed in 20 states – but only half allow abortion telemed. She also travels to Kansas, a safe haven state, to provide care.
"I've had to really pivot quite a bit. It's been absolutely wild," she said. "My practice doesn't look anything like I thought it would. For now, my goal is to stay in Texas but we'll see what happens."
Moayedi says the law's "inhumane and illogical" impact is especially pronounced when she is treating a patient in another state only to discover they're from not just the same city as her, but the same neighborhood.
"Here we both are, hundreds of miles away from our home and support system, just to receive healthcare," she said. "Moments like those just hit you in the gut."
As a complex family planning specialist, Moayedi constantly worries for patients with "potentially catastrophic" high-risk pregnancies, especially as the Texas law offers only vague medical emergency exceptions, leading patients to near-death experiences. She receives calls from colleagues wondering if pregnant patients with complications, like C-section scar ectopic pregnancies, can receive care in Texas. She often refers them out of state to be safe.
"I really don't have words to describe the deep, deep pain I feel," said Moayedi. "These laws are insulting, disgusting, cruel, and absolutely pointless."
The provider and advocate expresses disappointment with the federal administration, who she feels has failed to meaningfully protect abortion providers and patients since SB 8 took effect.
"The Biden administration's response has been a limp handshake," she said. "We want to see tangible, bold action to restore or at least prevent the further erosion of reproductive rights. We need unwavering support – not a leader who can barely say the word 'abortion'."
Kathy Kleinfeld: 'SB 8 was meant to be a fear tactic that paralyzed care'
Kathy Kleinfeld will never forget the desperation that swept over Houston Women's Reproductive Services after SB 8 took effect. Anxious patients begged her and her staff to perform abortion care past the six-week mark, even offering money under the table and other favors.
"They were crying and pleading with us, saying 'I'll do whatever you want,'" said Kleinfeld. "It was so heartbreaking, there was nothing we could do."
Patients – as well as clinic staff – held their breath during each ultrasound, hoping the pregnancy would fall under the state-mandated time frame. For those past the mark, Kleinfeld and colleagues became "dystopian travel agents" connecting patients with out-of-state care.
After 30 years of providing abortion in Houston, Kleinfeld had never experienced anything so chaotic and devastating. Then Dobbs hit.
"It felt like everything we experienced with SB 8 was magnified – it was like SB 8 on steroids," said Kleinfeld. "The intensity, the confusion, the chaos all became so overwhelming."
While she was forced to halt abortion care, Kleinfeld did not want to leave her patients behind. One month after the fall of Roe, she regrouped, considerably downsizing her 5,000 sq-ft clinic and cutting her staff by more than half. She now provides pre- and post- abortion ultrasounds for those traveling out of state, as well as abortion clinic referrals. Her clinic is only one of two former independent abortion providers in Texas – and just a handful across the US – that have not closed or moved away.
"We did not want to completely abandon pregnant people in Houston," said Kleinfeld. "We felt it was still really important to adapt and provide this necessary service. It feels absolutely awful to not be able to offer abortion care, but at the same time, we feel grateful to be able to still help patients in whatever way we can."
Her clinic received around 1,200 visits this year, with most traveling to and from New Mexico, Colorado and Kansas.
The fear unleashed by SB 8 two years ago still lingers today: Patients are scared to disclose that they want or have had an abortion; they are fearful to bring a partner or family member with them to a procedure out-of-state or even to the ultrasound at Kleinfeld's clinic, worrying that a loved one may be in legal trouble for "aiding or abetting" care.
"We still have to explain to patients all the time that it is not illegal to help someone obtain a legal abortion," said Kleinfeld. "SB 8 was meant to be a fear tactic that paralyzed care and instilled anxiety in patients, and even after Dobbs, we are still seeing its impact."
Dr Alan Braid and Andrea Gallegos: 'Waving our hands hands on top of a burning building'
As a medical resident in 1972, Dr Alan Braid will never forget treating a 15-year-old girl in a San Antonio emergency room who was suffering from sepsis – a life-threatening blood infection – after a botched and illegal abortion, her vaginal cavity packed with rags. Braid and doctors did everything they could but the infection was so severe, she died a few days later from massive organ failure. That year, he saw another two teenagers die from illegal abortions.
It was then that Braid realized that abortion care was vital and medically necessary, an inextricable component of overall healthcare. One year later, Roe would help solidify and protect Braid's mission.
For the next 45 years, he provided ob-gyn and abortion care in Texas. When Senate Bill 8 hit, it felt like 1972 all over again, he said.
"To repeat history and expect a different outcome is insanity. Women will be injured and women will die – again – without access to healthcare," said Braid.
With a passion for reproductive rights, Andrea Gallegos joined her father's practice as manager of Alamo Women's Reproductive Services a few years ago. She describes the impact of SB 8 as "devastating" to patients, many of whom were saddled with multiple barriers to care. Even when staff would offer to pay for travel or the procedure itself, patients – still bound by the inability to find child care or time off work – couldn't make the journey out of state.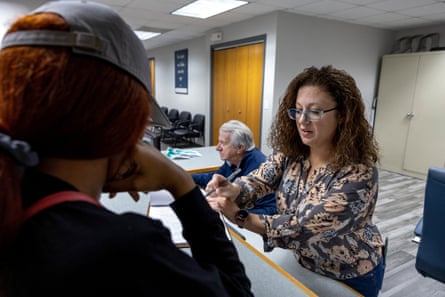 Braid felt like he had to fight back. In an act of overt defiance, the provider performed an abortion on a patient beyond the six-week limit. He was not only acting out of medical duty but hoped to invoke a legal challenge that would eventually halt SB 8.
"I don't think any of us really thought SB 8 would last – it's so blatantly unconstitutional and just crazy, we figured the courts – even a court as conservative as the fifth circuit – would recognize the law needs to be stopped," said Gallegos.
While Braid's intentional act of resistance attracted an outpouring of nationwide support, the lawsuits against him ultimately failed to halt SB 8, leaving the provider feeling largely defeated.
He and his team continued to navigate the draconian law, routinely sending patients to their Tulsa, Oklahoma, clinic, where the caseload tripled within the first couple of months, placing a strain on the out-of-state provider.
When Oklahoma's governor signed into law an abortion ban – modeled after Texas's SB 8 – in April 2022, Braid was forced to shutter the critical pipeline for Texans.
"It felt like we were waving our hands on top of a burning building, trying to warn everyone else that this is what it's going to look like for the rest of the country soon," said Gallegos. "While we see the lack of access, the forced travel, the domino effect on surrounding clinics now everyday post-Dobbs, in Texas we were experiencing it first."
Following Roe's demise, Braid was forced to close the doors to his San Antonio clinic and stopped practicing abortion care in Texas after nearly five decades. In May, he officially moved to Albuquerque, New Mexico, where he has set up a clinic in the safe haven state.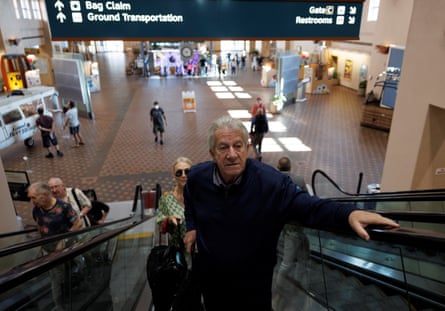 Gallegos relocated to Carbondale, Illinois, in July, a spot nestled between abortion-hostile states, to oversee a new clinic there.
Leaving Texas – and friends and family behind – is deeply "bittersweet" for the father-daughter duo: there is a sense of "abandonment" but also a recognition that the move was necessary.
"It's not easy to completely start over but I know this is where I'm supposed to be," said Gallegos.
For the abortion providers, it's also a painful reminder of the growing inequity of reproductive healthcare across the US.
"It hits me hard knowing geography has played such a significant role in privilege to access to what I consider basic healthcare," said Gallegos. "Geography should not determine if you can have a safe or dangerous pregnancy. We are living in a devastating reality."
Braid, now in his late 70s, describes working in New Mexico as "refreshing", as he can "just be a doctor" and not "have to call attorneys" for guidance every step of the way, as he did in Texas.
However, he has left his home state – and the place where he learned to be a physician so many years ago – with a tinge of regret, wishing he not only provided one abortion in violation of SB 8, but several more, convinced that the act of rebellion would have eventually led to a successful court battle that brought down the law. His daughter seeks to allay his remorse.
"I remind my dad that the law was so unprecedented, so hard to predict and navigate, none of us knew what would happen," said Gallegos. "In the end, the whole point of SB 8 was to elicit fear in abortion providers and sadly, that's exactly what it did."