These almond scones are probably the best scones I've made to date – so good!
Ever have the Starbucks Almond Croissant?  Not even sure they still sell them, but back in the day, I would eat one of those as a snack.  Like on the train going to work.  A pre-breakfast if you will.
That "pre-breakfast" was 17 points.  Gah.  
When Hannah and I were shopping last week, we found this Almond Paste.  I've never used it before, but thought it would be a great almond/sweet taste to a scone.  You all know how much I love my scones.
As soon as I took these out of the oven, I thought "these smell just like the Starbuck's almond croissants!"  So happy.
Ingredients needed for almond scones
all-purpose flour (you could use self-rising flour, but reduce the baking powder to 1 teaspoon)

sugar

Splenda (now here is where you can decide how much real sugar/Splenda you want to use – note that the points will obviously go way up if you use all sugar)

ground cinnamon (note that most spices last about a year – so if you've had the same cinnamon jar in your cupboard for a few years, I'd suggest getting new)

butter (this recipe only uses one tablespoon, so this isn't the time to use I Can't Believe It's Not Butter Light)

almond paste (found in the baking section of most grocery stores)

eggs

milk of choice (I used unsweetened almond milk)

almonds (I had whole salted and roasted almonds, I just crushed then in a ziplock bag)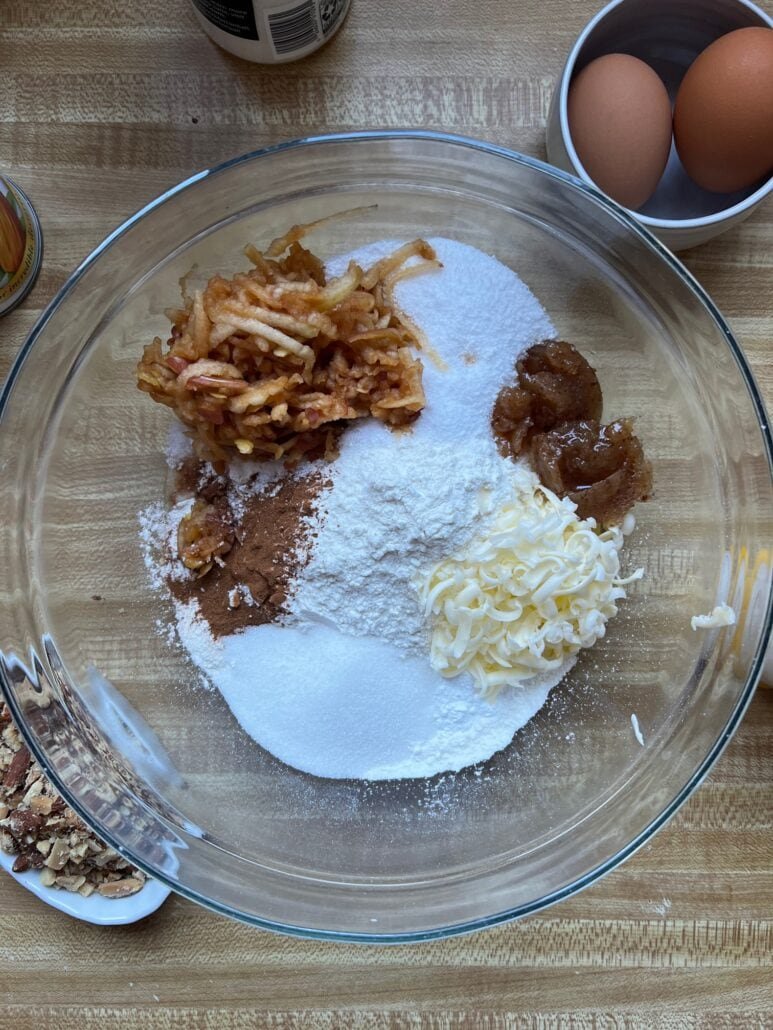 What is almond paste?
According to All Recipes, "Almond paste is a baking ingredient used in cookies, cakes, tarts, and other desserts. It consists of a mixture of almonds, sugar, a binding or thickening agent such as corn syrup or glucose, and a natural flavoring agent, usually almond extract. Commercially produced almond paste often contains preservatives to increase its shelf life. Almond paste is naturally gluten-free."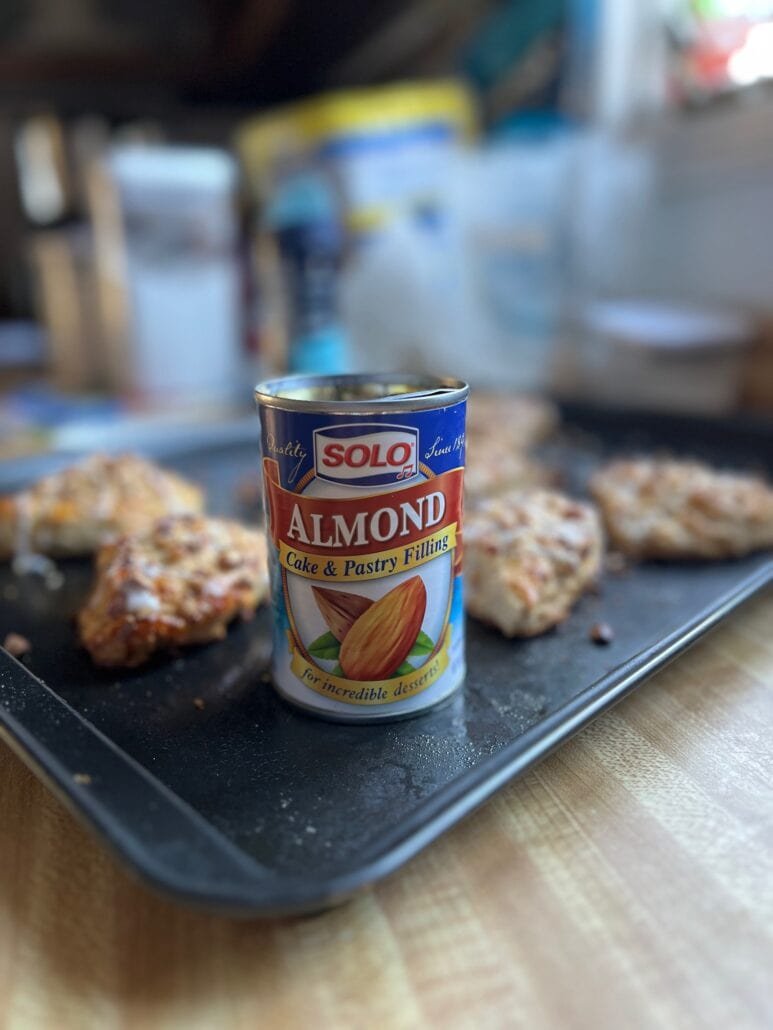 Once the flour through butter are in the bowl, mix with a fork, then get your hands in there and make sure the almond paste and butter are incorporated before adding the eggs and milk.
THE DOUGH WILL BY STICK AF!  Don't worry.  Dump the batter onto a parchment lined baking sheet and using wet hands, spread the dough into a 8-9 inch circle.  Freeze for 60 minutes.  This will help the dough cut easier into the 8 sections.
Once but, place on a baking sheet sprayed with avocado oil spray.  Brush with egg wash and divide the chopped almonds on top.  Bake for 18-20 minutes.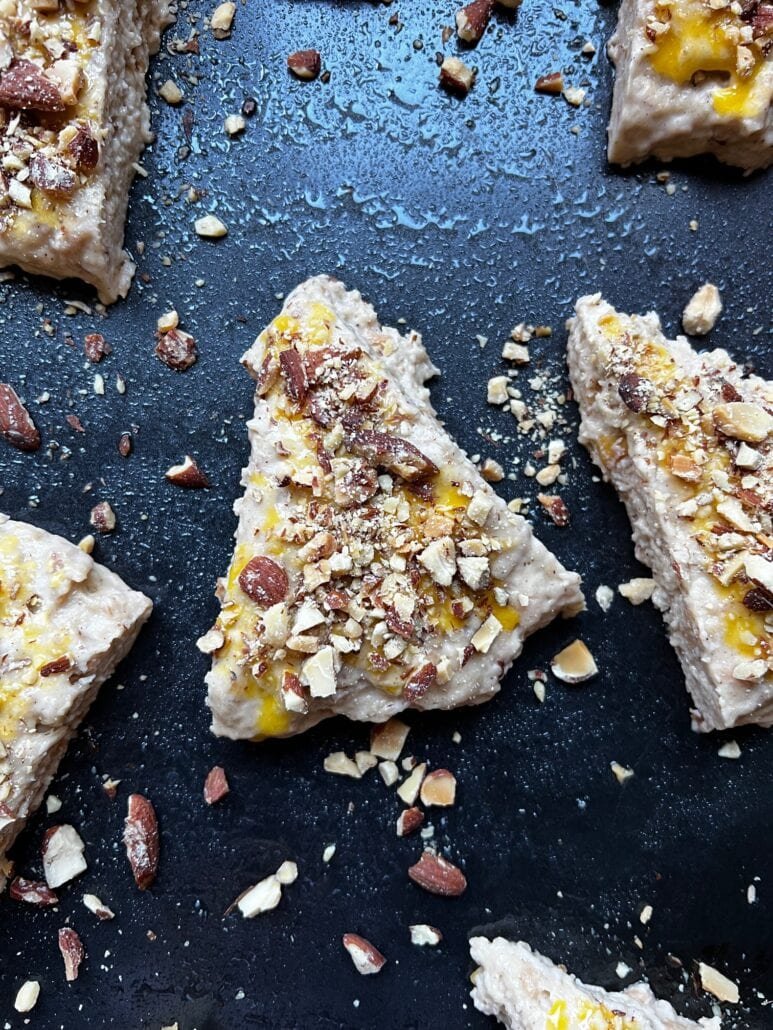 While the scones bake, mix the powdered sugar and half and half together.  Once the scones come out of the oven, let cool completely for glazing.  Since it was 24 degrees outside today, I just brought the cookie sheet outside and they were ready to glaze in about 5 minutes.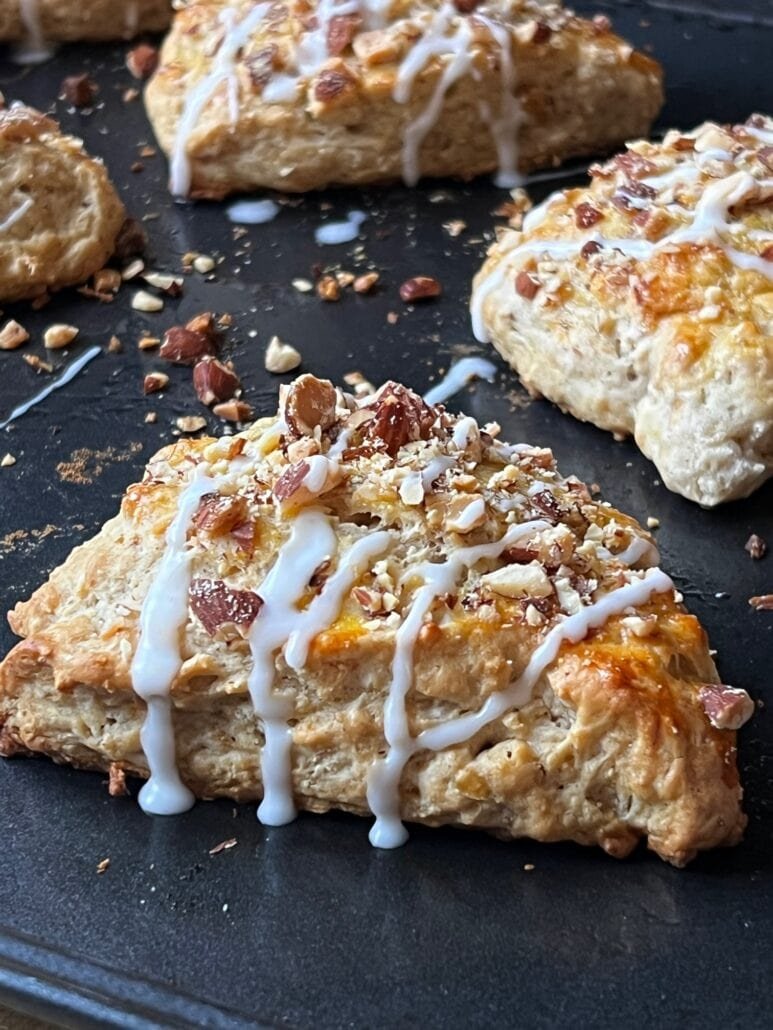 Ingredients
2 1/4 cups all-purpose flour
1/8 cup sugar
1/2 cup Splenda
1 teaspoon ground cinnamon
2 teaspoons baking powder
1 teaspoon salt
1 tablespoon butter, grated
2 tablespoons almond paste
2 large eggs
1/2 cup unsweetened almond milk (or milk of choice)
1/2 cup grated apple
1/4 cup roasted and salted almonds, chopped
egg yolk (for egg wash) mixed with 1 tablespoon water
1/4 cup powdered sugar (for glaze)
1 teaspoon half and half (or any milk) (for glaze)
Instructions
Heat oven to 375.
In a bowl, add the flour, sugar, Splenda, cinnamon, baking powder, salt, grated butter and almond paste. Mix with fork until mostly combined.
I used my fingers at this point to make sure the almond paste and butter were incorporated into the flour.
Add the eggs and almond milk and mix just until combined. It will be very wet – don't worry!
Place the dough on parchment paper. Using wet hands, press down and shape the dough into an 8-9 inch circle.
Freeze for at least 60 minutes. Slice into 8 pieces.
Place scones on baking sheet sprayed with avocado oil spray.
Brush with egg wash and divide the chopped almonds on top. Bake for 18-22 minutes.
Nutrition Information:
Yield: 12
Serving Size: 1
Amount Per Serving:
Calories: 208Total Fat: 8gSaturated Fat: 2gTrans Fat: 0gUnsaturated Fat: 6gCholesterol: 49mgSodium: 334mgCarbohydrates: 28gFiber: 2gSugar: 7gProtein: 6g
Add these scones to the list of things to make – soon!  If you are having company stay over during the holidays, you will WOW your guests with these.
Can I make the scones ahead of time?
Yes and no.  The scones batter can be refrigerated after the initial 60 minutes of freezing time.  After the 60 minutes of freezing, but into the 8 sections and place on a baking sheet and store in the fridge until ready to bake.  This can even be done the night before.  They truly taste best the same day made, but I don't mind dipping a two day old scone into a piping hot of coffee. 
Before baking, brush the scones with the egg wash and sprinkle with almonds.  You may need to bake an addition 2 minutes, but check on them around the 18 minute mark.
Can I make these gluten free?
My favorite gluten free flours are made with white rice flour.  Bob's Redmill has a lot of gluten free flours, but some of them use chickpea flour and coconut flour, among others.  I've found that the taste and texture of the white rice flour has the best taste and texture to all-purpose flour.
If you make these, please tag me on Instagram!