Most youth who start puberty blockers progress to gender-affirming hormones, raising concerns the drugs are 'locking in' a gender identity
Get the latest from Sharon Kirkey straight to your inbox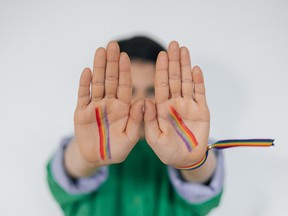 Article content
Puberty blockers are said to give children identifying as transgender more time to decide if they want to transition, while easing the distress of feeling as if their body is changing in the wrong direction.
Article content
But as referrals to gender clinics grow, so, too, are concerns over the use of puberty-pausing medications, including their potential impact on bones and brain function, and whether they make gender transition almost a foregone conclusion.
Most teens put on blockers move on to "cross-sex," or gender-affirming hormones, studies have found. The concern is that the drugs, by halting puberty, might "lock in" feelings of being the wrong gender, and put children on a virtually inexorable path to a full medical or surgical transition.
Agencies like Britain's National Health Service are softening earlier stances that the effects of puberty blockers are wholly reversible once stopped, while a U.K. review of existing studies found that the evidence for using the drugs is of "very low certainty." In the U.S., Republican legislators have filed roughly 100 bills aimed at restricting doctors from offering transition-related treatment to minors, laws critics say spread an anti-transgender agenda and are a violation of human rights. In Florida, a ban on gender-affirming care for trans youth who haven't yet begun treatment went into effect earlier this month. Sweden started restricting puberty blockers for minors a year ago, allowing it in rare cases only, after its National Board of Health and Welfare determined that the risks of hormone therapy "currently outweigh the possible benefits" for minors.
Article content
In Canada, some specialists have begun to call on doctors to "slow down" and take a more nuanced approach that's less quick to begin medical transition. Others are studying the potential impacts of puberty suppression on an adolescent's brain development.
Rather than simply a "pause" button, Dr. Hilary Cass, a British pediatrician who spearheaded a government-commissioned investigation that ultimately led to the shuttering of one of the world's largest gender identity clinics, London's Tavistock clinic, has suggested puberty blockers might essentially solidify feelings of being the opposite gender, by stopping normal hormonal surges that drive sexuality and gender identity through the early teen years.
Article content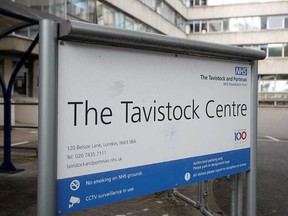 Doctors in Canada have been prescribing puberty blockers to children with gender identity disorders since the early 2000s. Child psychiatrist Dr. Susan Bradley, now 82 and the founder of a controversial former gender identity clinic at Toronto's Centre for Addiction and Mental Health, said she regrets using the drugs.
"I kept asking myself, 'Is it possible that we are actually colluding rather than taking the pressure off and giving (children) a chance to think everything out," Bradley said. "And it turns out that I think we were colluding, not consciously, but subconsciously," said Bradley, a professor emeritus of psychiatry at the University of Toronto.
"We now have more information that the majority of kids who go on blockers, they really do go right on to cross-sex hormones," she said — testosterone for females transitioning to male, and estrogen for males desiring to be female.
Article content
The CAMH clinic was shut down in 2015, and its then long-time director, psychologist Kenneth Zucker, unceremoniously ousted, under contentious circumstances.
We now have more information that the majority of kids who go on blockers, they really do go right on to cross-sex hormones
Puberty blockers, officially known as gonadotropin-releasing hormone agonists, were originally developed for children with precocious puberty, when puberty hits too soon. In those cases, the drugs are stopped once the child reaches an appropriate age for puberty.
The use for gender dysphoria is different. They're given once puberty has begun. Dutch clinics began using blockers for gender dysphoria in the 1990s. Regular injections of drugs like Lupron act on the brain to block the release of testosterone and estrogen and stop the body changes that come with puberty — breasts, broadening hips and menstrual periods in a child born female, voice deepening, body and facial hair, muscle mass and other changes in a child born male.
Article content
They don't make a female body more masculine, or a male more feminine. But by delaying puberty, they give youth identifying as transgender "more time to explore your gender identity, before changes happen to your body that can't be reversed," according to Trans Care BC.
But debate is growing within the field over "if, when and how" children with gender dysphoria should be medically or surgically treated, according to a new report from the British Medical Journal's investigations unit.
In the U.S., the number of private gender identity clinics has grown from a handful ten years ago, to more than 100, while stories of "de-transitioners" like Britain's Keira Bell who claim early treatment caused them irreversible harm, while still rare, are becoming more frequent.
Article content
A review published in the Canadian Medical Association Journal recommends that, as part of the now widely practised gender affirming approach to care, hormone blockers may be given once puberty starts — which occurs, on average, at age 10-and-a-half for children born female, and 11-and-a-half in those born male.
The guidelines also call for a thorough psychological assessment before treatment is started.
But some critics have accused clinics of fast-tracking children onto blockers. As the National Post's Tom Blackwell has reported, a London, Ont., clinic encouraged family doctors to consider starting children identifying as trans on blockers even before their first appointment at the clinic. Wait times are long, according to a form letter sent to doctors, and blockers may lessen distress in the children waiting to be seen.
Article content
Once puberty blockers are stopped, "your body will go through puberty just the way it would have if you had not taken puberty blockers at all," according to Trans Care BC, run by the province's provincial health authority.
However, claims that the effects are wholly reversible are becoming more nuanced.
Britain's National Health Service had long held that that the effects "are considered to be fully reversible."
That position, updated on the NHS website in June 2020, now reads that "little is known about the long-term effects of hormone or puberty blockers in children with gender dysphoria." While the physical effects may be reversible, "it is not known what the psychological effects may be. It's also not known whether hormone blockers affect the development of the teenage brain or children's bones. Side effects may also include hot flushes, fatigue and mood alterations," the website states.
Article content
One possibility is that by administering blockers we're halting some brain development
Canadian researchers, in a federally funded study, are looking at what potential impact, if any, puberty blockers may have on various aspects of brain function.
Adolescence is a dynamic period of brain development, said Doug VanderLaan, an associate professor at the University of Toronto Mississauga. "And there are a lot of theories and empirical work to suggest that hormones have some role in brain development during that period of time."
"One possibility is that by administering blockers we're halting some brain development," VanderLaan said. Another possibility is that brain development in a trans individual could depend more so on experiencing hormones that are associated with the gender the youth is experiencing, he said. "It might be the case with the trans boy (a child born female who identifies as male), maybe their brain will respond more to testosterone than it would have to estrogen, and that that actually could be important for some aspects of brain maturation."
Article content
Ottawa pediatric endocrinologist Dr. Margaret Lawson has been prescribing puberty blockers to children with gender dysphoria since 2006. The drugs have been used for over 35 years with precocious puberty, she said. "When stopped, puberty restarts within three to six months. That's been demonstrated conclusively," said Lawson, former co-director of the gender diversity clinic at Ottawa's Children's Hospital of Eastern Ontario.
Blockers help dramatically decrease feelings of distress that can increase anxiety and depression, Lawson said. Some studies have found they make it less likely for transgender people to have suicidal thoughts.
Lawson is co-principal investigator of a study that followed 174 children who were under 16 when they were referred to one of 10 gender identity clinics in Canada. They had waited an average of 13 to 14 months for gender-affirming care.
Article content
Over two years of follow-up, 74 per cent cent were put on Lupron. Nearly two-thirds went on to gender-affirming hormones.
One third of youth assigned female at birth were referred for "top surgery," some as young as 14.
Another study involving 349 youth, ages eight to 18, who were followed for an average of two years, but as long as nearly seven, found only 2.9 per cent returned to their gender assigned at birth — a "desistance" rate far lower than older studies, Lawson and her colleagues have reported.
Gender identity is "consistent and persistent in most adolescents who present with gender dysphoria," Lawson said.
She rejects the suggestion blockers "lock in" young people to a particular path. "They would have chosen to start gender-affirming hormones whether they had or had not started on hormone blockers."
Article content
Not all children with gender dysphoria go on blockers. Some parents "are pretty much opposed to initial hormonal therapy, and so they're going to stay away from clinics where hormonal suppression is pretty much thrown out as the first line of treatment, as opposed to there being more time to explore things," Zucker said. "There is this whole sub-population of kids with gender dysphoria that we don't know a lot about."
"After good evaluation and further exploration, and if one reaches a conclusion that all of the options have been appropriately explored, then it may be in their best interests to be giving hormonal suppression," Zucker said.
But he said he finds it "sort of ironic" that some doctors are now calling on their peers to slow down a bit. "One of the criticisms of the CAMH gender identity clinic was that perhaps we were too cautious."
Get the latest from Sharon Kirkey straight to your inbox