Back to School, Back to Meal Planning: Blog Series Part 6
Check out the blogs we've covered so far in this series:
Back to School, Back to Meal Planning (survey results and tips to meal plan faster)
Picky Eaters and Bariatric Surgery (Part One)
Picking Eating and Bariatric Surgery (Part Two) 
Just two topics left in the series! Cooking for one and stocking your freezer! (It's time to wrap things up because CRAVINGS is up next – the theme for our Fall Challenge!)
Bariatric Batch Cooking
Batch cooking can be a bit of a buzz word in the bariatric community so first up, I want to put some of my personal definitions to phrases you might hear.
Meal planning – the act of planning out your meals for the days ahead (also called menu planning)
Meal prep – Preparing the ingredients needed for the recipes. It could be meal prep for one meal or it could be cutting all the veggies for the next few days to save time later.
Batch cooking – Cooking at least one recipe (could be more) to be batched into smaller portions and saved for another day.
It may seem silly to start out with definitions but I do think sometimes the phrase "batch cooking" can bring visions of an overwhelming Sunday in the kitchen cooking all your food for the week ahead.
The good new is, batch cooking can be simplified and a really helpful practice within your meal planning!
First step to bariatric batch cooking, meal planning
Before we jump into recipes and kitchen tools (we definitely are) let's dial it back a moment and talk about the planning element.
If you've followed this blog series "Back to School: Back to Meal Planning" you may recall I talk about meal planning styles. We all have different ways of approaching planning or organizing our food life. It's all good!
To be a "batch cooker" you don't have to have the worlds most perfectly organized meal plan. In fact, sometimes I just end up with extra food and freeze it for later (which is batch cooking).
That being said, if batch cooking is something you are wanting to implement to better stay on track and have your food prepared and ready for you, the planning element is the key to unleashing the power of batch cooking.
Start with determining your meal needs and your cooking time
Great news! Many times this only needs to be done once until your schedule changes up again. This step will allow you to really see how much time you have for cooking versus how many meals you need.
I think this is step is super important because we either a) get intimidated that we need to make tons of meals or b) overestimate how much time we have or want to be cooking.
Be very honest if you tend to get tired mid-way through the week and rarely feel like cooking on Wednesday nights, even if you have no plans. Also, batch cooking doesn't have to be for the full week. You can have two smaller sessions of batch cooking in a week (plus multiple meals cooking at once, more on that later).
Other things to make note of: who are you cooking for and what is the weather like!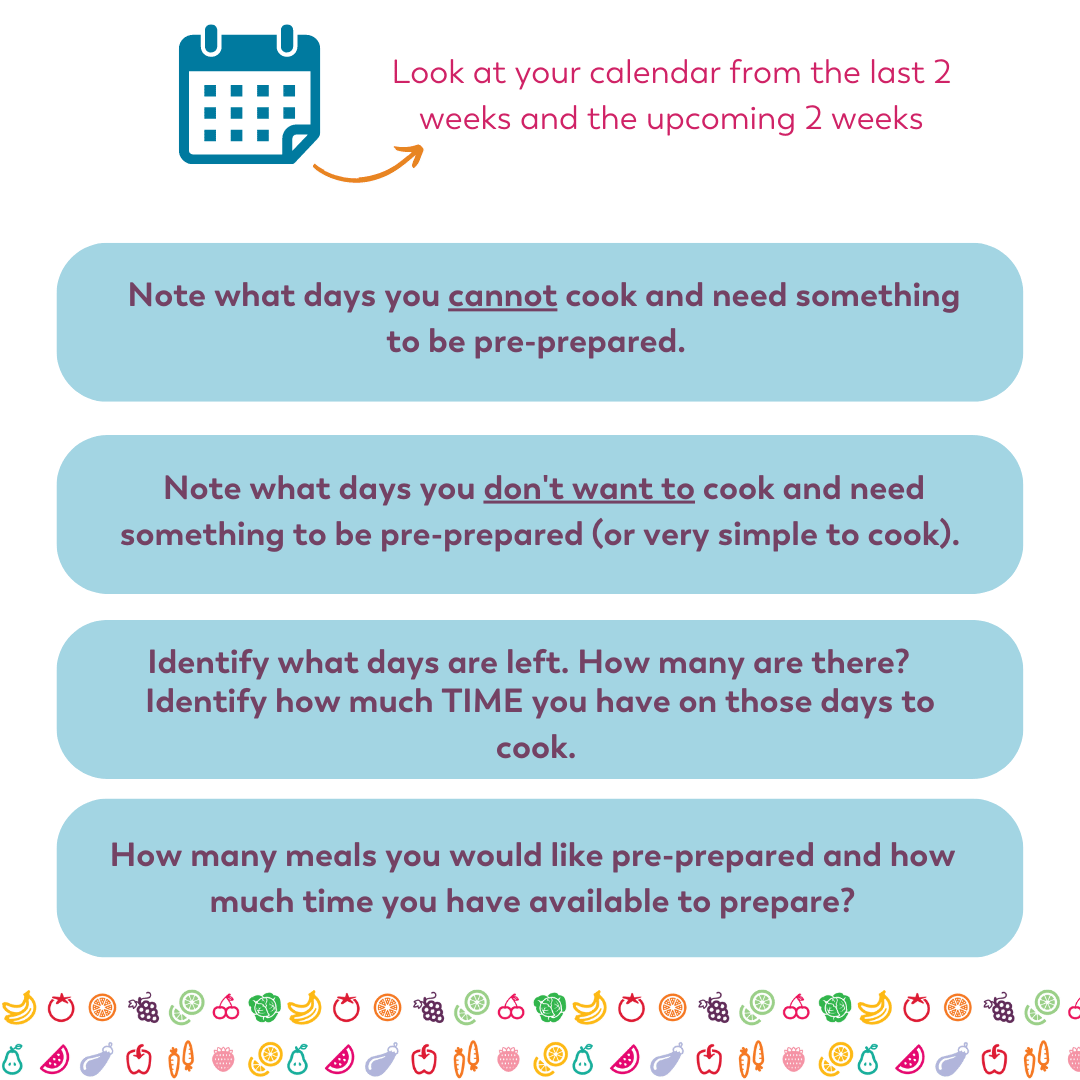 Look at your calendar from the last two weeks and the upcoming 2 weeks. This will both remind you of how the week really played out, and let you know what is coming up.
Note what days you cannot cook because of your schedule. Also note which days you have a feeling you don't want to cook. (Be honest with yourself!)
Identify what days are left for cooking. Take it a step further and identify how much TIME you have to cook.
For example, if you are batch cooking for the week ahead and you can't cook 3 of the nights and probably won't want to cook 2 of the nights, you have 2 days left. How much time do you have on those 2 days? Is it easier to make several meals one day and eat off them or do you prefer two nights of cooking to keep food fresh or to feel less overwhelmed?
Maximizing time with bariatric batch cooking
Now that you have more of an idea of your schedule, what days you'll cook, how much time you have to cook and what days you need something ready…now we need to determine how to maximize the time you have!
There are two main time savers when it comes to cooking:
Kitchen tools and appliances that increase efficiency
Cooking more than one meal at a time 
You have done your meal PLANNING and now we are moving in to meal prepping. The majority of cooking time is spent on dicing, slicing, shredding..you get the idea.
Some will do all their slicing and dicing for the week at once and divide veggies into giant ziplock bags to save time the other nights they cook the meats fresh. That would be more in the meal prepping zone but not necessarily batching.
Another quick note, so will chose to batch cook meats but make their vegetables fresh the night of the meal. Even if that means a steamer bag of veggies or carrots with hummus for the side. Some meals will include a vegetable like a stew.
I snapped a few photos of kitchen items I often use to save time. The photos below are a sampling of kitchen tools that save me time ALL THE TIME. (Appliances up next).
Many of these items are from The Pampered Chef® but different versions are often available on Amazon so I have provided links to each.
Time Saving Kitchen Tools
Quick Shred – for shredding meats (pork tenderloin and chicken are my main ones) or use it as a guide for slicing. Pampered Chef link. Amazon link.
Salad Choppers – don't be fooled by the name! While I for sure use them for salads and veggies, my favorite feature is how quickly I can dice cooked meat. Example: my delicious (and popular) Nacho Chicken Chili…when it's done in the Instant Pot® I use these salad choppers to dice the cooked chicken super fast! Pampered Chef link. Amazon link.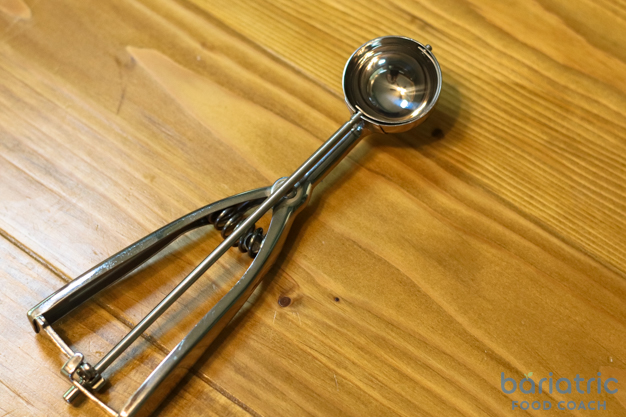 Cookie Scoop – I love these for making meatballs or mini meatloaves (which are mostly similar but I make the mini meatloaves bigger). Such a time saver! Pampered Chef link. Amazon link.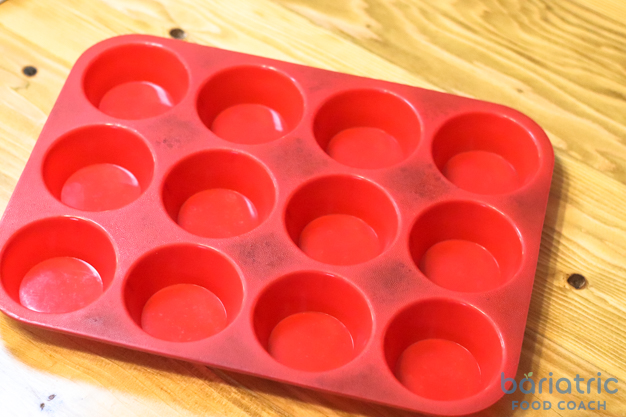 Silicone Muffin Pan – This is what I use for baking mini meatloaves. Cookie scoop into this pan and they come out very easily! Great for batching because they are already separated for dividing up. Amazon link.
*Bonus use: this silicone muffin pan is also great for freezing food into smaller amounts. Below is a video of me making Italian Chili and freezing them into smaller cups, then popping them out into a freezer bag.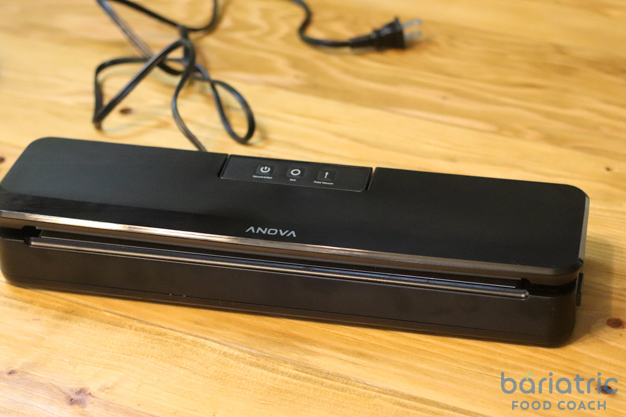 Vacuum Sealer – this is new to my kitchen and I can't tell you why it took me so long. Especially with inflation and restaurant prices being so high, I have been making extra chili, stew, pulled chicken and more then vacuum sealing and freezing! Amazon link.
*Bonus: the other image is a bag stand a member told me about for easily filling your vacuum sealer bags! The bags come in smaller sizes too if you need small batches of frozen meals. Amazon link.
Food containers – I didn't snap a photo but if you are taking meals out of your house, consider what containers work best for you along with insulated bags or ice packs. I love my freezer snack bag and hear it comes in a lunch bag size. Amazon link for containers. Amazon link for my favorite freezer snack bag.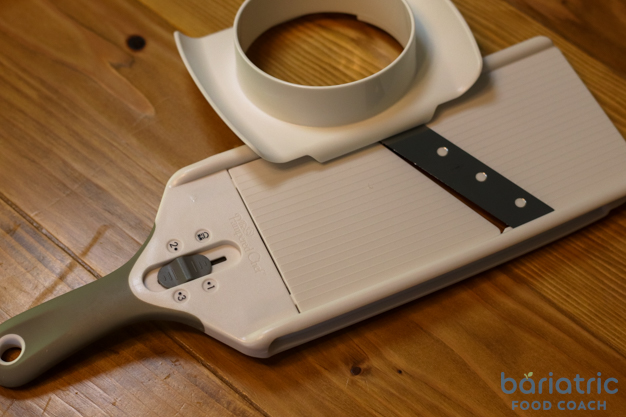 Simple Slicer – we spend the majority of our cooking time slicing and dicing. You'll be amazed how much faster your cooking time gets with a slicer! Sometimes called a mandolin. I use this the most for bell peppers and onions and save a lot of time for fajitas and stews. Pampered Chef link. Amazon link.
Time Saving Cooking Methods and Appliances
Anything that can save you time on slicing, dicing or shredding is worth the investment! Now let's talk about cooking methods and appliances.
When it comes to batch cooking, the most efficient use of your time is to cook meats in multiple places at once but to stagger what time they need to come off. Unless one of the meals is in the Instant Pot which will just stay on warm!
There are a lot of personal preferences involved in batch cooking and my biggest time is to take notes. Record how things went afterwards so you can learn as you go and see what fits you best.
Personally, I prefer to make two large meals at the same time and embrace some leftovers. More than two entrees at once and I get overwhelmed. (Unless I am using the grill. The grill is AMAZING for batch cooking because it can fit so many kinds of meats at once!)
Once you've identified how many meals you want to cook at once (taking in consideration how much time you have and how many days you need meals ready), then you can determine cooking methods.
The outdoor grill and the Instant Pot would be my first go to's. If the outdoor grill isn't an options I would for sure use my Ninja Foodi Indoor Grill.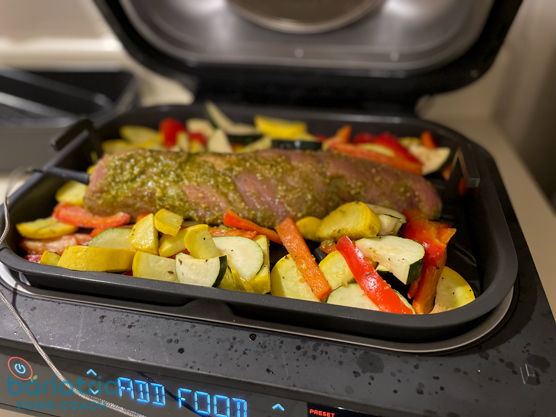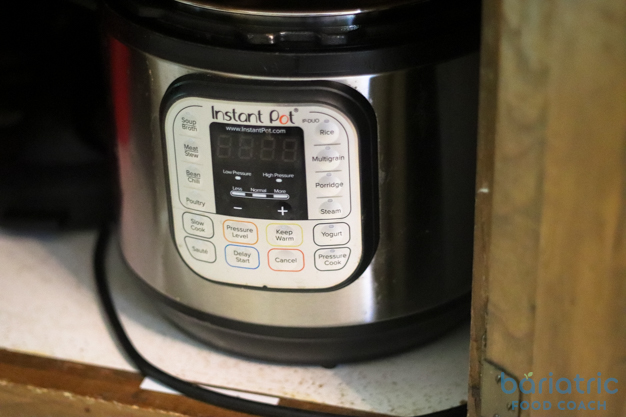 (Oh hey! Get my Instant Pot for Bariatric Surgery eBook!! Free for members or available for purchase!)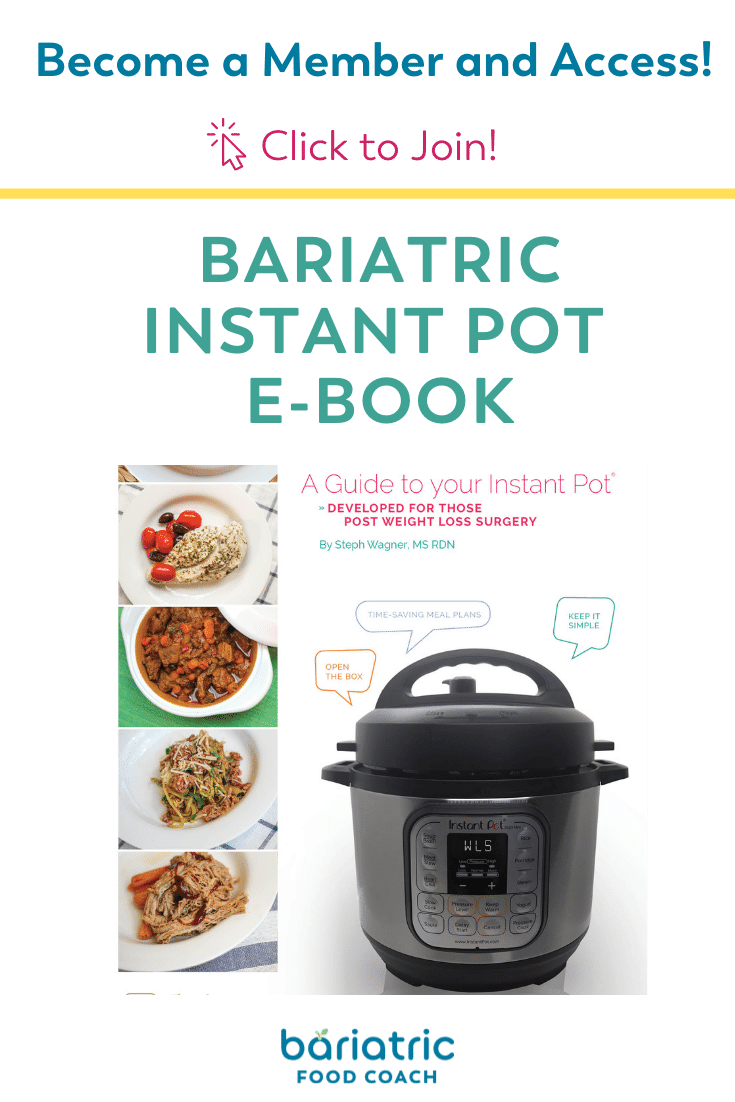 Next, I would pick the oven (over the stove top) because there is more downtown to work on something else.
PLUS some meals don't require any actual cooking. You could prepare a Shrimp Ceviche for your lunches while your other recipes are cooking.
Putting it altogether
The more you start to practice batch cooking, the easier it gets!
You'll soon have a better idea of how many meals you want prepared and how much time you have for cooking.
You'll have a list of your preferred ways of cooking and which ones you will try to use at the same time during your cooking times.
You can now get into specific recipes! This is a blog post with several recipes ideas that work well for batch cooking. 
Once you've spent the time sorting your thoughts and your schedule, you can start to visualize your cooking sessions more clearly.
Stay tuned, next in the series is Cooking for One!
This is currently a video course for members! If you can't wait for next week you can check out those lessons right now! Current members, head to "Courses" in the top menu. If you aren't a member, find out more!