This is one of Hannah's favorite recipes because of how versatile it is. The chicken filling can be made into egg rolls, lettuce wraps, or even put over a bed of rice or noodles. 
The combination of all of the flavors in this dish is so perfect and savory, but also very filling! As you know, I hate onions – but if you are an onion lover like Hannah, you will love the onions in this.
This recipe is very much a PF Chang's or California Pizza Kitchen copycat. If you've had either of their lettuce wraps, you know how addicting they are!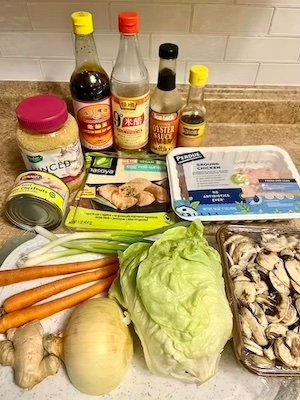 Ground Chicken 

Grated Ginger

Carrots

Yellow Onion

Green Onion

Mushrooms

Water Chestnuts

Minced Garlic

Dark Soy Sauce

Light Soy Sauce

Rice Vinegar

Oyster Sauce

Sesame Oil

Egg Roll Wrappers or Lettuce (depending on which one you're making)

Salt and Pepper
Dark soy sauce is exactly that! It is darker, aged longer, a bit more rich in flavor, less salty, and even a bit more thick than regular soy sauce. Dark soy is going to help you get the rich color in your dish because it stains the food more than regular soy sauce. 
No need to panic! If you do not have dark soy sauce, you can simply double the amount of the light or regular soy sauce instead. Keep in mind that the color won't be as dark or rich using only light soy sauce.
Yes! This recipe is primarily vegetables and ground chicken, which is low in calories and low in points on most plans.
Ingredients
1 lb ground chicken breast
1 T grated ginger
1/2 yellow onion
3 carrots
1 small can water chestnuts
3 T minced garlic
1 pack mushrooms
1 T dark soy sauce
1 T light soy sauce
1 T rice vinegar
1 T oyster sauce
2 t sesame oil
egg roll wrappers or lettuce, depending on which you're making
Instructions
Chop all vegetables except for lettuce.
Heat skillet over medium heat with the sesame oil.
Add ground chicken, salt and pepper. Cook until halfway done.
Add in onion and garlic, let simmer.
Add in the rest of the chopped vegetables and sauce ingredients. Let everything cook on low for about 8 minutes. Garnish with green onion.
If making lettuce wraps, peel the leaves of the lettuce and serve immediately with the filling mixture separately.
If making egg rolls, take 2 T filling in each egg roll wrapper, roll egg roll and place in 375F oven or air fryer for about 12 minutes or until golden brown.
Notes
https://cmx.weightwatchers.com/details/MEMBERRECIPE:636531152876c14c61da18e1
Nutrition Information:
Yield: 6
Serving Size: 1
Amount Per Serving:
Calories: 219Total Fat: 10gSaturated Fat: 3gTrans Fat: 0gUnsaturated Fat: 7gCholesterol: 81mgSodium: 516mgCarbohydrates: 14gFiber: 2gSugar: 2gProtein: 20g