Esra Haynes was 'fighting for her life in a hospital, her lungs and her heart were strong but her brain just didn't recover… we had to turn off her life support'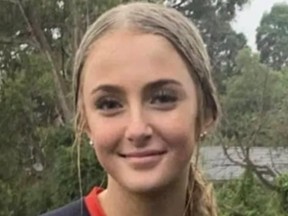 Article content
A lethal social media trend called "chroming" is on the rise among young teenagers seeking to get a high.
Article content
Last month, 13-year-old Esra Haynes lost her life to the trend after inhaling chemicals from a deodorant can, 7NEWS reported.
Most of the people who use solvents and aerosols are between 10 and 16 years old, according to the Centre for Addiction and Mental Health (CAMH).
Following the incident, Haynes' father has been warning other parents about the dangers of chroming, as many people are unaware of what it is.
Article content
What is chroming?
Chroming involves inhaling toxic chemicals through the nose or mouth in order to get a temporary high. These substances can be found in aerosol cans, paint, permanent markers, acetone, hairspray, deodorants, lighter fluid, glue, cleaning products or petrol, which mostly contain nitrous oxide otherwise known as "laughing gas".
Article content
Inhalants are legal to purchase mainly because they are found in household products, however purchasing or selling them for the purpose of getting high is illegal, according to the Royal Canadian Mounted Police (RCMP) website.
Youth may sometimes prefer this method because they can get an immediate short-term high without having to ingest hard drugs.
Article content
What are the methods of inhalation?
Inhalants are breathed through the nose or the mouth in various ways.
Sniffing: Sniffing or snorting fumes from containers.
Spraying: Spraying aerosol containers directly into the nose or mouth.
Bagging: Sniffing or inhaling fumes from substances sprayed or placed inside a plastic or paper bag.
Huffing: Holding a rag soaked with inhalant up to the face or stuffing it in the mouth.
Article content
What are its immediate effects?
People who use solvents may feel euphoria, hallucination, dizziness, nausea, increased heart rate, higher tolerance for pain, unconsciousness, slurred speech and distorted vision, the RCMP states.
All inhalants are absorbed through the lungs and travel quickly in the blood to the brain, producing an immediate and brief intoxication that is generally short-lived.
The effects of inhaling intoxicants are akin to the effects of alcohol intoxication, but with more distortion of perception.
How long does it last?
One inhalation may last up to 45 minutes, though some take several to sustain the effects for several hours.
The effects of nitrous oxide and nitrites are immediate and wear off within a few minutes, CAMH reports.
Article content
The individual may feel drowsy and have a hangover with a mild-to-severe headache for up to several days as the effects wear off.
What are the dangers?
Chroming can result in seizures, heart attack, suffocation, sudden sniffing death, coma, and organ failure.
Since solvents are often sniffed from a plastic bag held around the nose and mouth, people sometimes fall unconscious and suffocate due to lack of oxygen. This comatose state can result in choking on vomit causing inhalant-related death.
Long-time, regular use can damage the liver, kidneys, lungs, heart, brain, bones and bones occasionally leading to permanent health issues.
Sudden sniffing death is either caused by inhalants forcing the heart to beat rapidly and erratically until the user goes into cardiac arrest, or if the fumes enter the lungs and central nervous system, the Lewis and Clark County website reports.
Article content
Where did it gain its popularity?
While inhalants are not a new means of substance abuse, renewed attention is being paid to the trend with the rise of TikTok content creators. Social media users will post videos under the hashtag "WhipTok," in reference to the term "whippit" — a small container of nitrous oxide intended for home use in whipped cream charging bottles but often used as an inhalant.
With an account garnering millions of views though choosing to speak on condition of anonymity, a prominent poster in the TikTok nitrous scene said "it's definitely more relevant now," The New York Times reported in 2021. He noted the appearance of inhalants on the Instagram stories of musicians and people showing off their dispensers online.
Article content
What happened to 13-year-old Esra Haynes?
The young teen suffered from a cardiac arrest from inhaling chemicals from an aerosol deodorant can.
Her father Paul received a call to have his daughter picked up from her friend's house after falling unconscious following a chroming attempt.
Imogen, Esra's sister, said she "spent about 1.5 weeks in hospital fighting for her life, her lungs and her heart were strong but her brain just didn't recover. We unfortunately had to say goodbye to her," 7NEWS reported.
"In the end, we had to make the decision, we had to turn off her life support," her father was quoted as saying.
Paul encouraged parents to sit down and chat with their children since they "certainly didn't know what was going on."
For more health news and content around diseases, conditions, wellness, healthy living, drugs, treatments and more, head to Healthing.ca – a member of the Postmedia Network.