This website may contain affiliate links. When a purchase is made through our links, The Naked Diabetic may receive a commission, at no cost to you.
These delicious Sugar Free Pumpkin Muffins with our streusel topping are not only light and moist but are diabetic friendly too. This recipe is a perfect addition to our awesome pumpkin recipe lineup and contains many diabetic-friendly pantry essential ingredients.
In this post, I will provide a list of recommended kitchen tools, a shopping list of ingredients, the Sugar Free Pumpkin Muffins Recipe, the nutritional information and some helpful information regarding this recipe.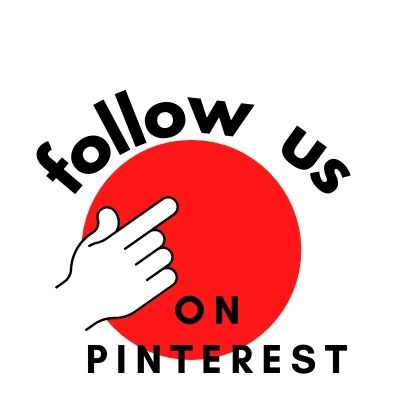 Recommended Kitchen Tools and Accessories
Need Kitchen Accessories?

Shopping List of Ingredients
King Arthur Keto Wheat Flour – 1 1/2 cups plus 2 Tbsp
Splenda Granulated Sweetener. – 1 1/4 cups
Butter – 1/2 cup
Vanilla Extract – 1 tsp
Pure Pumpkin Puree – 1 1/4 cups
Eggs – 4 (2 whole and 2 egg whites)
Baking Powder – 2 tsp
Baking Soda – 1/2 tsp
Salt – 1/4 tsp
Pumpkin Pie Spice – 1 tsp
Ground Cinnamon – 1 tsp
Pecans – chopped – 1/4 cup
Walden farms Caramel Syrup – 1/4 cup
Need diabetic Friendly Ingredients?

Helpful Tips and Substitutions
Pumpkin Puree – Canned or Homemade?
In this sugar free pumpkin muffins recipe, canned sugar free pure pumpkin is listed. If you want to use homemade pumpkin puree, by all means, go ahead. The amounts remain the same.
To make your own pumpkin puree remove the seeds of a pie pumpkin. Peel and cut into slices or cubes. Bake or steam the pumpkin. Let cool slightly and place into a food processor and pulse into a puree. For more detailed instructions on making your own puree. Check out our Sugar Free Pumpkin Spice Cheesecake recipe.
Filling Your Muffin Liners
This recipe makes 12 muffins. Using a standard-sized muffin tray, each muffin liner should be filled to about 3/4 full. If you decide to make larger muffins or mini muffins, multiply our nutritional information by 12 and then divide according to your servings.
Since we used King Arthur keto Flour, this muffin will rise like a muffin made with all-purpose flour. That's the beauty of this low-carb flour by King Arthur.
Substituting Sweetener
I mention this is most, if not all of my recipes. I always use Splenda as it has no impact on my blood sugar. It is important to note that large amounts of Splenda or sugar replacements, do have calories and carbs. I do take that into consideration when calculating nutritional information.
Using sweeteners that contain sugar alcohols can impact the blood sugars of some people negatively (myself included). In an effort to remain diabetic-friendly, I use Splenda. If you choose to switch to a different sweetener, be mindful of the impact of other sweeteners, especially if you aren't sure if it can raise your blood sugar or have never used it before.
Using Alternative Flour
You can easily swap out the King Arthur keto wheat flour for Carbalose flour. If you are using Carbalose Flour, make sure you sift the flour.
If you wish to use almond flour or coconut flour, you can, but the muffins will not rise as high. The texture will be grainier, as almond flour is just ground almonds. Use extra fine-grind almond flour if possible. Baking times may be different, so always check for doneness before removing it from the oven. If using Coconut flour may need to adjust the amounts for liquid ingredients. To add more liquid, add an extra egg white, that has been lightly beaten.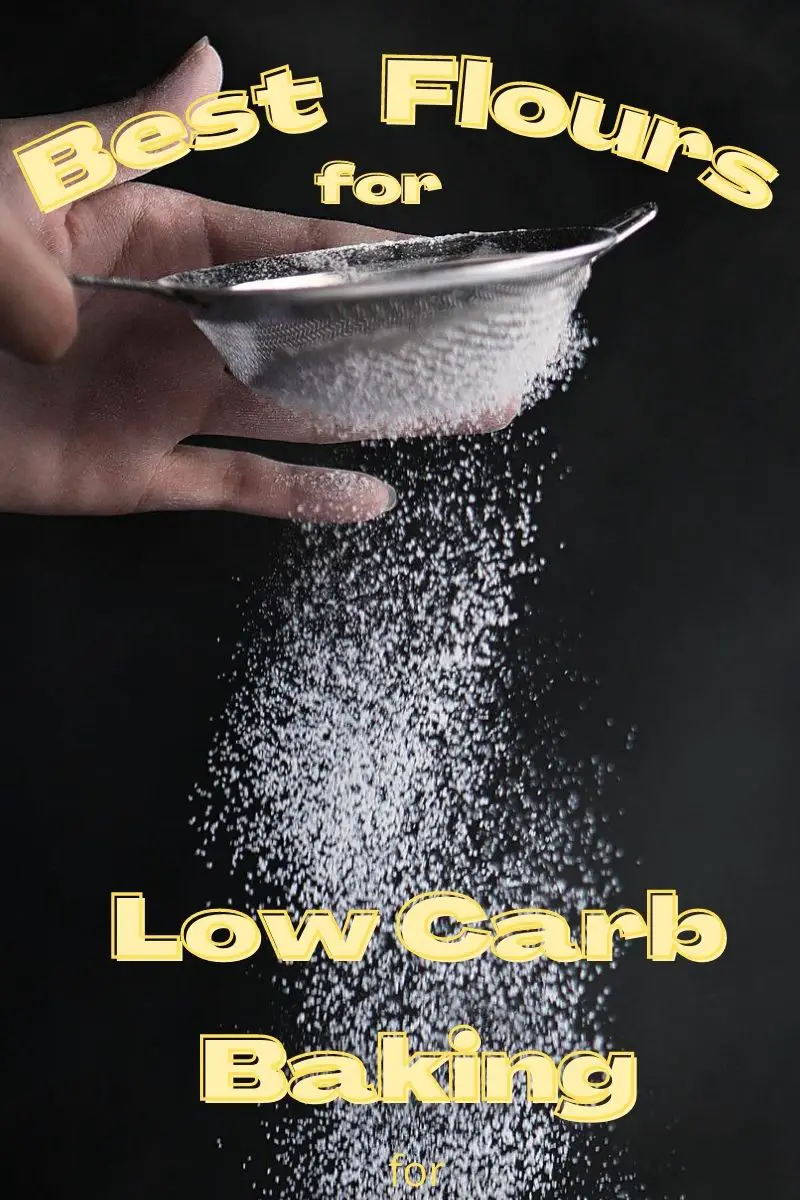 Substituting the pecans
If you wish to Substitute the pecans for an alternative nut, feel free. Not all nuts are the same when it comes to nutritional values, which will be a consideration. Walnuts are a good option as they chop, and look like pecans and are used in many streusels.
Can I make this recipe a cake instead of muffins?
Yes, you can. Use an 8-inch springform pan for the best results. Spread the streusel mixture even on the top and bake. Bake in the center of your oven. Bake at 350 degrees F (175 degrees C) for 35-40 minutes. Check for doneness before r3emoiviung from the oven. The cake is baked when a toothpick inserted into the center comes out clean
Making this recipe nut-free
To make this recipe nut-free you can substitute the pecans for a combination of seeds. Using different-sized seeds will get the best results. Sunflower seeds, pumpkin seeds and flax seeds are good options.
If you want to avoid the streusel crumble mixture altogether, just brush on some glaze and omit the streusel topping. Always keep in mind that committing the nuts or streusel will alter the nutritional; values posted here.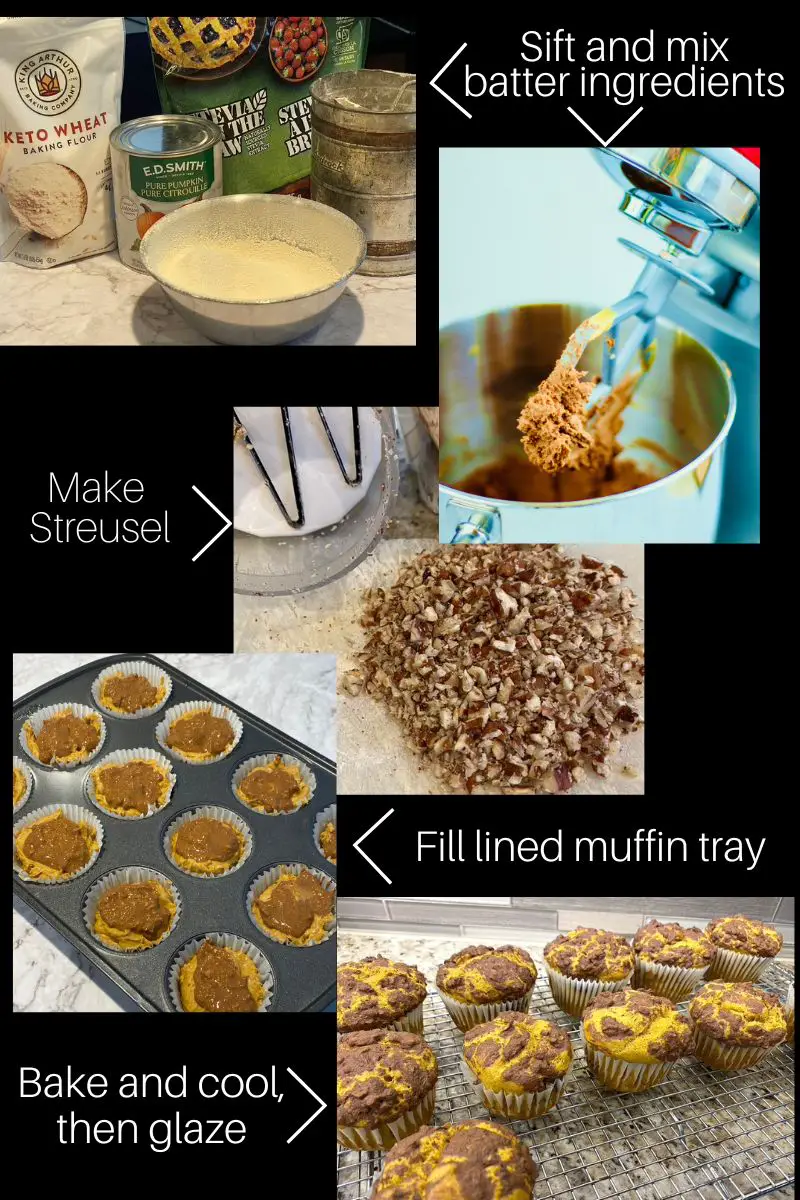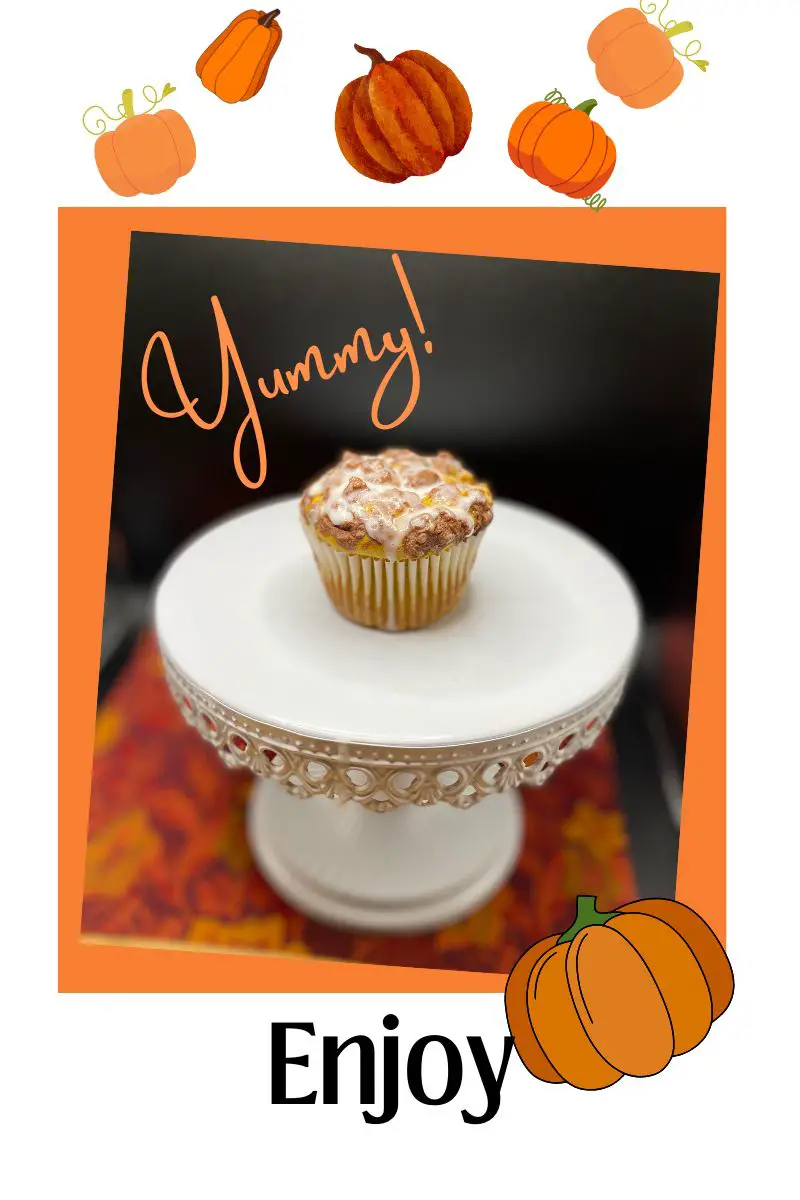 Storing and freezing instructions
These Sugar Free Pumpkin Muffins are best served fresh, but to store them, place them in an airtight container and refrigerate them. When serving, pop them in the microwave for 10 seconds to soften them up.
To freeze these diabetic pumpkin muffins, wrap them individually in plastic wrap and place them in an airtight container. They will last for up to 3 months in the freezer. To thaw, place them in a wire rack at room temperature or microwave them using a defrost setting.

The Sugar Free Pumpkin Muffins Recipe with Streusel Topping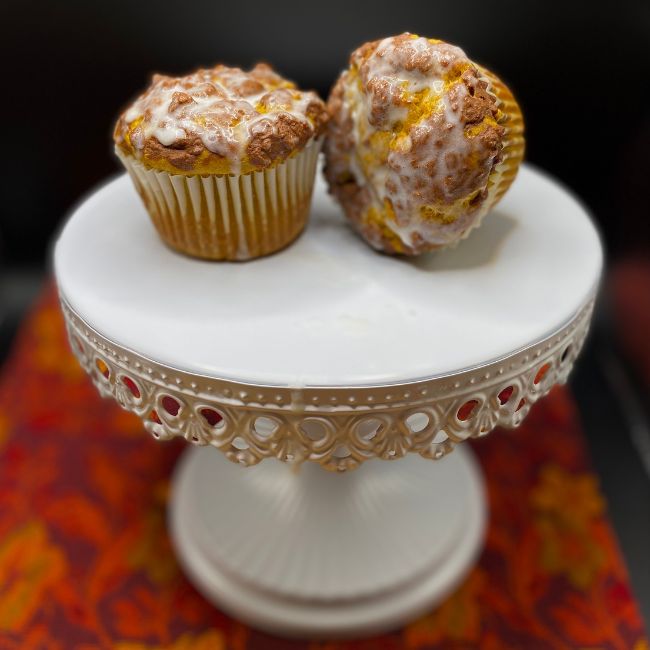 Sugar Free Pumpkin Streusel Muffins
A diabetic friendly recipe for delicious moist Sugar Free Pumpkin Streusel Muffins
Muffin Batter
½

Cup

Butter – room temperature

2

large

eggs – room temperature

2

large

egg whites

1

tsp

Vanilla Extract

¾

Cup

Splenda Granulated Sweetener

1 ½

Cup

King Arthur keto Wheat Flour

1

tsp

Cinnamon – ground

1

tsp

Pumpkin Pie Spice

2

tsps

Baking Powder

½

tsp

Baking Soda

¼

tsp

Salt

1 ¼

Cup

Pure Pumpkin Puree
Streusel Topping
¼

Cup

Pecans – chopped

2

Tbsp

King Arthur Keto Wheat flour

1

Tbsp

Splenda granulated Sweetener

¼

Cup

Walden Farms Caramel Syrup
Glaze
⅓

Cup

Splenda granulated Sweetener

1

tbsp

Water – warm
Preheat oven to (190 C) 375 °F

In a medium sized mixing bowl, sift the flour, baking soda, baking powder and spices together and set aside.

In a large mixing bowl, cream the butter with an electric mixer.

Add the eggs and egg whites, one at a time and mix well.

Add Vanilla extract and sweetener and continue mixing.

Add the pumpkin puree and salt and continue beating until thoroughly mixed.

Add the flour mixture, a scoop at a time and mix on low speed until well combined and there are no lumps.

Divide the batter between 12 lined muffin tins.

Make the Streusel.
Streusel Topping
In a small mixing bowl, combine all the streusel ingredients.

Whisk together until it is well mixed.

Divided between the 12 muffins, spoon evenly over the top of the batter.

Bake in preheated oven for approximately 30 minutes. – Check for doneness by inserting a clean toothpick into the center of the muffin. If the toothpick comes out clean, the muffins are done.

Remove from oven and place muffins on a wire cooling rack and allow to cool completely before adding glaze.
Glaze
In a small mixing bowl, whisk the sweetener and water together. Add more water if needed. The glaze should be a thick drizzle.

Drizzle or brush glaze on top of cooled muffins.

Enjoy.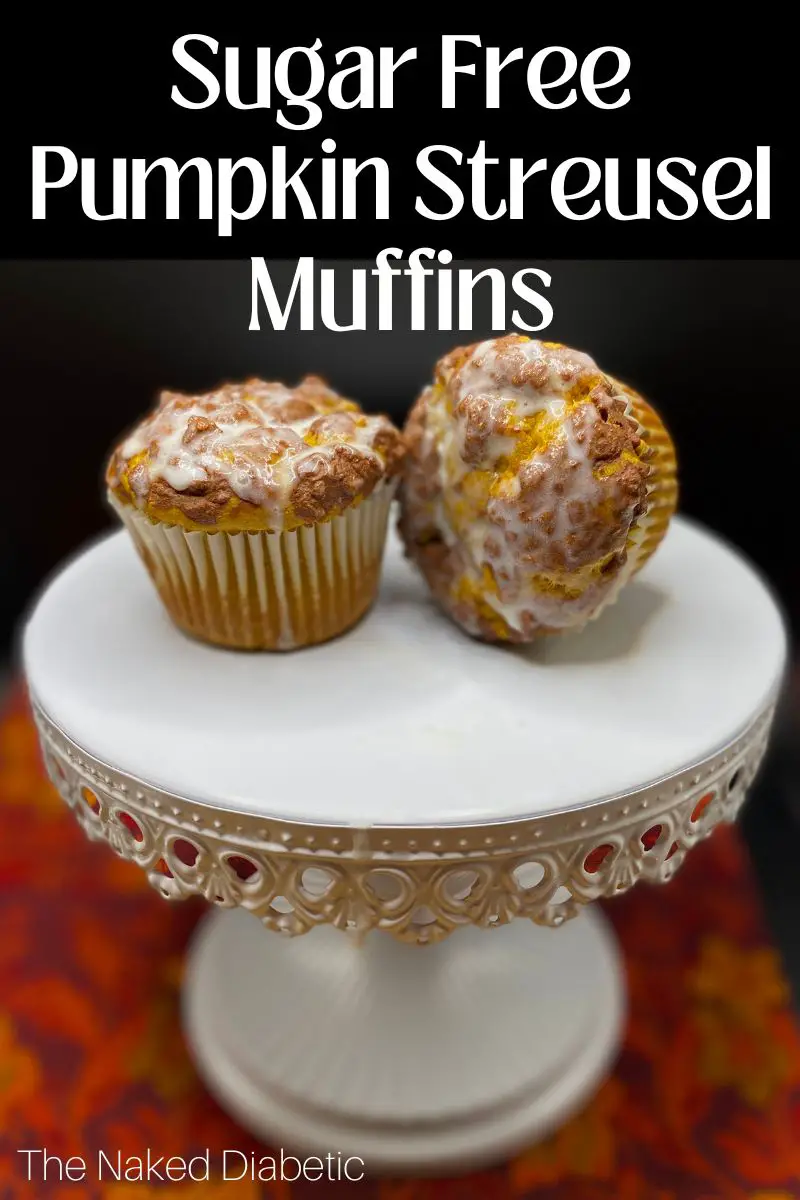 Nutritional Information
The nutritional information provided below is for 1 of the Sugar Free Pumpkin Muffins topped with streusel and glaze.
Calories – 156
Total fat – 8.6 gr
Saturated fat – 3.6 gr
Total Carbs – 9 gr
Fibre – 3 gr
Net Carbs – 6 gr
Protein – 10.5 gr
I hope you enjoy these easy to make Sugar Free Pumpkin Muffins with Streusel Topping.
Thank You for visiting The Naked Diabetic
This website may contain affiliate links. When a purchase is made through our links, The Naked Diabetic may receive a commission, at no cost to you.