Low-carb kale, cucumber, and celery come together with delicious healthy fats like avocado and peanut butter to make this easy Green Keto Smoothie a nutritional powerhouse!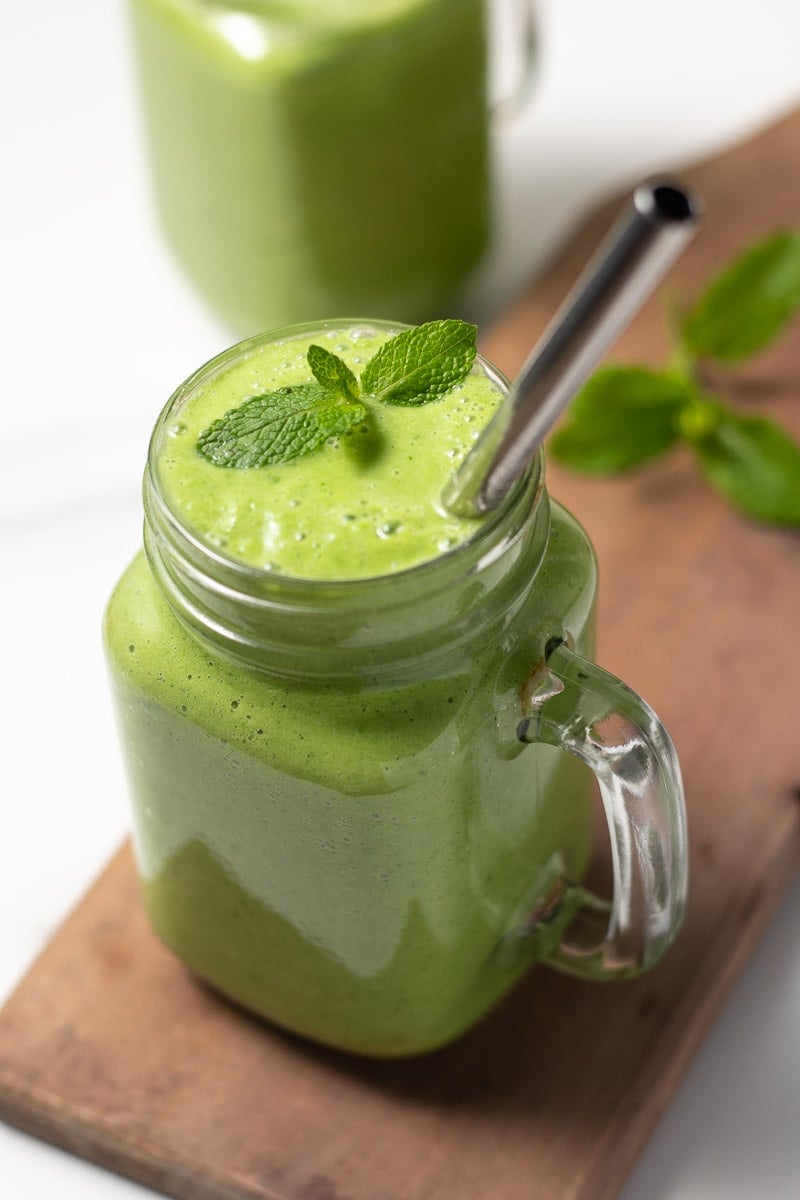 Fruit smoothies get a lot of attention, but if you're looking for something super healthy and refreshing, green smoothies are the way to go!
Why you should make this recipe
Green smoothies are made with vegetables and low-sugar fruits (like avocado), so while they're just as tasty, they are actually much healthier for your blood sugar levels.
And this keto green smoothie recipe is a fantastic way to incorporate some healthy greens and fats without the blood sugar spike!
I wouldn't consider this smoothie "sweet," but it does have slightly sweet undertones from the peanut butter and almond milk. It's a wonderful balance that really hits the spot on a hot summer day or after a hard workout.
Plus, it only takes minutes to throw together. All you have to do is toss the ingredients in the blender! 
Ingredients
The creaminess of the smoothie comes from the added peanut butter, avocado, and almond milk. They give it a dreamy texture that perfectly compliments the refreshing, slightly zingy flavor. It's also completely vegan!
Check out these very basic ingredients that are needed for this green smoothie recipe.
kale leaves: feel free to use your favorite kale
avocado: this will add creaminess and healthy fats so don't skip on this.
celery: one rib of celery
cucumber: peeled for a smoother texture.
unsweetened almond milk: or another milk of your choice.
peanut butter: with no added salt or sugar
lemon juice: just a squeeze of fresh lemon or jarred lemon concentrate will work too
Step-by-step instructions
Even on the busiest of mornings, this easy smoothie recipe can be whipped up in a matter of minutes. And it's the perfect fuel you need to start your day!
Step 1: Prep all of your ingredients. Wash and dry kale leaves and remove the tough ribs. Cut the washed celery rib crosswise. Peel the cucumber and cut it into smaller pieces. Add these veggies, avocado, almond milk, peanut butter, and lemon juice to a high-speed blender.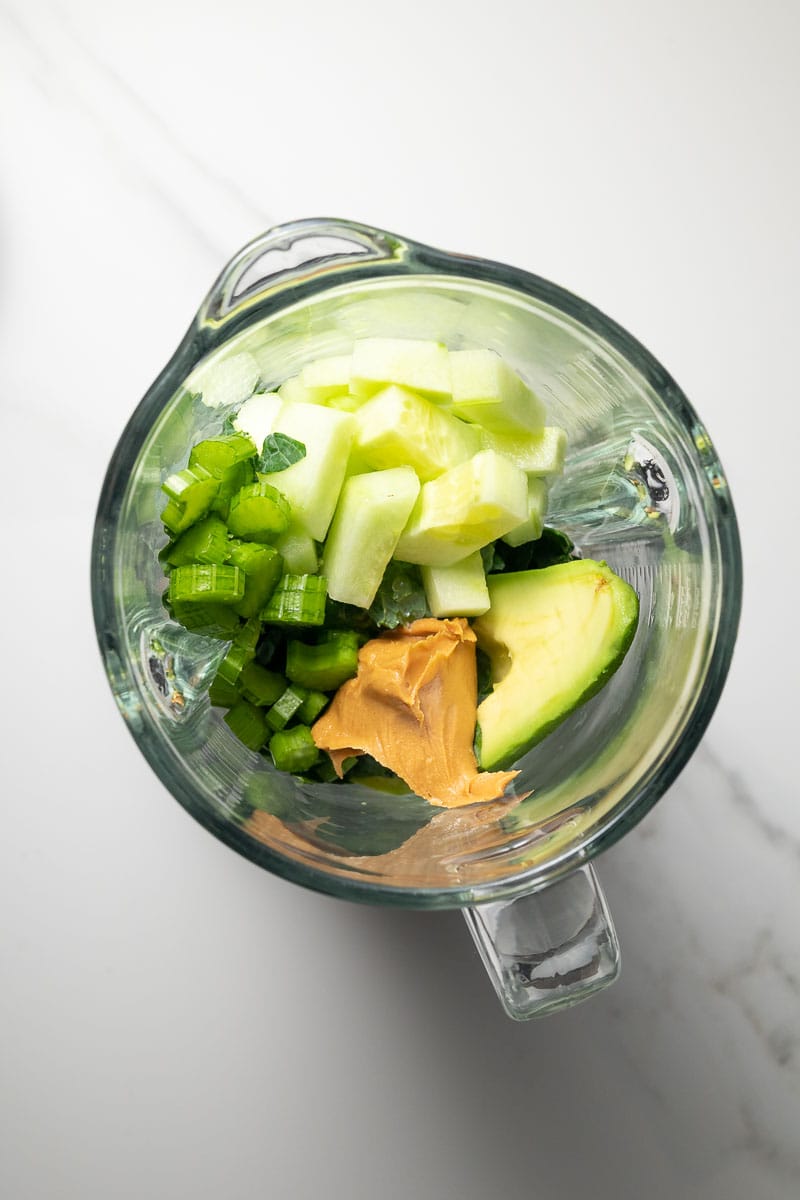 Step 2: Pulse to combine, stopping to scrape down the sides if necessary.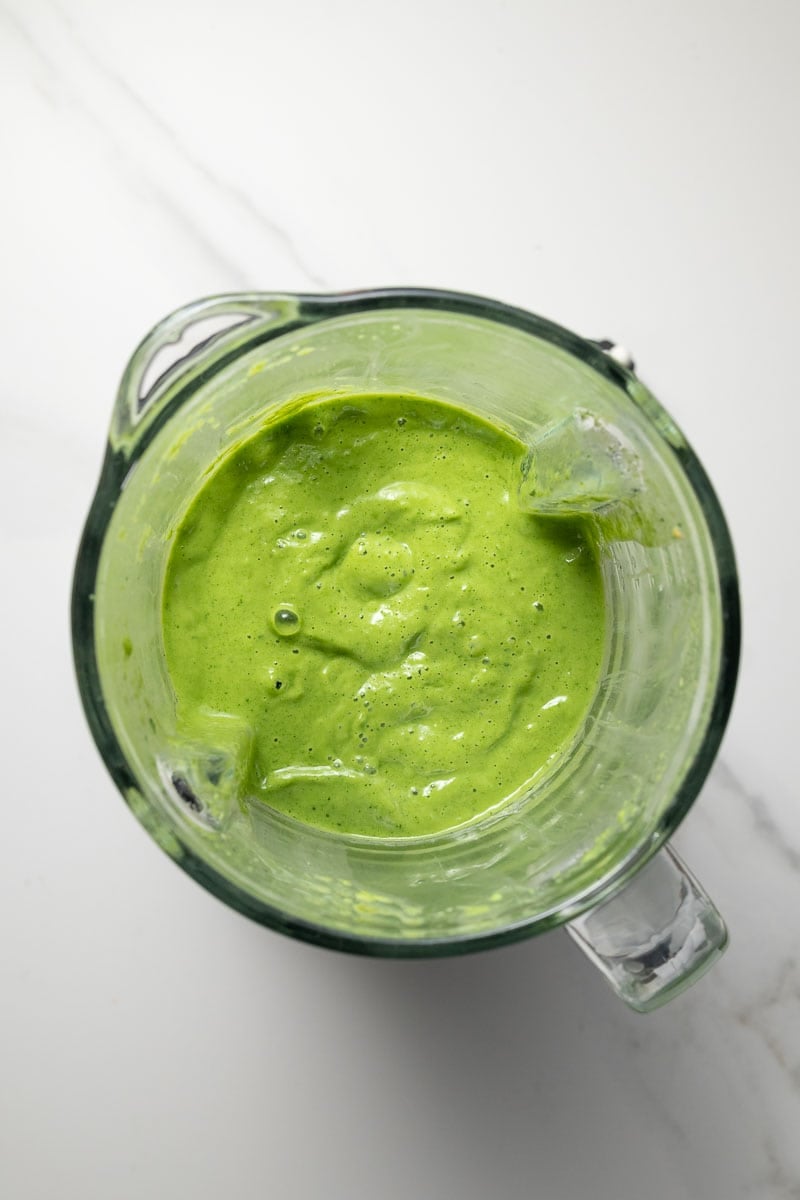 Pour your smoothie into a glass and enjoy!
I recommend garnishing with a little fresh mint for an extra refreshing taste.
Expert tips
This keto green smoothie is a simple recipe but there are a few tips to keep in mind for the best results.
High-speed blender. When it comes to achieving the right texture, having a high-speed blender is a must for this recipe! Blending fibrous veggies like celery and kale can take some work. This smoothie is definitely best when blended until silky smooth.
Chill your ingredients first. I like to store all of my ingredients in the refrigerator prior to blending them up. Chilling everything makes the smoothie extra refreshing, especially on a hot day or after a hard workout!
Freeze avocados. Buy avocados in bulk and freeze them once they ripen. They'll stay good for quite a while, and then you can grab one any time you're in the mood for a low-carb green smoothie! 
Meal prep: Besides the avocados, all vegetables can be prepped ahead of time and stored in an airtight container for up to 7 days.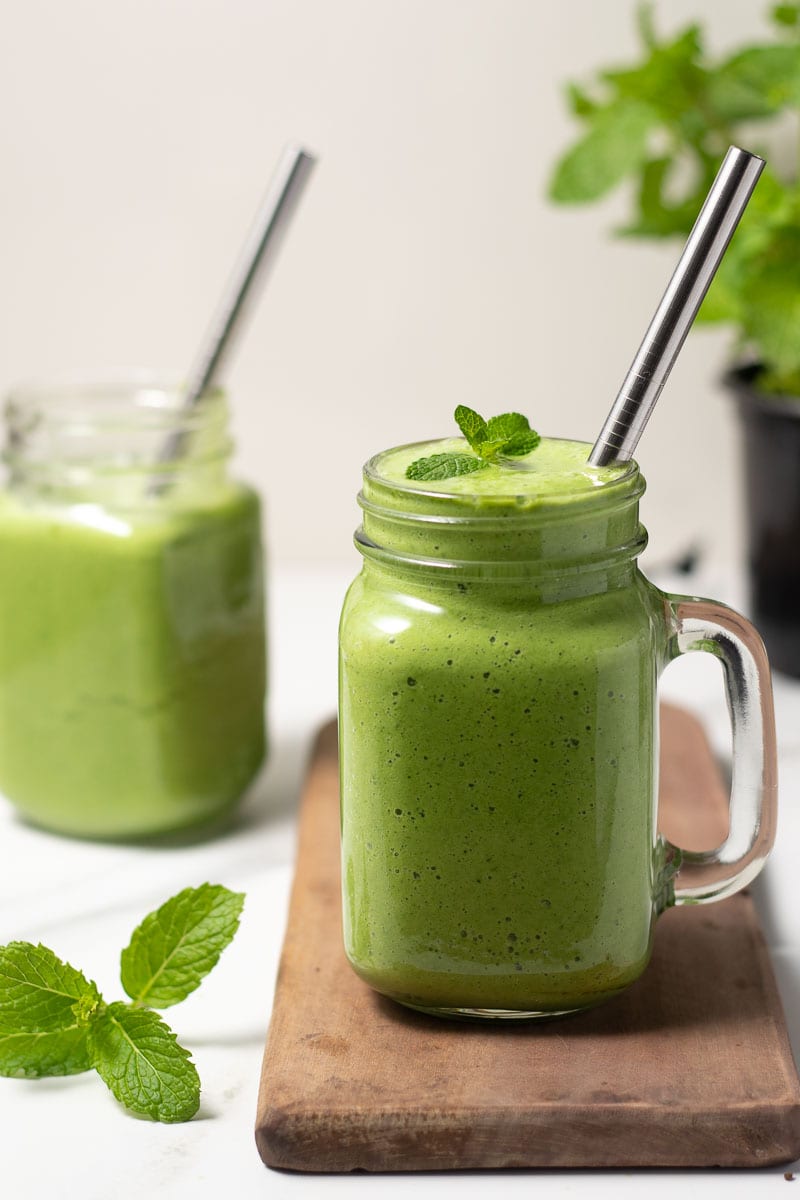 Variations
Greens: It's not a green smoothie without a good helping of greens. I love using fresh kale. You're probably most familiar with curly kale as it is very common in grocery stores. But dinosaur kale would work too. Just make sure to remove the tough ribs. Baby kale is also a great option as it's conveniently cleaned and bagged for use.
If kale isn't your thing, feel free to use spinach instead. Baby spinach is milder in flavor than regular spinach.
Milk: I like to make this low-carb smoothie with unsweetened almond milk. It's super low in calories but adds great flavor and creaminess.
For an even creamier smoothie, you could use unsweetened coconut milk or even canned coconut cream instead. These will add calories, so they're good if you're drinking this smoothie as a meal and want it to keep you full for hours. They also add more healthy fats! 
If you're not worried about vegan ingredients, you could also use regular milk, but keep in mind that this would increase the carbs.
Sweetener: As I mentioned, this is not a sweet smoothie. It has a sweet undertone from almond milk and peanut butter, but the majority of the ingredients are low-sugar vegetables. So if you would like to have a sweeter smoothie, add in a couple of drops of liquid stevia.
Protein: To increase the amount of protein, feel free to add a scoop of your favorite protein powder! Unflavored or vanilla protein powder (like collagen protein) would work best.
I wouldn't recommend chocolate protein powder based on the other flavors in this smoothie. Plus, it will turn the mix into a strange brown color, and no one wants that!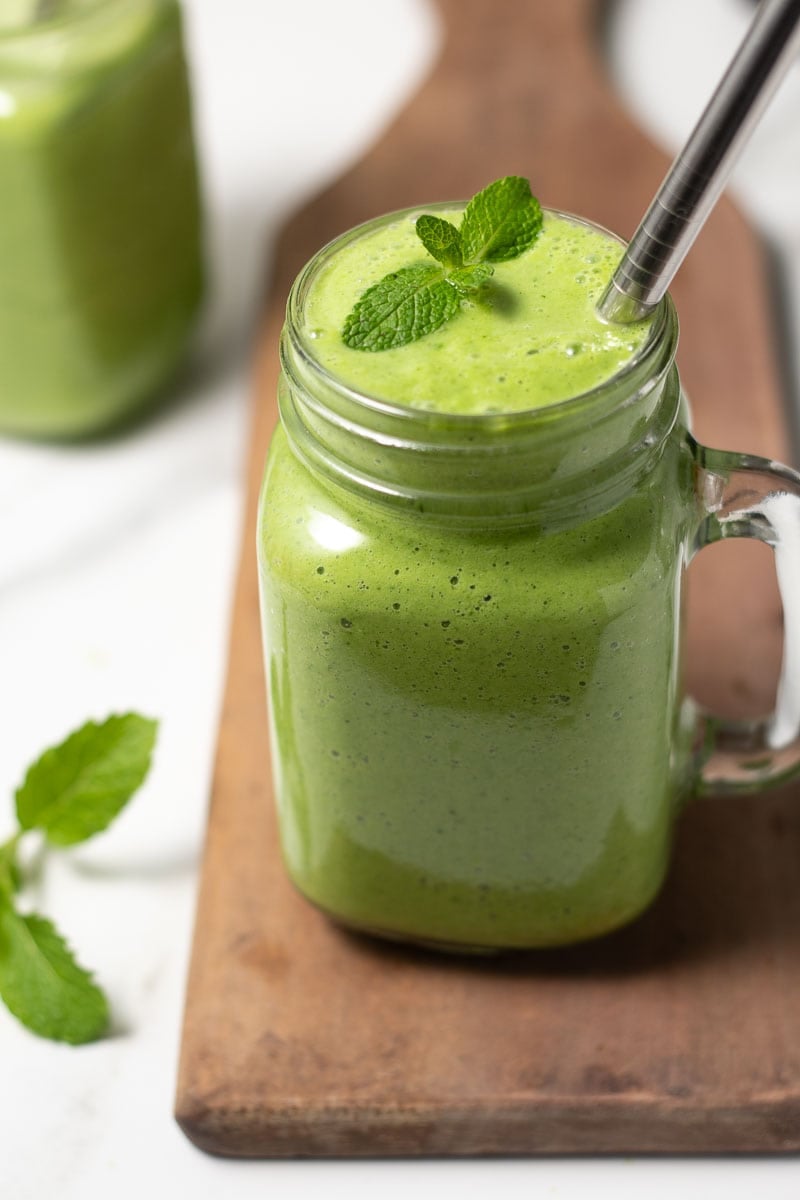 Storage
The lemon juice in this recipe will help preserve the smoothie and keep it from browning.
You can store any extra in an airtight container in the refrigerator for up to 3 days. Since this recipe makes 2 servings, you can enjoy half immediately and save the rest for later!
Nutrition
The key to a green keto smoothie is to include lots of veggies for flavor and color but to keep the carb count low.
This smoothie has 8.6 grams of total carbs per serving and 3.8 grams of fiber. This means there are 4.6 grams of net carbs. And with 10.8 grams of healthy fat per serving, this smoothie is great for anyone following a keto diet!
You certainly do not have to be on keto to enjoy this smoothie. The healthy fats will give you energy for hours, and the low carbs mean you won't see a spike in your blood sugar.
It's a delicious, refreshing way to enjoy your veggies and fuel up for the day!
Frequently asked questions
Do green smoothies have carbs?
Green smoothies generally have fewer carbs than other smoothies because they are mostly made from vegetables. Other smoothies call for fruits high in carbs but green smoothies focus on fiber-rich vegetables like celery, spinach, or other leafy greens, avocado, and cucumbers.
Is green smoothie good for diabetics?
This green smoothie is a great option for those with diabetes as it is low in sugar with only 4.6 grams of net carbs. The low carb count along with healthy fats will help keep the blood sugars stable.  
What are the best greens for a green smoothie?
Baby kale and spinach are the best options for a green smoothie since they both have a mild flavor. Other kale lettuces like curly kale or dinosaur kale are great too. But chard and collard greens can often have a bitter aftertaste so those are best for fruity smoothies where you can use berries to disguise the bitterness.
Other healthy smoothie recipes
I love whipping up healthy shakes or smoothies for a quick breakfast, a tasty snack, or even a creamy dessert!
Here are a few of my favorite recipes that I know you'll love:
You can also check out this roundup I created of the best low-carb smoothies for diabetics for even more inspiration!
When you've tried this smoothie, please don't forget to let me know how you liked it, and rate the recipe in the comments below!
Recipe Card
Green Keto Smoothie
Low carb vegetables like kale, cucumber, and celery come together with delicious healthy fats like avocado and peanut butter to make this easy Green Keto Smoothie a nutritional powerhouse!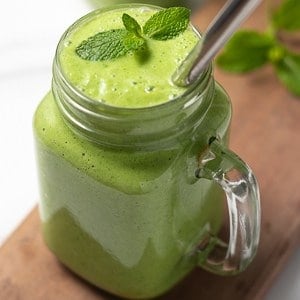 Instructions
Add all of the ingredients to a high-speed blender.

1 ounce kale leaves, ½ avocado, 1 rib celery, 2 ounces cucumber, 1 cup unsweetened almond milk, 1 tablespoon peanut butter, 2 tablespoons freshly squeeze lemon juice

Pulse to combine, stopping to scrape down the sides if necessary. Blend on high until blended into thick and creamy consistency.

Serve immediately garnished with fresh mint or store in the fridge for later that day. 
Recipe Notes
This recipe is for 2 servings. 
Tips: Remove tough ribs from the kale and use a high-speed blender for smoother texture. Store the ingredients in the refrigerator for an extra-chilled, refreshing smoothie.
Variations: For a creamier, more filling smoothie, use coconut milk or cream in place of almond milk.
To increase the protein, add a scoop of your favorite vanilla or unflavored protein powder.
This smoothie is not super sweet. To increase the sweetness, add a couple drops of liquid stevia.
Storage: You can store your smoothie in an airtight container in the refrigerator for up to 3 days.
Nutrition Info Per Serving
Nutrition Facts
Green Keto Smoothie
Amount Per Serving
Calories 141
Calories from Fat 97
% Daily Value*
Fat 10.8g17%
Saturated Fat 1.6g8%
Trans Fat 0g
Polyunsaturated Fat 1.8g
Monounsaturated Fat 5.6g
Cholesterol 0mg0%
Sodium 112.6mg5%
Potassium 394mg11%
Carbohydrates 8.6g3%
Fiber 3.8g15%
Sugar 1.6g2%
Protein 4g8%
Vitamin A 525IU11%
Vitamin C 11.9mg14%
Calcium 320mg32%
Iron 0.6mg3%
Net carbs 4.8g
* Percent Daily Values are based on a 2000 calorie diet.