Good morning. About 1.25 million people in the UK have an eating disorder, and that number, say psychologists and campaigners, is rising sharply.
The reasons why people experience conditions like anorexia and bulimia are complex and, despite their prevalence, still not well understood. Nor can experts fully explain why their numbers are increasing so quickly – including among children. Experts stress these conditions are treatable. People can and do make full recoveries, but the key can be getting early treatment – and that is often not happening.
New analysis this week by the children's commissioner found that the number of children starting urgent treatment has soared, but the percentage of those being seen promptly has fallen, with large numbers waiting three months or more to get help.
I spoke to Dr Agnes Ayton, vice-chair of the eating disorder faculty at the Royal College of Physicians, about what is behind the rise and what needs to happen to address it, and with Tom Quinn of the eating disorder charity Beat about the help that is out there if you are concerned about yourself, a friend or family member.
That's coming up after today's headlines.
Five big stories
In depth: 'A perfect storm' of a pandemic and a stretched NHS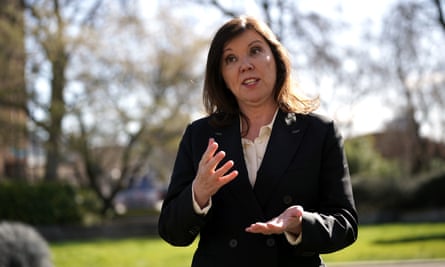 "I want to see more children and young people get the support they need, so they can lead healthy, happy lives," the children's commissioner, Rachel de Souza (pictured above), said this week, as she published an analysis of NHS England data on the number of children and young people needing sometimes life-saving help.
The numbers, once crunched, left her "extremely concerned" about young people experiencing illnesses that were "serious and potentially life-threatening", De Souza said. "As we come out of the shadow of the pandemic, the extent of the crisis in children's mental health is becoming more and more evident."
The pandemic hasn't helped – but it didn't cause this crisis. So how can we explain the striking jump in children and young people – and others – suffering from eating disorders? And what needs to be done to ensure they all get the urgent help that can make such a critical difference?
---
The new analysis and what it found
There has been a "large and recent" increase in the number of children and young people being admitted to hospital due to eating disorders, the commissioner said. In 2015-16, 13,200 people were admitted to hospital in England; five years later that figure was 24,300. Of that later total, almost half were under the age of 25.
The large majority of that number are women and girls, but the number of boys and men doubled in that period.
Since 2020-21, NHS targets have required 95% of children and young people with eating disorders to begin treatment within a week for urgent cases, or four weeks for those judged less urgent. But as more and more young people are in need of treatment, services have increasingly fallen behind on that target.
At one point earlier this year, she found, almost half of urgent cases that were waiting for treatment had been stuck in a queue for more than 12 weeks. (The figures for 2022-3, the commissioner noted, are likely undercounts, thanks to data issues caused by a cyber-attack on NHS systems.)
"Knowing this," the analysis found, "it is important that the NHS ensures that all children are able to swiftly access community care for eating disorders."
---
What is causing this rise?
In February 2021, Dr Agnes Ayton told the Guardian that there had been a "tsunami" of patients needing support for eating disorders; today she prefers the word "surge". Either way, it's a huge increase, and Covid, for once, can't be used as a catch-all reason.
"The bottom line is that there has been a year on year increase of hospital admissions since 2000 – so way before the pandemic," she says. "We don't have a very good understanding of why that surge has happened, but the chances are that it's going to be multiple factors."
That said, it is obvious the pandemic, and the isolation caused by lockdown, was hugely significant, Ayton says – not least because "there's going to be uncertainty and anxiety within the population, and there is a link between anxiety and eating disorders".
Also related, and a potential factor for some people, she says, was the "bombardment" of weight loss messages at a time when obesity was known to be a factor in worse outcomes from Covid. The reduced capacity in the NHS at the time also contributed, "so that created a perfect storm, really".
"The NHS actually worked very hard to provide a mixture of online and in person treatment [during the pandemic], but as you can see from the children's commissioner, that increased number of appointment hasn't been sufficient to meet the demand."
---
What needs to change?
There is no question services are doing what they can to meet demand, says Ayton, "but they will need more investment to make sure they meet the targets". That doesn't just mean funding treatment, but also prevention and – crucially – research into the causes and most effective interventions, much of which remains under explored.
There is some research to suggest school-based interventions can be helpful in preventing the disease, says Ayton, though she believes these lessons should be carefully tied in with messaging on obesity, which some warn can ironically be counterproductive. There are no easy answers here.
More funding for early interventions is clearly very important. Patients also need the correct treatment once they have been admitted to hospital, Ayton says; the RCP has prepared guidelines to help acute hospitals dealing with emergency admissions. And she also points out that while services for children are critically important, that should not be at the expense of those over 18, whose waiting times for treatment are not monitored, she says. "Unfortunately, eating disorders don't go away at 18."
Beat's director of external affairs, Tom Quinn, agrees that research is critical. "Obviously, that won't lead to immediate change. But in the long term, the more we know about what causes of eating disorders and the best ways to treat them, the quicker it will be to identify people who might be at risk and the sooner we can help people. That's vital."
---
What should I do if I'm worried?
"The message has to be the importance of asking for help quickly", says Quinn. A key part of his organisation's role, he says, is in helping people identify that they have an eating disorder, and understanding the best way to ask for help – which usually starts with talking to their GP.
However long sufferers may have to wait to be treated once they are in the system, he points out, the biggest delay to people actually getting help comes at the stage between the onset of the illness and their recognition that they need help. "So obviously, the shorter that time frame can be – where people recognise they might have a problem and seek help – the better."
What else we've been reading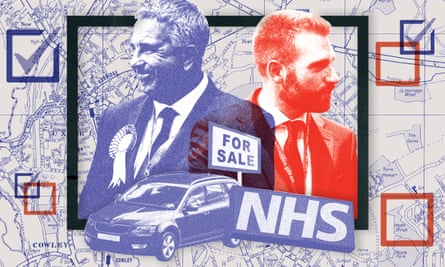 Sport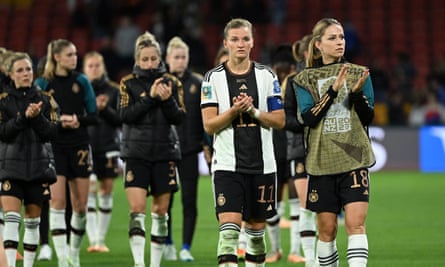 Women's World Cup | In a huge upset, Germany suffered an early group stage exit after a frustrating draw against South Korea. In another shock, debutants Morocco made history after they beat Colombia 1-0. The north African team will progress to the knockout stageat their first attempt – Colombia still go through as well.
Netball World Cup | England's Roses overturned an eight-goal deficit to claim their first ever World Cup match win 56-55 over Australia and advance to the semi-finals as pool winners. Down by one goal heading into the final quarter, England, led by shooters Helen Housby (22 from 22) and Eleanor Cardwell (34 from 35), came marching back to beat the Diamonds.
Football | American football star Tom Brady has become a minority owner of Birmingham City. The seven-time Super Bowl champion and consensus greatest player in the sport's history has partnered with the club's holding company, Knighthead Capital Management LLC, and becomes chairman of a new advisory board.
The front pages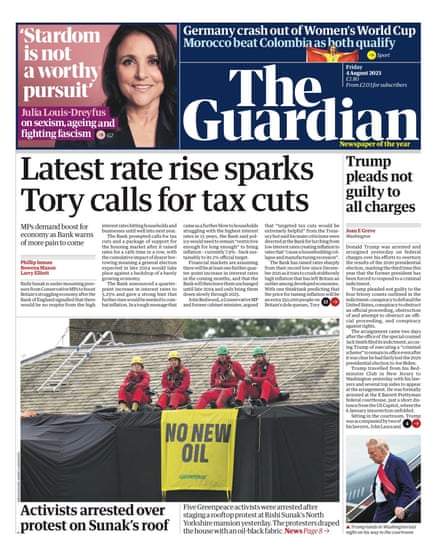 "Latest rate rise sparks Tory calls for tax cuts" is our Friday lead story in the Guardian. The i splashes with "Three years of mortgage pain as six million face rate hikes". "Interest rates hit 15-year high as BoE warns higher costs will not ease soon" – that's the Financial Times while the Daily Mirror catches up with yesterday's story about Tory job advice for the over-50s: "Hard up? On yer bike". "Economy is caught in a trap, says chancellor" – that's the Times while the Daily Telegraph has "NHS goes private to end record backlog". "Heads must roll! Just how did this happen?" asks the Daily Express in apoplexy after Greenpeace activists staged a protest at the PM's house. The Daily Mail joins in – "How on earth could this be allowed to happen?" – as does the Metro with "DespicabOIL Sunak stunt".
Something for the weekend
Our critics' roundup of the best things to watch, read and listen to right now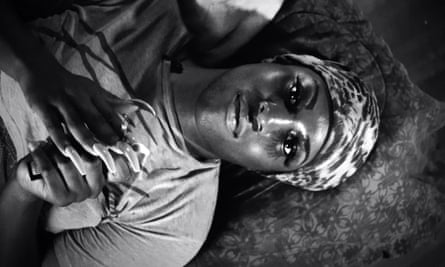 TV
Heartstopper (Netflix)
Heartstopper's return comes with the weight of expectation on its shoulders – as TV writers know, it is rarely easy to work out what to do after a will-they-won't-they ends with a they-did. Now, main characters Nick and Charlie are together and so loved up that they spend all of their time snogging, sending each other messages such as "Good morning boyfriend" and commemorating their two-month anniversary. This would be nauseating in any other context, but here it is utterly adorable. But this is still teenage life; while they have found comfort in each other, pressures come from all around them. Their feelings are overwhelming and, sometimes, these kids begin to fray at the edges. Rebecca Nicholson
Music
Skindred – Smile
Skindred's eighth album begins with the sort of sonic blast you'd expect from a band making their debut on Earache Records, a label synonymous with noisy acts such as horror punks Misfits or Singaporean grindcore group Wormrot. Opener Our Religion sounds like a ragga Metallica and – sci-fi effects aside – is the sort of riff-laden festival-friendly anthem that has earned the Wales four-piece a hefty following at the heavier end of British music. Dave Simpson
Film
Kokomo City
This documentary builds a collective portrait of several Black trans women who have all at one point been sex workers. Directed, shot and edited by D Smith, a transgender woman who used to be a producer in the music industry, and made on a G-string budget, the film covers a lot of ground in a relaxed, effortless way. It kicks off with a horrifying and then surprisingly funny true story told by Liyah Mitchell (above) about how she encountered a client with a gun on him – and attacked him, fearing she was about to be shot. Long story short, the gun was only for his self-protection and they ended up having sex anyway. But not all the anecdotes are so amusing and blithe. Leslie Felperin
Queen of the Con: The Unreal Housewife
Widely available, episodes weekly
This scandal-loving podcast picks apart the life of another con merchant: Real Housewives of Salt Lake City's Jen Shah. The reality star's arrest just as she abruptly left the set was a fall from glamorous grace, but her designer's testimony about her abuse makes it very satisfying. What emerges is a portrait of a ruthless manipulator. Hannah Verdier
Today in Focus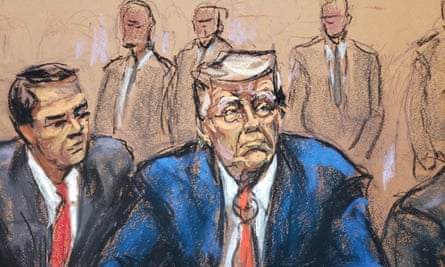 Donald Trump's January 6 indictment
The former US president appeared in court on Wednesday charged on four counts related to his efforts to overturn the result of the 2020 election. Hugo Lowell reports
Cartoon of the day | Ben Jennings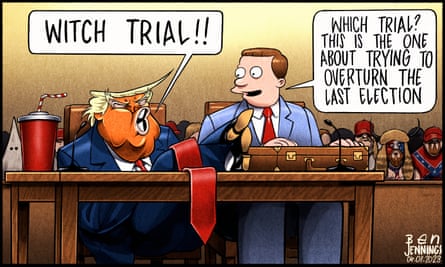 The Upside
A bit of good news to remind you that the world's not all bad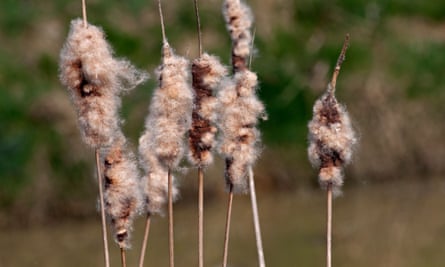 Bulrushes are brown plants with sausage-shaped heads and fluffy seeds and are commonly found in marshes and peatland across the UK. Despite the unassuming look, a startup near Salford is aiming to use the high volume structure of the plant and transform it into a sustainable alternative to goosedown and synthetic fibres that line jackets.
"BioPuff", the material made from bulrush, has been described as a new plant-based textile that has a similar structure to feathers that is designed to keep you warm without harming the environment. If scalable, the material could provide an alternative source of income for farmers on lowland peat in the north-west, boost biodiversity and reduce greenhouse gas emissions.
Sign up here for a weekly roundup of The Upside, sent to you every Sunday
Bored at work?
And finally, the Guardian's puzzles are here to keep you entertained throughout the day – with plenty more on the Guardian's Puzzles app for iOS and Android. Until Monday.