With 24 Healthy Dinner Ideas to get acquainted with, you'll be whipping up wholesome meals for your family all month long! Each easy-to-make entree is loaded with nutrients and flavor.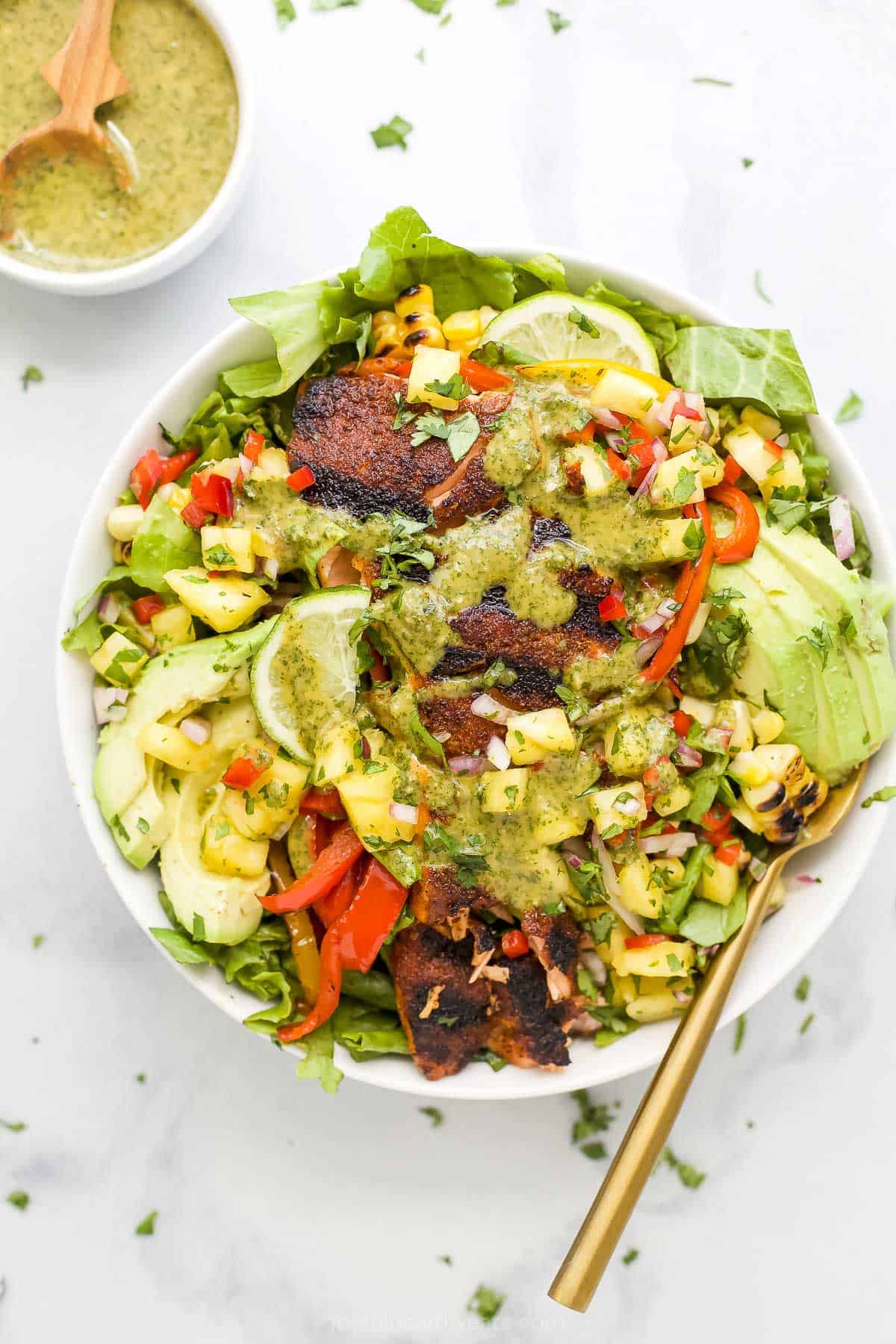 24 Healthy Dinner Ideas My Family Loves
You can never have enough healthy dinner recipes, but this collection of two dozen is a great place to start. Not only is each dish good for your body, but they'll all bless your taste buds with drool-worthy flavor. Many of them come with a long list of variations so you can recreate your favorite ones in new, creative ways.
From Asian classics to Italian-inspired comfort food, you'll find a wide variety of cuisines reflected in this roundup. There really is something for everyone! I encourage you to work your way through all 24 recipes. You're sure to end up with a bunch of new go-to dinners!
What Makes a Dinner Healthy?
In order to maintain a balanced diet, people regularly require protein, dairy, healthy fats, starchy carbohydrates, fruits and vegetables. But this doesn't mean every dish must incorporate something from every food group – that's why we have appetizers and sides! As long as your entree checks off a few of those boxes, it's on its way to qualifying as healthy.
Another factor to consider is what the dish doesn't include. It's important to keep refined sugar, salt and saturated fat to a minimum when a healthy diet is your goal. Excessive oil is another thing you definitely want to avoid. This handy list of recipe ideas will help you learn to recognize what constitutes a healthy dinner.
Quick + Easy is the Name of the Game!
Stop wondering what to make for dinner and start whipping up some of these healthy meals! With tons of different cuisines and flavor profiles to experience, your weekly dinner rotation is about to get a lot more exciting.
Topped with a generous scoop of fresh mango salsa, this tender grilled chicken is downright irresistible. It's rubbed with a flavorful blend of spices before it's seared on the grill and finished off with the world's best sweet and spicy condiment.
Nothing hits the spot like Mexican street food, and these crave-worthy baja fish tacos are here to prove it. Featuring pan-seared cod, cabbage slaw and avocado crema, they're full of authentic flavors and textures that'll make you fall in love.
Cozy up with a bowl of this hearty vegan chili for a wonderfully soul-warming meal. It's made in less than 30 minutes, but it tastes like it was simmering to perfection all day!
Fresh veggies, juicy buffalo chicken and a drizzle of creamy ranch make this low-carb dish an instant hit. You only need a handful of ingredients to make it happen!
Coq au vin, also known as French chicken stew, is comfort food at its finest. Tender wine-braised chicken combines with hearty veggies, rich pancetta, fresh thyme and more.
A tangy cilantro lime dressing tops off this hearty salmon salad filled with fresh veggies and homemade pineapple salsa. It's a tropical delight that you'll whip up over and over again!
These easy turkey stuffed peppers are tangy, spicy, cheesy and delicious! Your mouth will start to water as soon as the smell of them baking graces your nose.
You won't be able to stop at just one bowl of this comforting chicken soup. It's filled with all your favorite enchilada fixings, then finished off with fluffy Greek yogurt and creamy avocado slices.
Take your taste buds on a trip to Thailand with this hearty vegetable curry! It's loaded with authentic flavor and served over a bed of fluffy rice.
This big, colorful burger is bound to turn some heads at any cookout. A tangy cranberry chutney mingles with gooey fontina cheese, leafy arugula, spicy mayonnaise and more.
Sushi-grade tuna is marinated in a blend of soy sauce and sesame oil in this classic Hawaiian dish. Fresh veggies and a simple sriracha mayo make it utterly irresistible!
This crowd-favorite entree is so creamy and comforting, your dinner guests won't believe it's dairy-free and Whole30! Another thing they won't believe? That you made it with ease in 30 minutes.
If you're looking for a light and bright main course that doesn't require any cooking, you can't go wrong with shrimp ceviche. This fresh avocado mango version is divine!
Made with a crispy grain-free crust, creamy gorgonzola yogurt sauce, tender filet mignon and more, this flatbread pizza is a treat like none other. Fresh arugula and tangy pickled onions add amazing flavor and texture to each bite.
This lightened-up classic is loaded with flavor from the homemade mushroom sausage sauce and oodles of melty cheese. If you're a fan of Italian food, you'll definitely want to add it to your weekly dinner menu.
Craving something fresh and light that won't leave you feeling hungry afterward? This colorful chicken salad is exactly what you need. Made with juicy tomatoes, crunchy cucumber, tangy feta cheese and more, it's a summer staple that you'll want to enjoy year-round.
It's time to turn up the heat with an Asian-style must-make! Once you try the homemade kung pao sauce smothered onto those noodles, nuts, meat and veggies, you'll never opt for that takeout version again.
This mouthwatering quinoa taco skillet is made in just one pan! Turkey, veggies, classic Mexican spices and plenty of cheddar cheese make it taste like a dream come true.
This vibrant chickpea curry will have the most hard-core carnivores hyped up for meatless Monday. Bold Thai seasonings like garlic, ginger and curry paste give it such an irresistible flavor!
Impress your friends with this restaurant-quality dish that tastes even better than it looks. Thin zucchini noodles envelop a tempting garlic herb cheese on top of a tangy roasted tomato sauce.
This foolproof recipe teaches you how to make flawless shrimp fajitas in under 20 minutes! The shrimp are seasoned with a smoky spice blend, roasted to perfection with peppers and onions, then paired with more hearty veggies and a zesty pico de gallo sauce.
This is another one of those dishes that'll make you forget all about your favorite takeout place. A sumptuous sweet and spicy sauce coats your tender stir-fried beef and broccoli with more flavor than ever before!
The combination of black beans and sweet potatoes could seriously never get old. Throw in some more fresh veggies and a homemade cilantro crema and you've got yourself one incredibly drool-worthy dinner.
Smothered in a meat sauce made from scratch, this cheesy low-carb dish will make you fall in love with lasagna all over again. It's a great gluten-free alternative to the classic Italian entree.
Tips for Making Dinner Ahead
Many of these dishes can be at least partially prepared in advance, and most of them work wonderfully as leftovers. Any time you're storing something – whether it's in the fridge, on the counter or in the freezer – you'll want to keep it sealed in an airtight container or a zip-top bag. This helps to preserve freshness and protect your food from contamination.
If the recipe you're working on has specific make-ahead instructions, be sure to follow them as best you can. Otherwise, stick with simple meal prep techniques like cutting up vegetables and combining seasoning blends a day in advance.
Guidelines for Storing & Reheating Extras
Although it's important to follow the storage and reheating instructions that apply to the dish you're making, there are certain guidelines that span across the board. Avoid leaving food out at room temperature for longer than 2 hours if it's meant to be refrigerated, especially if it contains some kind of meat or dairy product. Wait only until your leftovers have cooled, then store them in an airtight container and move them to the fridge.
Whenever you're dealing with a freezer-friendly dish, you'll have to plan ahead when it's time to thaw it out. Transfer your frozen leftovers to the fridge (or the counter) and let them thaw overnight so they'll be ready to go as soon as you need them. If you're reheating your leftovers in the microwave, whether they've been frozen or not, it's best to nuke one serving at a time.
DON'T MISS A RECIPE ->