Concerns have been raised about mastectomies in teens when uncertainties exist about long-term health effects and the possibility of regret
Get the latest from Sharon Kirkey straight to your inbox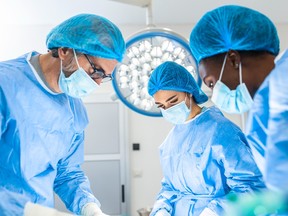 Article content
As tensions rise over the medical care of trans children, a new analysis shows hundreds of adolescents in Canada have undergone female-to-male "top surgery" — double mastectomies  — over the past five years.
Hospitalizations and day surgery visits for bilateral mastectomies for gender reassignment surgery have risen sharply, from 536 in 2018-19, to 985 in fiscal 2022-23, according to data compiled for National Post by the Canadian Institute for Health Information.
Article content
Of the 4,071 visits in total involving gender-affirming mastectomies or breast reductions reported since 2018, 602 involved youth 18 and under.
Of those, 303 involved teens 17 and younger. The youngest age was 14.
The numbers tell only part of the story. The CIHI data exclude Quebec hospitals as well as surgeries performed in private clinics like the McLean Clinic in Mississauga, which describes its surgeons as "industry pioneers" for top surgery — mastectomies and breast reductions in those assigned female at birth, and breast augmentation for those born male transitioning to female.
One specialist in transgender health issues said that, when applying for OHIP funding for people seeking top surgery, "50 to 70 per cent will go to McLean."
Female-to-male chest surgery involves removing the breasts to achieve a flatter, more masculinized torso, to better align the person's physical body with their gender identity and reduce gender dysphoria, defined as the persistent distress that can accompany the incongruence between the gender one identifies with and one's gender at birth.
Article content
If this was just about … kids being allowed to wear what they want and say what they want and be called whatever name they want and it stopped there, who would care?
But concerns have been raised about intervening with permanent, body-altering surgeries in adolescents when uncertainties exist about the long-term health effects, the possibility of regret and whether their trans identity will be lifelong.
Last week thousands gathered in cities across the country for duelling protests over gender policies in schools. Earlier this month delegates to the federal Conservative party's policy convention voted 69 per cent in favour of prohibiting "life altering medicinal or surgical interventions" on minors under 18 to treat gender confusion or dysphoria.
Sweden, the world's first country to authorize legal gender transitions in 1972, last year began limiting mastectomies for teenage girls to research settings. "The uncertain state of knowledge calls for caution," the head of Sweden's National Board of Health and Welfare said in a statement reported by AFP.
Public coverage for the surgeries varies from province to province. Most cover the cost of the mastectomy itself, but not several thousand dollars or more in extra add on fees for "chest contouring," liposuction procedures to give the body a more sculpted, masculine look.
Article content
The rise in surgeries reflects a dramatic shift in the sex ratio of children and teens being referred to specialized gender identity clinics across the country, from once predominantly young boys to children born female.
One study involving 174 trans and non-binary children and teens referred to 10 gender identity clinics in Canada found 34 per cent of those assigned female at birth were referred for top surgery. Most were 15 or 16 at the time of referral.
Ontario's Health Ministry declined to respond when asked the number of OHIP approvals for gender-affirming mastectomies in the most recent year available, including the proportion in youth. The McLean Clinic said its surgeons were unable to accommodate a request for an interview.
According to CIHI, of the 536 hospital visits for transgender reassignment mastectomies in 2018-19, 76, or 14 per cent, involved 18-year-olds and younger.
That age group accounted for 18 per cent of visits for mastectomies (174 out of 991) reported in fiscal 2021-22, and 14 per cent of visits (135 out of 985) in 2022-23.
Article content
The percentage dipped last year as hospitals grappled with pandemic-driven surgical backlogs. "But the private clinics just kept churning them through," said one doctor familiar with trans medicine who requested anonymity fearing professional repercussions.
"The fact that you can't get the numbers from private clinics…. It's very cloak-and-dagger," the doctor said. "They're still billing OHIP. That's tax dollars. That should be publicly accessible information. We need to see these numbers and ask questions," the doctor said.
"If this was just about the schools, and just about kids being allowed to wear what they want and say what they want and be called whatever name they want and it stopped there, who would care? But medicine got involved."
For a double mastectomy, typically two incisions are made on the bottom border of the pectoral muscle or chest area, according to the McLean Clinic's website. "The skin is then lifted to surgically remove the breast tissue underneath." The nipples are removed, re-sized and repositioned by grafting "to suit the new masculine appearance of the chest."
Article content
It's a day-surgery procedure performed under general anesthesia that takes approximately two hours. Complications can include bruising, wound infections and scarring. People lose nipple sensation as well as the ability to breastfeed should they become pregnant.
The uncertain state of knowledge calls for caution
Major medical groups like the American Academy of Pediatrics have strongly endorsed a gender-affirming approach to care to promote "optimal physical, mental and social wellbeing." Eligibility for gender-affirmative surgeries in teens should be determined on a case-by-case basis, the AAP said in a 2018 policy statement the organization recently reaffirmed, while at the same time calling for a review of the evidence to develop an "expanded set of guidance."
The growth in referrals to specialized clinics could be due to greater awareness and social acceptance, and the teaching of gender identity in school, experts said. But it's not clear why it's concentrated in children and teens born female.
Denying or holding back access to gender-affirming care "can have negative consequences for some youth," SickKids in Toronto said in a statement. "Decisions for care should be made by youth, their families and their health-care providers, who are best-positioned to support them."
Article content
Trans teens are known to be at higher risk of harassment and cyberbullying, wrote the authors of a recent review on the surgical and ethical considerations of gender affirming surgery in teens. Early access to surgery may reduce the bullying, they said, or help facilitate "age-appropriate romantic and sexual development in adolescents who may otherwise be prevented from engaging in these activities due to gender dysphoria."
But the evidence is largely anecdotal, they said. The handful of published studies on surgery in minors involved relatively short follow-up periods.
"What we do know is that regret does take place, and it does take place later on in life," said one trans medicine specialist, who also agreed to speak on the condition of anonymity for fear of being labelled "transphobic."
"If we know that people can come to this realization that maybe this may have not been the best decision for them, if that takes place after five years or 10 years, we don't have all the information to allow patients to make an informed decision."
For such a permanent decision as the removal of healthy breasts, "I'm always looking at the why, and because that hasn't been answered yet, that's what leads to my ambivalence," the specialist said.
"What all this says to me is that we need to be much more thoughtful in our approach and in our assessments."
National Post
Our website is the place for the latest breaking news, exclusive scoops, longreads and provocative commentary. Please bookmark nationalpost.com and sign up for our daily newsletter, Posted, here.
Get the latest from Sharon Kirkey straight to your inbox