'I'm like the grim reaper," says Kit Vincent at the start of Red Herring. He is filming himself in a mirror, appearing ominously behind his girlfriend Isobel's back. "No one ever wants to talk about death, but I guess that's what I remind them of."
Kit is 24 and has recently been diagnosed with a brain tumour. The prognosis is not great: four to eight years, say the doctors. This means some difficult, emotionally raw conversations need to be had with his family. Hard enough in any situation, but especially tough for Kit's loved ones because he insists on filming them throughout. Whether it's questions about end-of-life care, discussions of sperm freezing, or live footage capturing him struggling with seizures, no private moment is spared the glare of Kit's camera, often to the clear discomfort of those closest to him.
Speaking via Zoom, Kit recalls: "Isobel would say, 'Why are you coming in here now with the camera when I'm making lunch? Can't we just sit down in a minute and talk without the camera?' It's totally valid. But there wouldn't be a film if I wasn't doing annoying things like that."
Red Herring, then, is a documentary ostensibly about Kit's brain tumour, but it's really about much more than that: it's about family, emotional repression, and the strange ways we show love. It focuses primarily on Kit's relationship with his father Lawrence, who has been dealing with Kit's diagnosis by immersing himself in hobbies: birdwatching, cold-water swimming, painting, Judaism – anything that might help him make sense of what is happening. At one point, Kit visits his dad to find that a room in his house has been converted into a vast hydroponics tent to grow cannabis: Lawrence has read that it might provide a medicinal benefit for his son. "I was like, 'What are you doing?' laughs Kit. "You're going to get us arrested!'" It's both touching and ridiculous: a father-and-son Breaking Bad.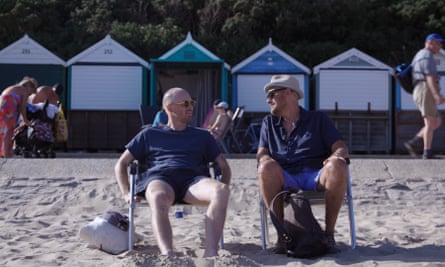 Kit grew up in Bournemouth and was always interested in cameras. He became a TV runner after dropping out of music school in Brighton, then went back to university to study anthropology and film-making. It's perhaps unsurprising that, on hearing his devastating news, he reached for his camera. "I thought, 'I'm 24. What have I done with my life? What am I going to leave behind?'"
There was no grand plan: Kit had no idea what story he wanted to tell – he just needed something to focus on. "But I think subconsciously I used the film as an excuse to talk about these taboo things with my parents. Things that I felt – like, well, if I don't have a reason to have these conversations, we're just not going to talk about them."
Given how clearly uncomfortable his subjects can be on camera at times, I'm surprised they agreed. "That's one of the joys of working with your family," says Kit. "You just get to force them. They can say no and you just say, 'Well, I'm going to keep filming you anyway.' It's probably quite ethically dubious in terms of documentary. But that's unconditional love. You just say, 'If you don't like it, you can get in the car and leave. But even if you do, I might follow you and film you."
Sometimes Kit's questions can be painful. He asks Isobel if she will get a new boyfriend when he's dead. When he visits his mum, she is picking tomatoes in her garden and not keen to get into deep discussions. He tells her she is not really being a mother to him when he needs her to be. Her reaction looks almost like indifference, but the closeups tell a different story – you can see the pain she is trying to conceal in how her face twitches.
"It was really difficult," admits Kit, whose parents separated when he was in his teens. "I'd lived with her until I was 16. We'd had a really strong relationship. But since then, it was more a passive relationship where we might text once every month. And I think I was terrified going to see her, knowing I was asking these questions, and not just having these chats where it's like, 'Do you want a cup of tea?'"
What makes things extra confusing for Kit is that his mum deals with this sort of stuff regularly as a nurse, providing end-of-life care. Recently he went round to her house and noticed an order of service for the funeral of a patient. "She finds it so easy to be that caring, loving person. And then when it happened to me, she just couldn't put the two together. It became so difficult for her to imagine me as one of her patients. She had to shut it off."
Originally, Kit only intended to film his dad, who he had lived with since turning 16 and had the closest bond with. Lawrence wasn't sure what kind of film Kit was going to make but he says he agreed to submit completely because, in a world where he felt he no longer had control, it was the one thing he could do to make his son happy. "I was just really pleased Kit had something positive to pour his trauma into," he tells me by phone.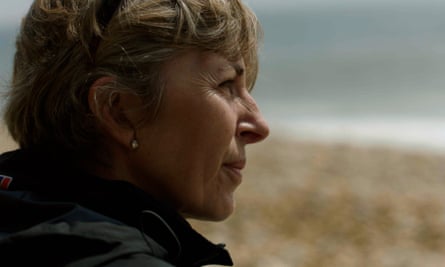 As time went by, however, Lawrence realised something much deeper was happening. "We were beginning to have conversations, through the film, that we were struggling to have outside of it. The film was beginning to overlap with reality." Has it made them closer? "The answer has got to be yes. We're not emotionally retarded by any stretch. But it's given us a channel to talk about things that were absent before."
The most dramatic moments in Red Herring come when the family are sitting around waiting for a doctor to ring and tell them if Kit's tumour has grown since the last scan. Kit sets up his camera on a tripod and puts his phone on loudspeaker to capture what is an unbearably tense moment for any patient. "It helped distract me," says Kit, "but it added a lot of stress for the others."
Indeed, during one set of results, Lawrence suffers what looks like a seizure himself from the stress of it all. "You can wait up to five hours sometimes," he says. "The tension and toxins build up in your body in unspeakable ways." We learn that when Kit first received his diagnosis, the shock was so great it caused Lawrence's heart to stop. While Kit and his mum were still reeling from the news in one hospital room, Lawrence was in another having a pacemaker fitted. "I know I've got PTSD around it," says Lawrence. "It just grips me physically. I feel like I'm dying. I've had therapy to get to grips with it. But I can't stop it."
Despite Red Herring's grim premise, it is never mawkish or self-pitying. In fact, it is often darkly humorous and profoundly moving. You are left thinking about love, and how clearly it still exists, even when we don't know how best to express it.
"I've seen it seven times now," says Lawrence. "And each time I feel two things. Immense pain. And immense pride. All combined together."