United Kingdom BBC Proms 2022 [25], Prom 62 – Mahler Symphony No.7: Berliner Philharmoniker / Kirill Petrenko (conductor). Royal Albert Hall, London, 3.9.2022. (CC)
Mahler's Seventh Symphony is often seen as the most problematic – it is probably the one that is least frequently performed. I can only remember attending a couple of live performance previously (one memorably conducted by Salonen many moons ago). The work's discography boasts luminaries such as Bernstein and Tennstedt. But none, surely, have reframed the work so completely as here, presenting it unapologetically as a masterpiece.
One is accustomed to technical brilliance from the Berliners, but even with that in mind this was exceptional – well-nigh faultless on a performative level. Such levels of security come, surely, from enhanced levels of concentration, surely a natural outgrowth of Kirill Petrenko's loving, clear gestures and crystal-clear concept of the score. That security not only refers to aspects such as brass accuracy (even the horns' bells were all at the same angle when up), but the way high violins can sculpt a line expressively at the true top of their register. Lucky the person who heard Mahler 7 for the first time here; there would be, surely, no doubts as to the nature of the piece, or the structure of the finale – or of anything, in fact.
With such care lavished on texture, Mahler seemed ultra-close to Zemlinsky in his outlook. Undercurrents of dread in the first movement were just that, forebodings periodically realised via the fearsome ongoing tread that occasionally threatened an Ivesian milieu (the two composers, Mahler and Ives, are closer than one might think in aesthetics). It was Christhard Gössling, the Berlin Philharmonic Orchestra's Principal Trombone – and in his last season with the orchestra – who played the tenor horn solo at the opening with such beauty and line, as if reciting an urgent narration.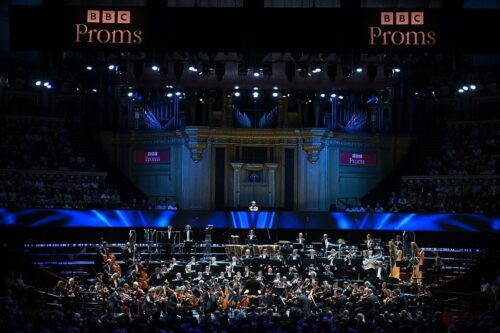 At times, the orchestra's phrasing could only have brought Vienna to mind in character, and how expressively it was created via Petrenko's baton. His mastery of the micro-gesture is remarkable. No need for Bernstein-like excess, a simple flick of the wrist takes on huge meaning, meaning received loud and clear by his players.
It is in the second movement (Nachtmusik I) that Mahler takes us into more liminal spaces, the horn lines of the opening superbly done by Stefan Dohr. If the first movement was inspired by the stroke of the oars on a boat voyage at Krumpendorf, this is the world of the subliminal; even the march is reframed. Again, it all made complete sense in Petrenko's hands. His ability to turn the music's move on a pin is perfect for Mahler, while the attention to detail in the third movement Scherzo was miraculous, with keening gestures taking on huge emotional import. Petrenko's tiny beat was clearly intended (as is his every gesture) for the orchestra alone, clean and focused. In this movement, too, the solo violin of Daishin Kashimoto showed itself as a thing of beauty. Hearing the woodwind sing an Austrian melody punctuated by fantastical string swirls was mesmeric – Petrenko really does encourage his players to achieve the perfect blend of technical mastery and atmosphere.
Wonderful to hear the mandolin- and guitar-flecked fourth movement (Nachtmusik II) so beautifully done, too. Those ominous undercurrents surfaced from time to time, while the soundworld seemed to point forward to Das Lied von der Erde's 'Abschied' at times. We watched Matthew Hunter move from back desk viola to guitar chair – clearly a man of many talents to play both at this level – and he was joined by mandolin player Detlef Tewes for these very individual sonorities. A special mention for the woodwind at the very close, especially the stunning final melodic turn from clarinettist Wenzel Fuchs.
The Rondo Finale was simply masterly. The Berlin brass sections is arguably the finest in the world, but even factoring in that, this was outrageously good, every chord balanced perfectly and yet delivered with such blazing passion. How poignant, too, Mahler's sudden change from major to minor, colouring any attempts at dance that might ensue. For all of its bright C major fanfares, this was a multicoloured, cubist soundscape (cubist as opposed to, say, Sinopoli's deconstruction). Petrenko can gather up all the frenzy in the world (and did!) but still maintain clarity, and those structural juxtapositions were supremely well managed.
One of the finest BBC Proms I have attended, ever, up there with two Vienna Philharmonic Proms (Bernstein, then Abbado the next night) and Sir Reginald Goodall in Wagner's Parsifal Act III (1987). Their second appearance brings a change of conductor and programme. Although there was no illness in evidence, Petrenko was advised against conducting both Proms so Daniel Harding will conduct and replaces Shostakovich's Tenth Symphony with Bruckner's Fourth.
You can hear this Mahler 7 performance presently on BBC Sounds; a performance at the Berliner Philharmonie is available at the orchestra's Digital Concert Hall; and a performance with the Bavarian State Orchestra under Petrenko has been released on BSO Records.
Colin Clarke