London is at risk of a major measles outbreak that could result in tens of thousands of cases, the UK Health Security Agency has warned.
Without an improvement in MMR vaccination rates, the capital could experience an outbreak of between 40,000 and 160,0000 cases, fresh analysis by the UKHSA suggests. Experts said an outbreak of this scale could lead to dozens of deaths and thousands of people hospitalised.
Dr Vanessa Saliba, a consultant epidemiologist at UKHSA, said: "Measles can be a serious infection that can lead to complications especially in young children and those with weakened immune systems. Due to longstanding suboptimal vaccine uptake there is now a very real risk of seeing big outbreaks in London."
Official data published on Friday revealed a steady rise in measles cases this year, indicating a resurgence of the illness. Between 1 January and 30 June this year there have been 128 cases of measles, compared with 54 cases in the whole of 2022, with 66% of the cases detected in London, although cases have been seen in all regions.
Measles can lead to severe illness, with an estimated 20-40% of children hospitalised, according to the UKHSA. The US Centre for Disease Control estimates one to two in 1,000 children infected will die from measles, with a larger number suffering serious complications, including intellectual disabilities and deafness.
"UKHSA is right to be worried about this," said Prof Paul Hunter, professor in medicine at the University of East Anglia, saying that an outbreak of the scale described would be expected to lead to "dozens of deaths".
"Measles is one of the most infectious viruses to infect humans," he said. "About two in 1,000 infected people will die, the main risk being in children under five years old, but adults can get very sick as well."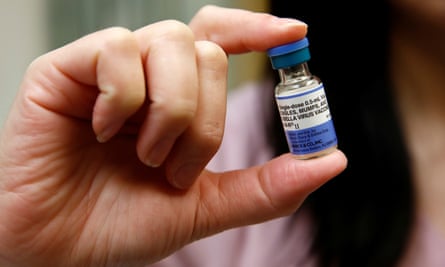 Measles is the most infectious of all diseases transmitted through the respiratory route. In a population with no immunity, a single case of measles will infect between 10 and 20 others.
To maintain herd immunity, the World Health Organization set a target of 95% vaccination uptake. But the UK is far below this target, with uptake for the first dose of the MMR vaccine in children aged two years in England at 85.6%, the lowest level in a decade. In some parts of London, coverage of the first MMR dose at two years of age is as low as 69.5%.
"With measles being so infectious once the vaccine uptake rate falls you can't rely on herd immunity from other parents vaccinating their children to protect you child if you do not get them immunised and in London particularly we are approaching that point," said Hunter.
Susceptibility is particularly high among 19- to 25-year-olds, affected by unfounded vaccine scare stories in the early 2000s linked to publications by the discredited doctor Andrew Wakefield. Until now, unvaccinated people in this group had benefited from "herd immunity", the indirect protection given by good overall vaccine coverage in the population. This also shields very young infants and other vulnerable groups.
Outside London, the risk of a large measles outbreak is low, UKHSA modelling suggests, but there is the potential for smaller outbreaks in specific populations including teenagers, young people and under-vaccinated groups, such as the Charedi Orthodox Jewish community, Travellers and recent migrants.
MMR is part of the NHS routine childhood immunisation programme and parents whose infants missed out, or anyone of any age unvaccinated, are urged to come forward. Parents should check their children are fully vaccinated with two MMR doses, which gives 99% lifelong protection, by checking their red book or with their GP practice, which younger and older adults can also do. Anyone not up to date should make an appointment as soon as possible.
The NHS has launched a national campaign to encourage the uptake of the MMR vaccine, included target outreach work in London for those at highest risk and in communities with the lowest update.
All children at primary school who have missed one or both doses of the MMR vaccine are being offered the opportunity to get up to date at school. Parents of those children will be contacted by the NHS school immunisation service. Parents of younger children or those who are home-schooled can make an appointment with their GP practice or visit a community clinic.
"Measles spreads very easily but is preventable," said Saliba. "To help protect ourselves, our families and those around us it is vital we all ensure we are vaccinated with two doses of the MMR vaccine, free on the NHS whatever your age."
Jane Clegg, the chief nurse for the NHS in London, said: "Measles can easily spread between unvaccinated people and can be serious, but it is preventable, which is why we continue to encourage Londoners to take up the vaccine – with GPs calling over 10,000 parents of unvaccinated children, and hundreds booking appointments to get vaccinated as a result."