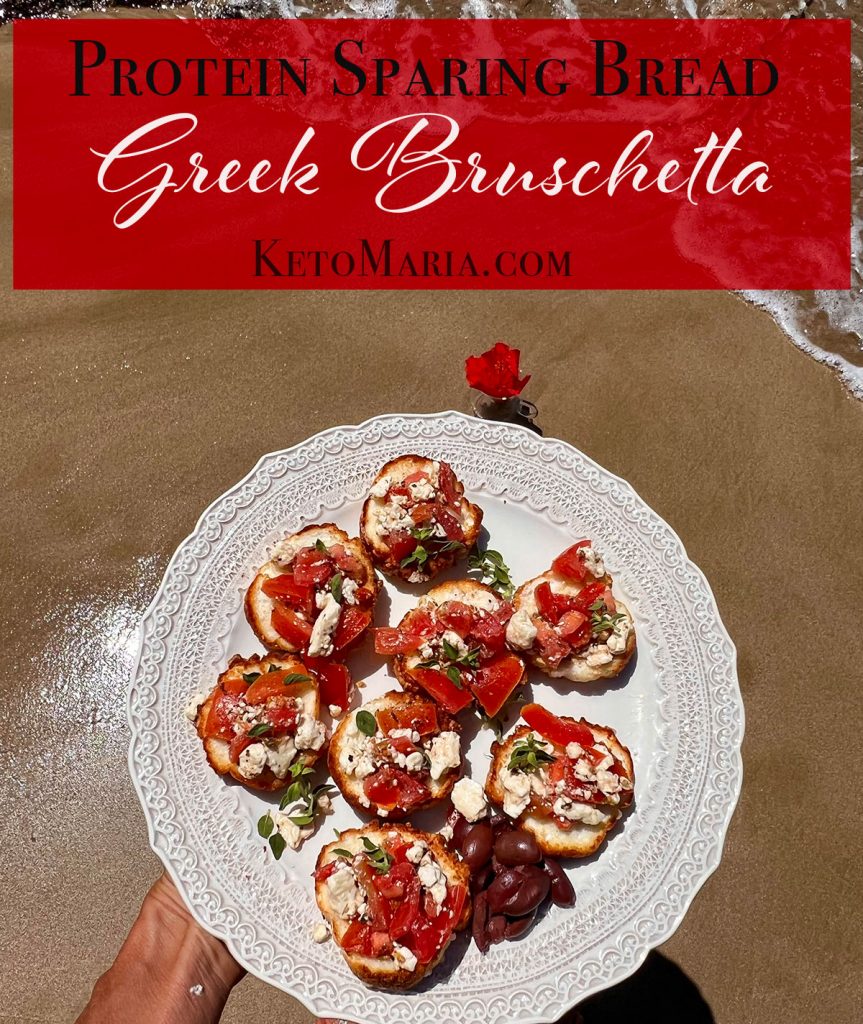 If you are looking for a delicious appetizer to serve at your next gathering, you must try my Protein Sparing Bread Greek Bruschetta!
It is such an easy and flavorful recipe!
I love Greek food and my favorite salad dressing is Primal Kitchen's Greek Vinaigrette which makes this Bruschetta extra delicious!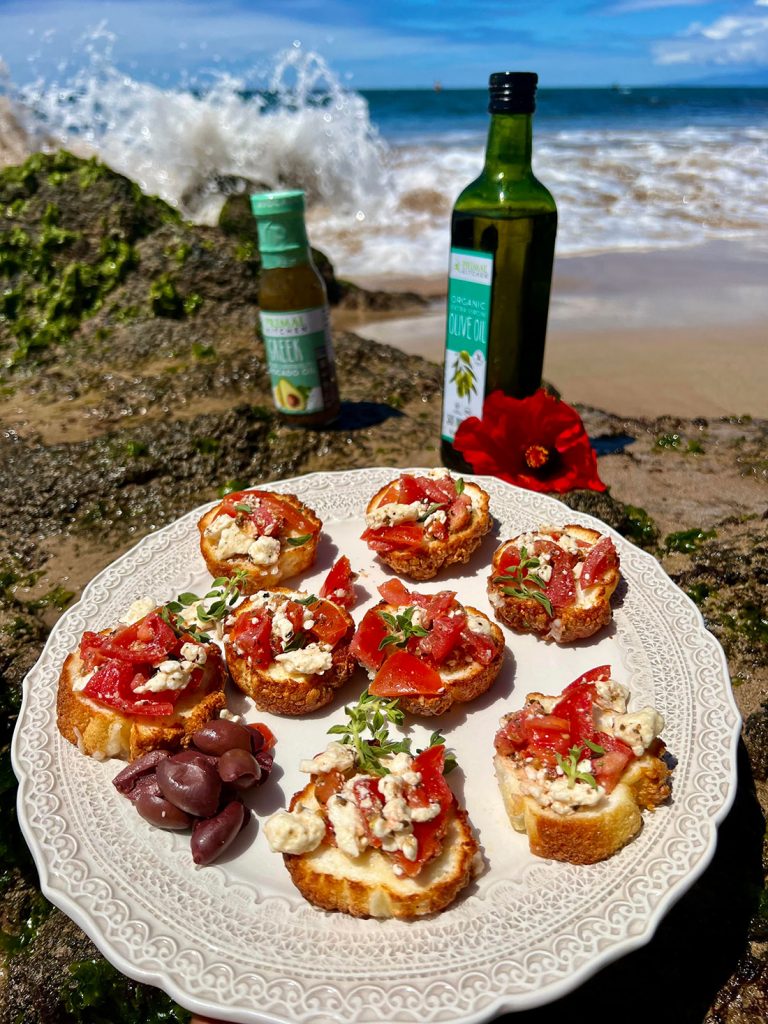 HOW TO MAKE Protein Sparing Bread Greek Bruschetta
To make my protein sparing bread Greek Bruschetta, I used Primal Kitchen Greek Vinaigrette and Organic Olive Oil!
My recipe for protein sparing bread Greek Bruschetta is so easy! I keep extra protein sparing baguettes in the freezer all the time so all I have to do is open a jar of Primal Kitchen Greek Vinaigrette and a bottle of Primal Kitchen Olive Oil and I have a delicious bruschetta appetizer in no time!
Primal Kitchen's Greek Vinaigrette gives the bruschetta the most delicious flavor! You are going to love this protein sparing bread recipe!
Primal Kitchen is SO generous that they are doing a special discount for all of my readers! Use code: Maria for 20 % off!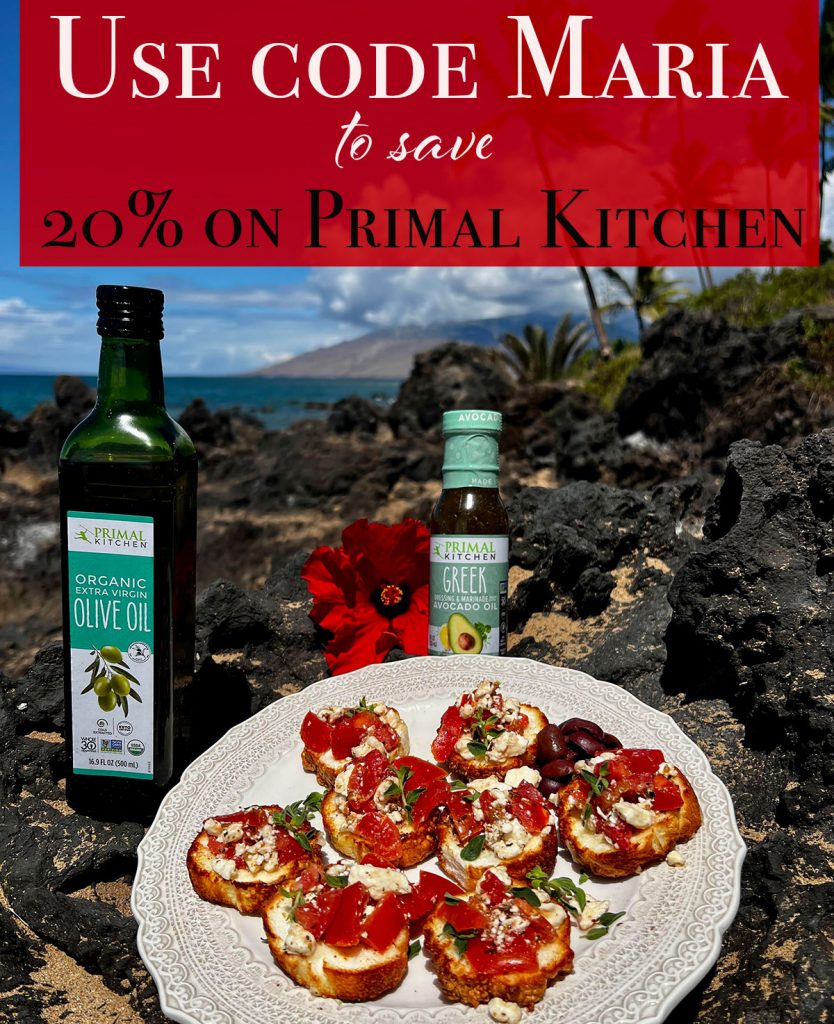 Protein Sparing Bread Greek Bruschetta
PROTEIN SPARING BREAD:
12 egg whites (separated from whole eggs)
¼ cup powdered Allulose
¼ cup gelatin
½ teaspoon Redmond Real Salt
½ teaspoon cream of tartar (to help stabilize the whites)
1 cup unflavored egg white protein
Primal Kitchen Avocado Oil Spray
BRUSCHETTA:
1 clove garlic, minced
GREEK TOPPINGS:
¼ cup Feta Cheese Crumbles
½ cup diced fresh tomatoes
2 tablespoons Primal Kitchen Greek Vinaigrette
Optional Garnishes: Dried Oregano, Greek Olives
Preheat the oven to 325 degrees F.
Separate the eggs (save the yolks for another recipe like my keto ice cream, hollandaise, mayo or lemon curd), and place the whites into a large bowl or stand mixer. Add the allulose, gelatin, salt and cream of tartar if using and whip the whites for a few minutes until VERY stiff.
Turn the mixer to low and gently mix the egg white protein powder into the whites.
Place a piece of parchment onto a rimmed baking sheet OR Click HERE to find the baguette pan I used.Spray the parchment with Primal Kitchen Avocado oil spray and use a spatula to form 2 long baguettes shapes (about 2½ inches in diameter and 12 inches long) with the protein sparing bread mixture.
Bake for 20 minutes or until golden brown. Turn oven off and leave bread in the oven for 15 minutes to avoid the bread from falling.
Let completely cool before cutting or the bread will fall.
Store leftovers in the fridge for up to 4 days or in the freezer for up to a month.
To make the bruschetta, preheat the oven to 350 degrees. Slice protein sparing bread into ½" thick slices.
Place in a single layer on a baking sheet. Place the Primal Kitchen Olive Oil into a small dish. Add the garlic and stir well.
Brush the olive oil on both sides of each piece of protein bread.
Bake for 5-6 minutes, or until golden and toasted, flip, and bake for another 4-5 minutes or until bread is crisp.
Meanwhile place the feta and diced tomatoes into a small bowl. Add the Primal Kitchen Greek Vinaigrette and stir gently. Spoon the mixture onto each slice of bruschetta. Garnish with fresh or dried oregano and serve with Greek olives if desired.
Best served fresh.
Nutritional Information:
119 calories, 13g protein, 7g fat, 1g carbs, 1g fiber
P:E Ratio 1.9
3.4.3177
Not all our clients are looking to lose weight. Body composition changes are more important thank what the scale says. And in this case, gaining muscle is something we can help with too! Check our Andrew's amazing results in just 5 weeks! Want your own personal macro targets?
All platinum members at keto-adapted.com
get personal macros from us along with weekly meetings with us, meal planner tools and much, much more!
"About five weeks ago, Craig changed my macros from fat loss to maintenance because my doctor thought I had lost too much weight.
Today was my first Dexa after switching to those macros, and I was anxious to see how much fat I had gained. The results were 3.2 lbs increase in body mass, 1.5 lbs decrease in fat mass, and 4.7 lbs increase in muscle mass.
You could have knocked me over with a feather! Craig's macros rock, and I'm also benefiting from strength training five days per week plus yoga several days." – Andrew
Most people I consult are doing keto totally wrong. Get fast results with the my Mind-blowing Keto School!