If the children had been born even an hour earlier, no life saving measures would have been taken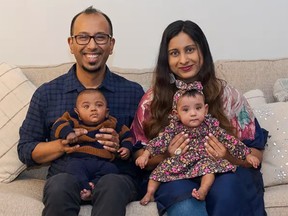 Article content
Doctors told Shakina Rajendram her twins had a '0 per cent' chance of survival when they were born — 126 days early.
Article content
If her children had been born even an hour earlier, no life saving measures would have been taken, she was told:
Article content
"When I went into labour, the babies were denied all life-sustaining measures at the hospital I was admitted to and almost left to die," Shakina told Guinness. "We were in shock."
When she went into labour, at just 21 weeks and five days, doctors said, her babies were "not viable." They warned several times against resuscitating the twins even if they made it to 22 weeks, but, despite heavy bleeding, Shakina said she did her best to "hold the babies in" one more day.
A half hour before midnight, much to her dismay, her water finally broke. Adiah and Adrial were born on March 4, 2022 at exactly 22 weeks, making them 18 weeks premature.
Article content
Nurses told Shakina the hospital could offer her "comfort care" for solace, which meant she could hold her babies while they slowly passed away.
Most hospitals are obligated to begin extraordinary measures to save premature babies only between 23 and 26 weeks. However, with the help of luck, the couple were able to move to Mount Sinai in Toronto, which specialized in resuscitating 22-week-old babies.
According to a 2021 report from Canadian Neonatal Network, only 27 per cent of neo-natal babies who received intensive care survived. Shakina's twins were one of the lucky few, but their outlook looked gloomy.
Adrial and Adiah were under the hospital's care for six months and suffered terribly. Both babies had extremely thin and transparent skin and complications with brain bleeding and sepsis and trouble managing fluids.
Article content
During the second week, Adrial began having intestinal perforation, which led to infections and caused inflammation throughout his body. His skin was still delicate and peeled extensively each time a catheter was redressed.
"We watched the babies almost die before our eyes many times," Shakina said. They were asked many times to consider ceasing medical care, but the parents were determined.
They spent 12 hours a day by the twin's side, holding their hands while singing to them. After nearly 161 days in the NICU, Adiah was discharged, and Adrial followed a week later.
"We finally got to bring them home — with no breathing or feeding tubes."
The twins celebrated their first birthday on Saturday and have made plenty of progress. Adiah now weighs 6kg, 18 times heavier than her birth weight.
Article content
"She's an extremely happy and social baby, and smiles all day long," Shakina said. "She is very chatty and has 'conversations' with us and her toys for hours."
Adrial has had bouts with infections and respiratory issues and required oxygen support at home. He has now outgrown his sister and is also "progressing well."
Shakina describes him as "observant, attentive, and intelligent," and — much like his parents — he loves music."
The twins continue to be monitored by a host of specialists, but are "doing great" — and beating expectations.
Adiah, weighing 330 grams, was born 23 minutes before her brother, who weighed 420 grams. With a combined weight of 750, they are the lightest twins ever at birth, according to Guinness World Records.
The Nadarajah twins' birth at 126 days early is a day ahead of the previous record, set by Keely and Kambry Ewoldt of Iowa, set in 2018.