This Oven Roasted Turkey Breast with Garlic and Herb Butter is an easy way to get that Thanksgiving flavor without cooking a whole turkey. It only takes 10 minutes to get everything ready to go into the oven and comes out juicy and moist every time!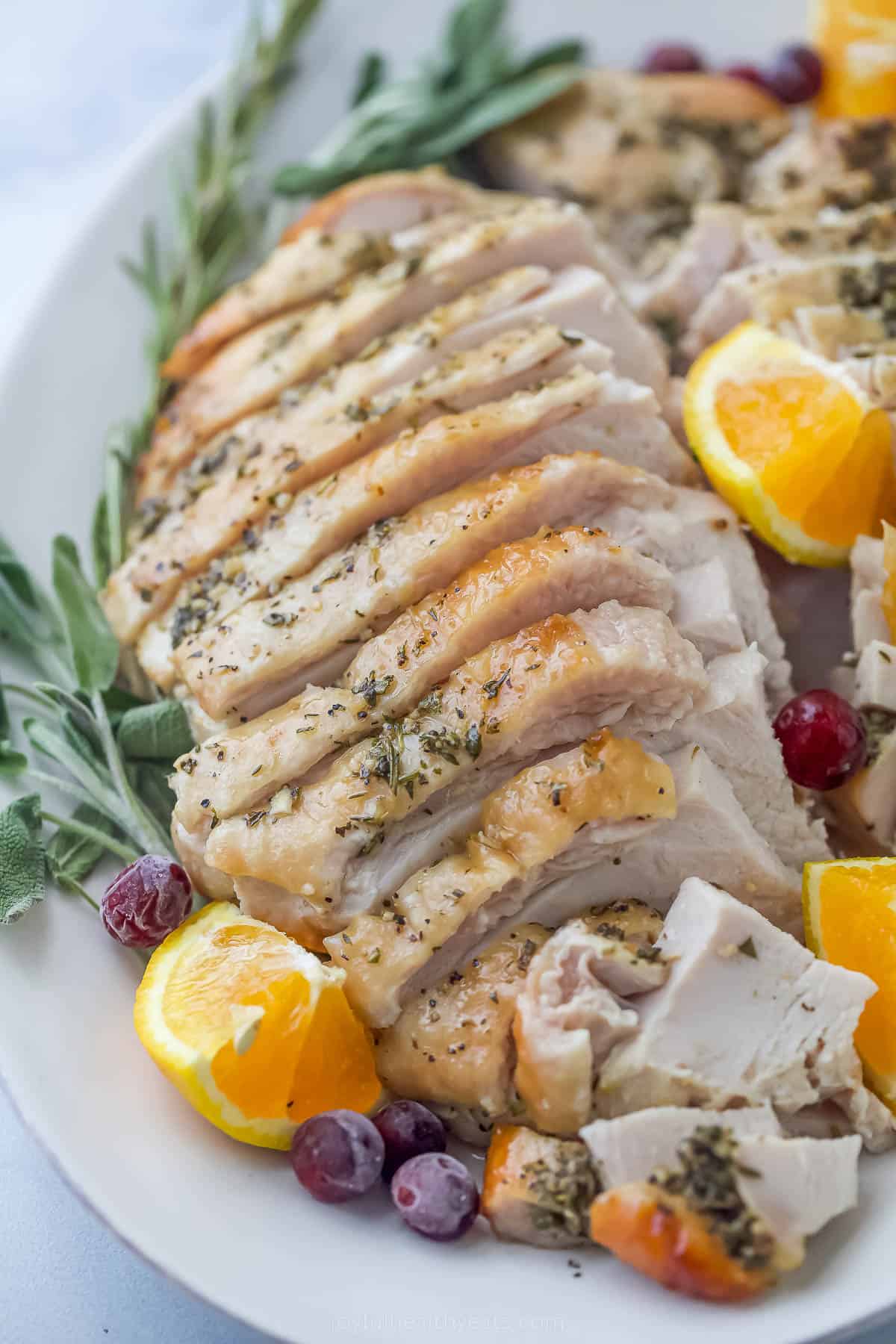 The Best Roasted Turkey Breast Recipe
Believe it or not, Thanksgiving is just around the corner! Consider this your nudge to get planning! I personally love to try out a few side dishes before the big day. And I can't have a Thanksgiving side without roasted turkey! So, this Roasted Turkey Breast recipe is perfect for big Thanksgiving flavor but without the big meal.
The key to this roasted turkey breast is the homemade garlic and herb compound butter. Compound butter is simply a flavored butter. It's made by folding in various things like herbs, garlic, nuts, spices, or other ingredients to make the butter more flavorful.
Here we'll use fresh herbs and garlic for the compound butter. And fresh is the key word! There is no other way to get this unmistakable and quite incredible flavor.
Why You'll Love This Oven Roasted Turkey Breast
Here's why you're going to adore this recipe! It's quick, simple, and probably the best-roasted turkey breast you'll make at home.
Make it any time of the year. You can make this if you're having a small Thanksgiving dinner or you can make it in the middle of the summer. It's versatile and flavorful and I love making it year-round!
There are very few ingredients. You only need to pick up a few things from the store for this one.
You can use the turkey in many different ways. You don't have to eat it just sliced on a plate (though it's still very delicious!). You can make sandwiches or lettuce wraps with it, too.
There's no brining or prep needed. Unlike Thanksgiving dinner, you don't need to be working in the kitchen all day for this one.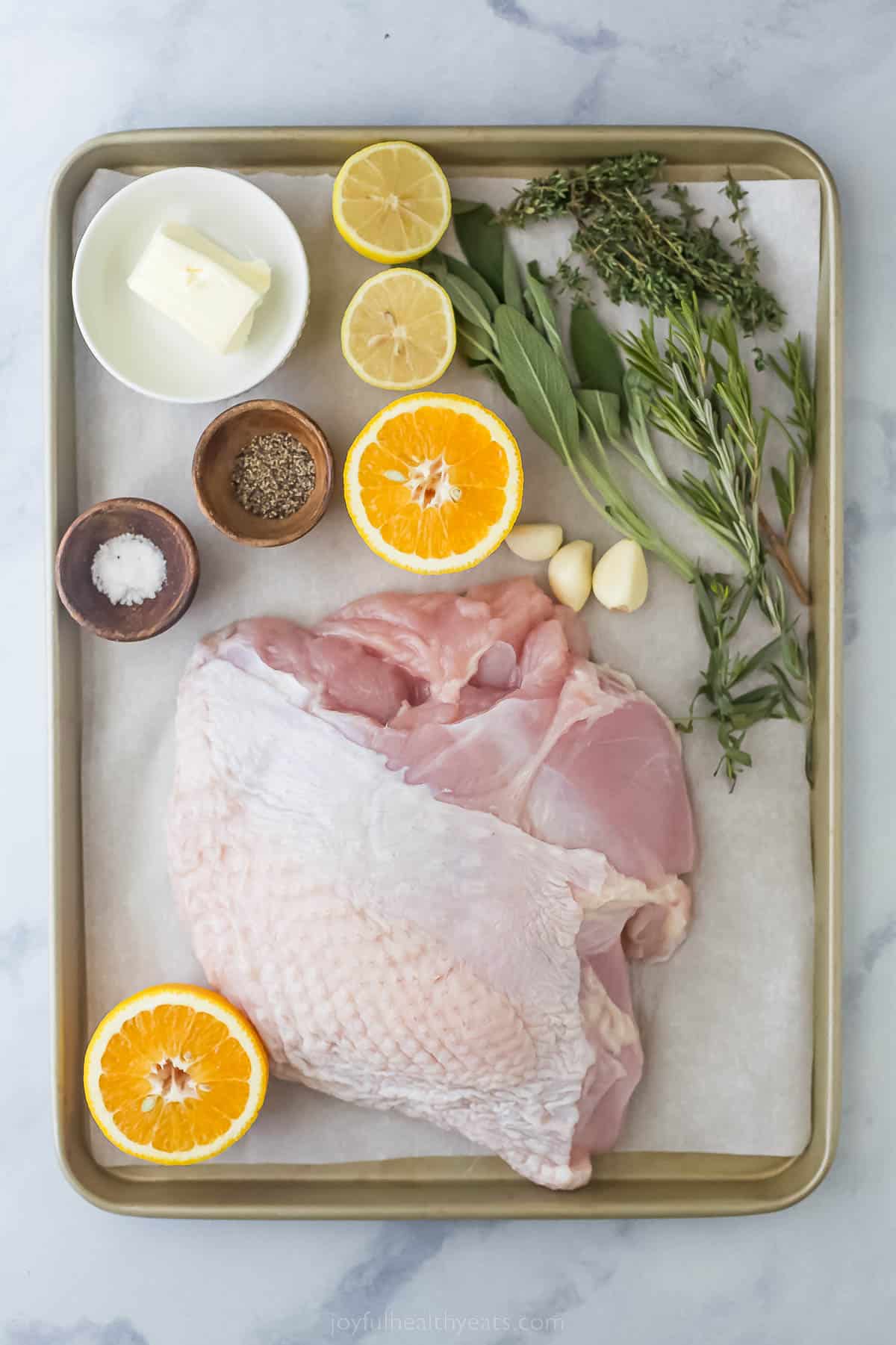 Recipe Ingredients
Here is what you need to make the roasted turkey breast the compound butter. Note that the ingredient amounts are below in the recipe card.
Turkey Breast: Bone-in breasts provide so much more flavor! And please remember to keep the skin on. It's our tool for developing that amazing flavor!
Orange and Lemon: Citrus provides a bright burst of flavor to the turkey that pairs perfectly with the garlic and herbs.
For the Compound Butter:
Unsalted Butter: I always use unsalted butter for compound butter. This allows me to control the salt level myself. Plus, there's always the option to use flavored salts.
Salt: Kosher or sea salt works fine. You can also use a flavored salt like Black Truffle Salt.
Black Pepper
Tarragon: Tarragon has a really unique flavor that I wouldn't pass up here. I would suggest using dried before omitting it all together.
Sage: Fresh sage is perfect for developing the authentic Thanksgiving flavor.
Thyme: You could also try fresh Lemon Thyme for even more citrus flavor.
Rosemary: Another herb that is crucial to that distinct flavor! I don't recommend leaving it out.
Garlic: Fresh garlic brings a punch of flavor to the butter that you're going to want! Add more if you'd like!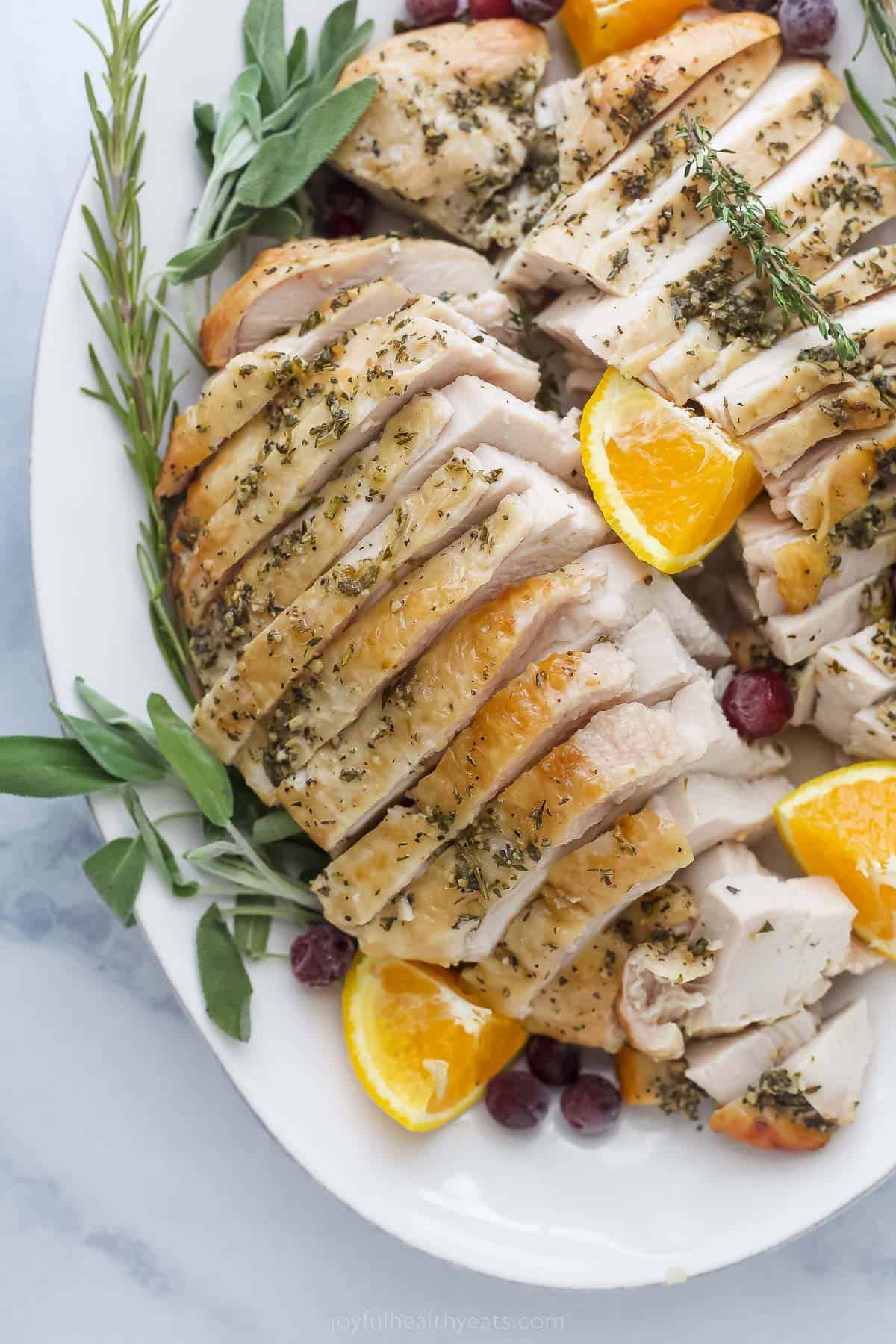 How to Make Garlic Herb Roasted Turkey Breast
Here are the quick and easy steps for prepping and roasting the turkey breast.
To make the compound butter: Always soften your butter first! And then you can add in the chopped herbs, salt, pepper, and garlic. Then mix the butter by smashing it with the backside of a fork.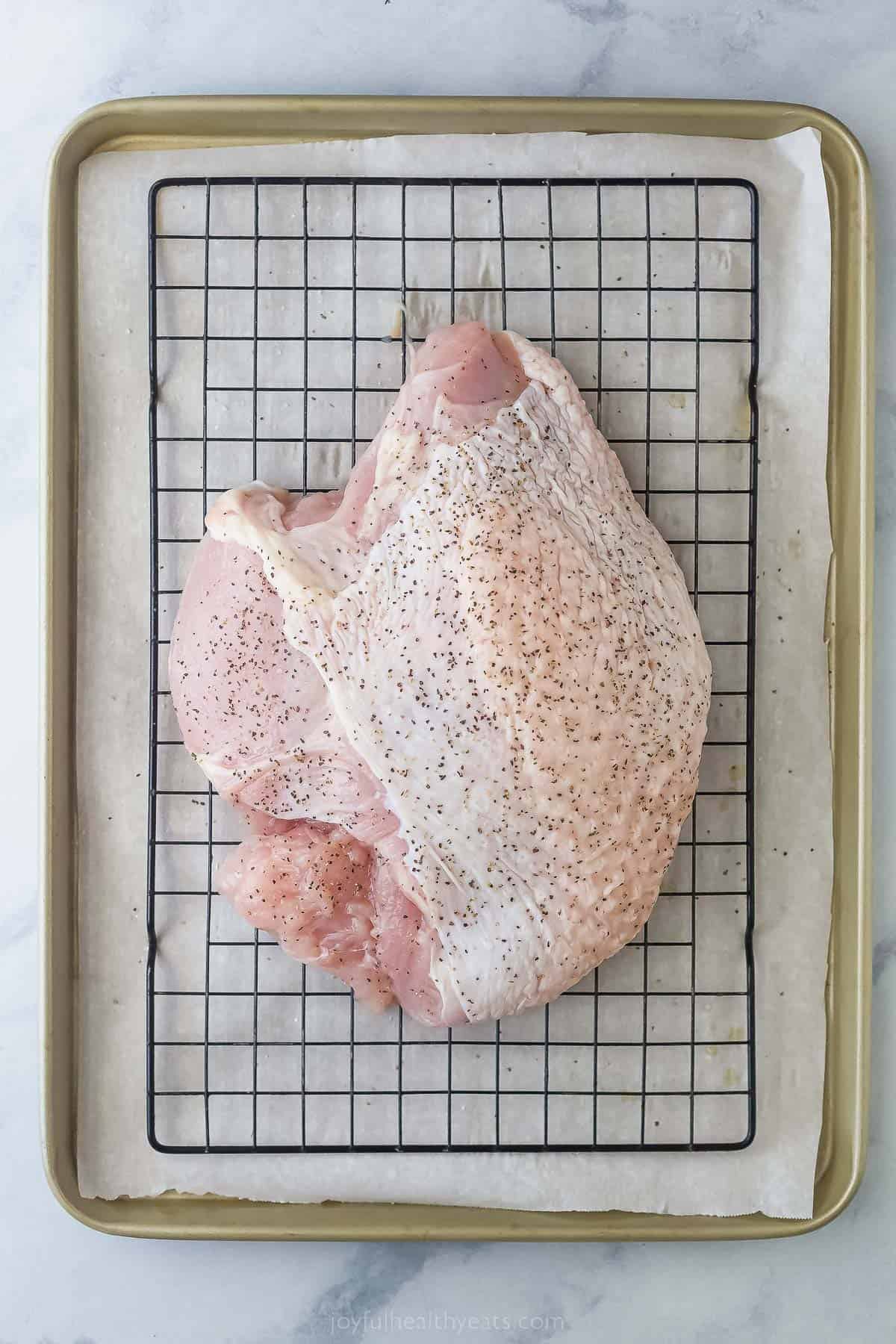 Next, prep the turkey by seasoning it generously with salt and pepper. Make sure that you season both sides of the turkey breast.
Then lay the citrus slices flat on the cooking rack and place the turkey breast on top. The lemon and orange slices are like a bed for the turkey to lay on.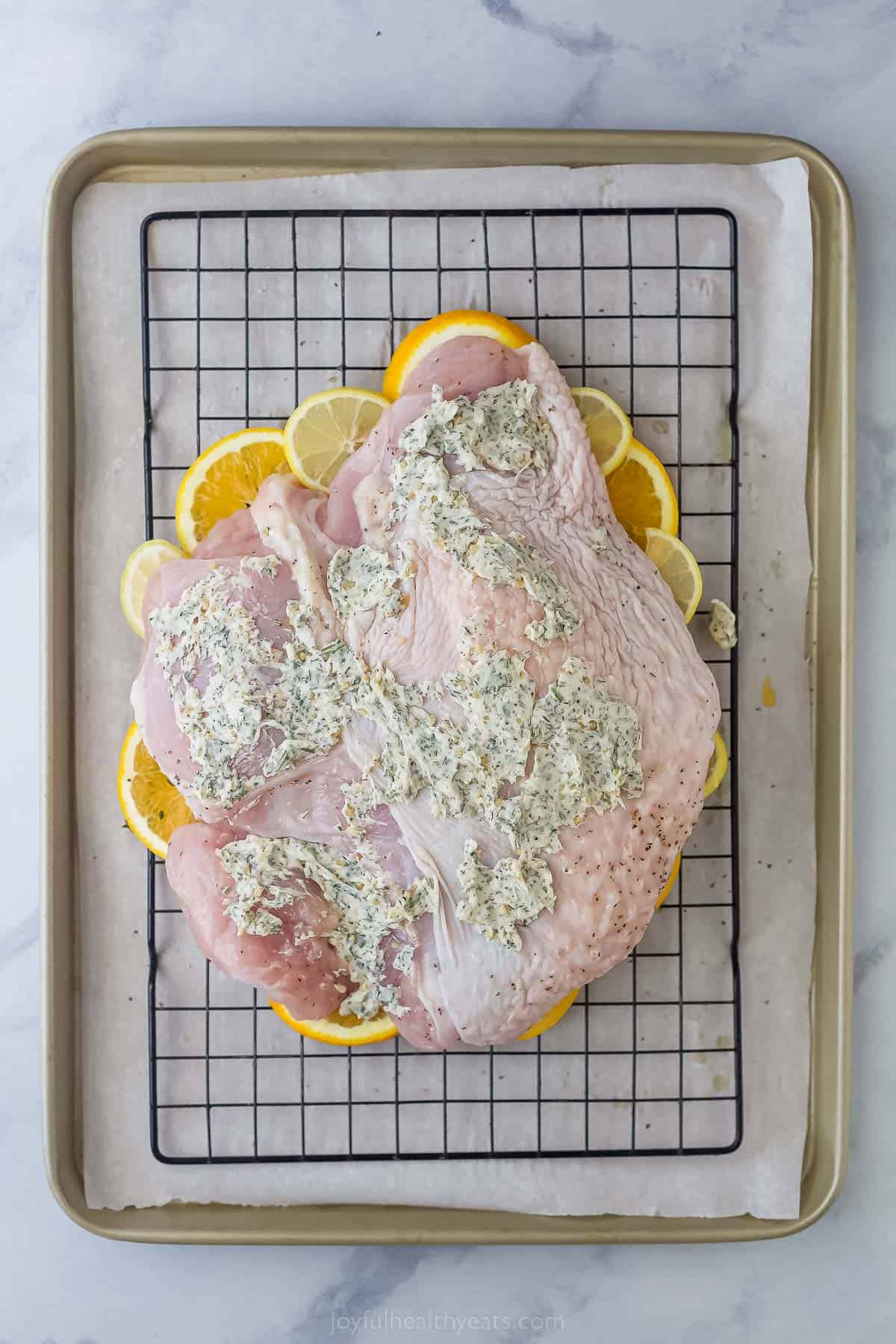 Next, rub a portion o the garlic and herb butter onto the turkey breast. You must rub it underneath and on top of the skin. Then place the cheesecloth over the turkey breast.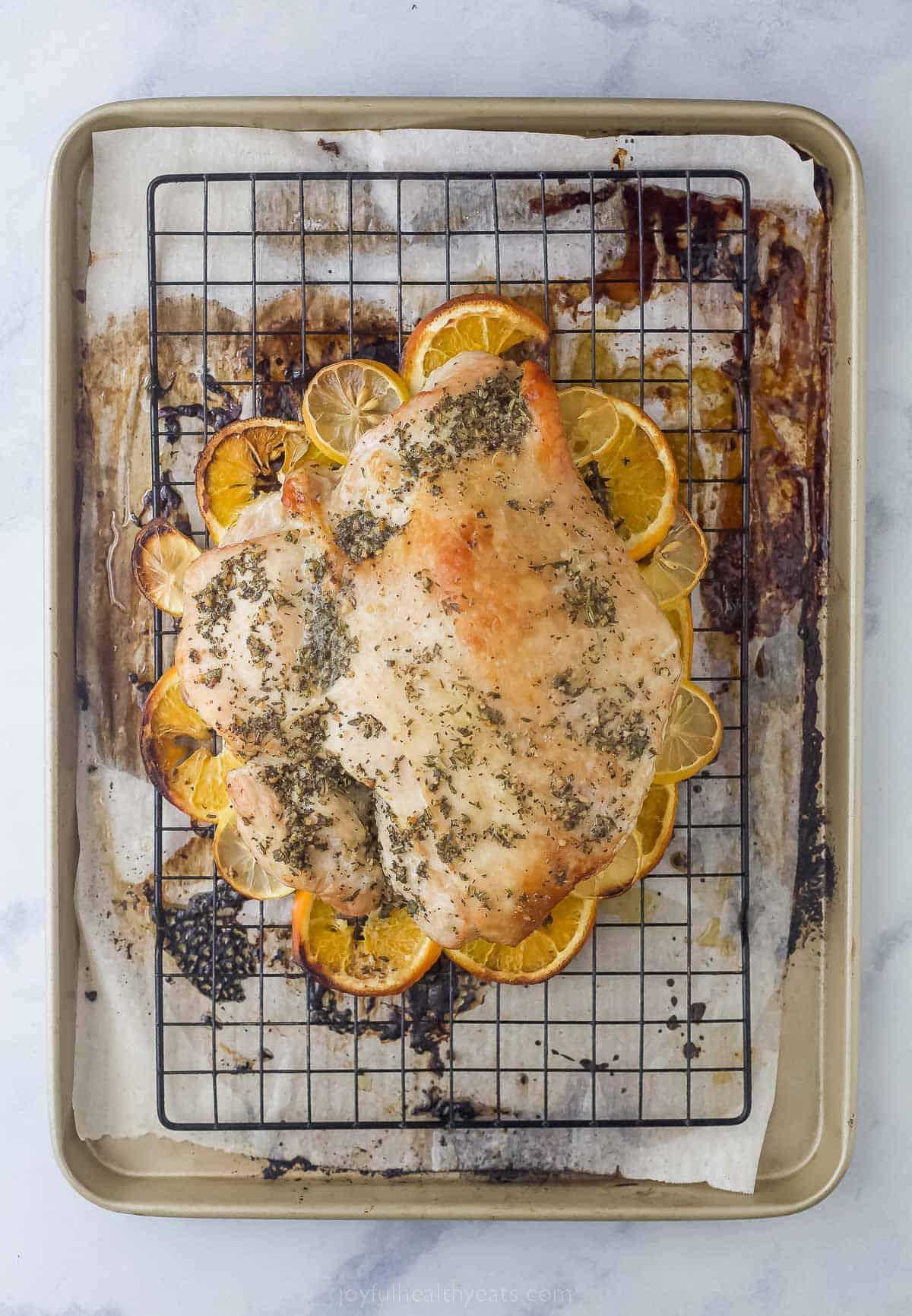 Next, bake for about 1 hour. Then remove from the oven and put the remaining butter on top and roast for another 15 minutes.
The turkey is done once the internal temperature is at least 165F and the juices run clear. It's important to let the turkey breast rest for about 10 minutes before slicing.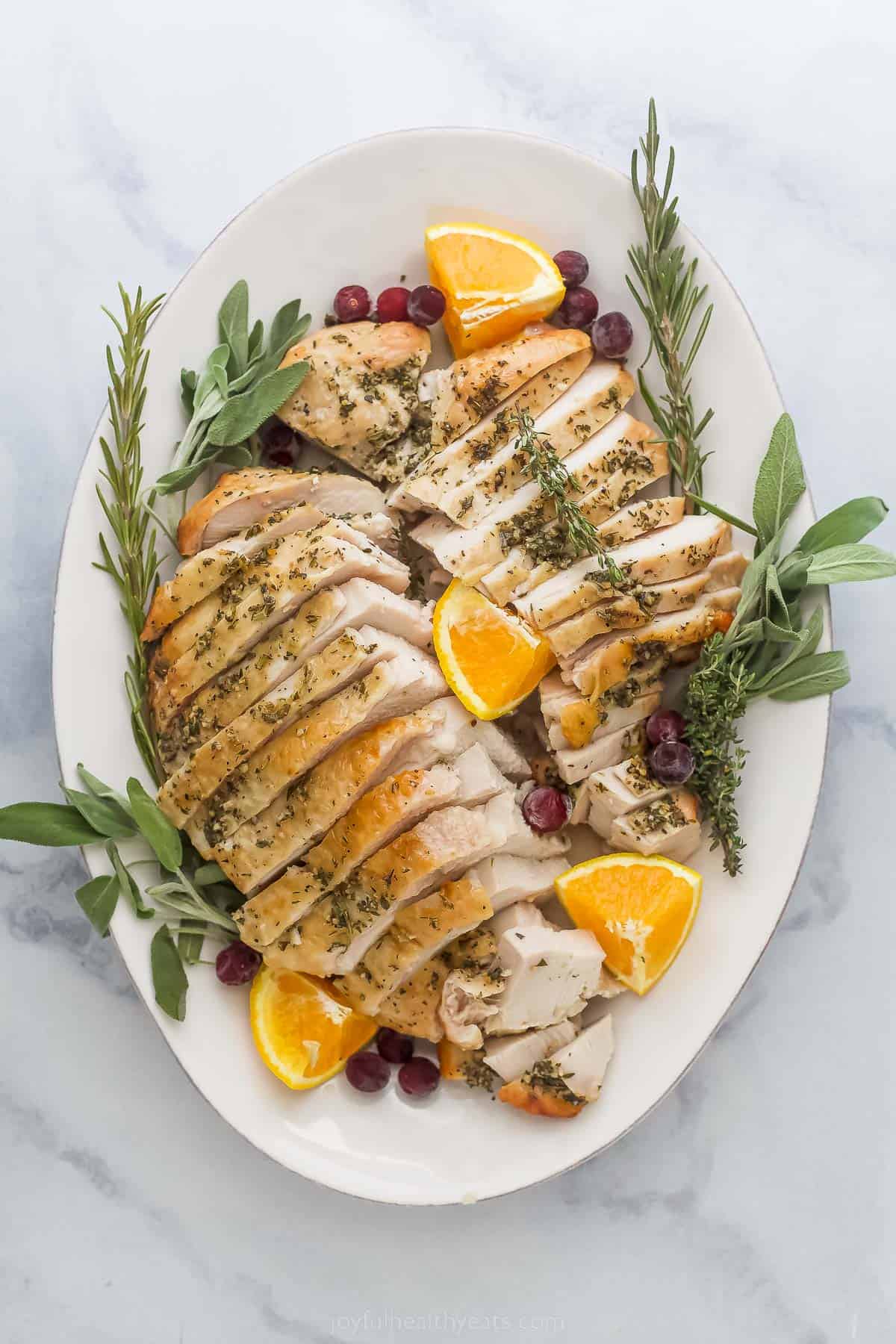 Tips for Success
Here are some helpful tips to follow when making this recipe. The tips are also great for cooking a whole turkey and not just roasted turkey breast. So take note for Thanksgiving Day!
Leave the skin on! I know it's tempting to remove it to make the dish a little healthier, but it's the secret weapon for keeping the flavors on the turkey! It crisps up perfectly while roasting and is so delicious.
Use fresh herbs when you can. I highly recommend using fresh herbs for the butter. But if you are in a pinch you can use dried instead. Dried herbs are better than no herbs!
Always let the turkey rest after roasting. This is the best way to assure that you have juicy and tender meat.
Common Questions
Here are some pretty common questions that come up when making this roasted turkey recipe.
How do I keep my turkey breast moist?
The most important thing to do is to let the turkey rest before slicing it. Also, the cheesecloth helps insulate the turkey so the skin gets crispy but the turkey doesn't dry out.
What's the best temperature to roast turkey breast?
350F is the best temperature to roast turkey breast. You don't want it to be too much higher or the turkey breast will dry out.
How long do you roast a turkey breast per pound?
The general rule is that you bake a turkey breast for 20 minutes per pound. You want to be sure it reaches an internal temperature of at least 165F.
Do you roast turkey breast covered or uncovered?
It's best to cover roasted turkey breast so that it doesn't dry out. It's white meat, which will dry out faster if cooked uncovered. We use cheesecloth to cover the turkey in this recipe.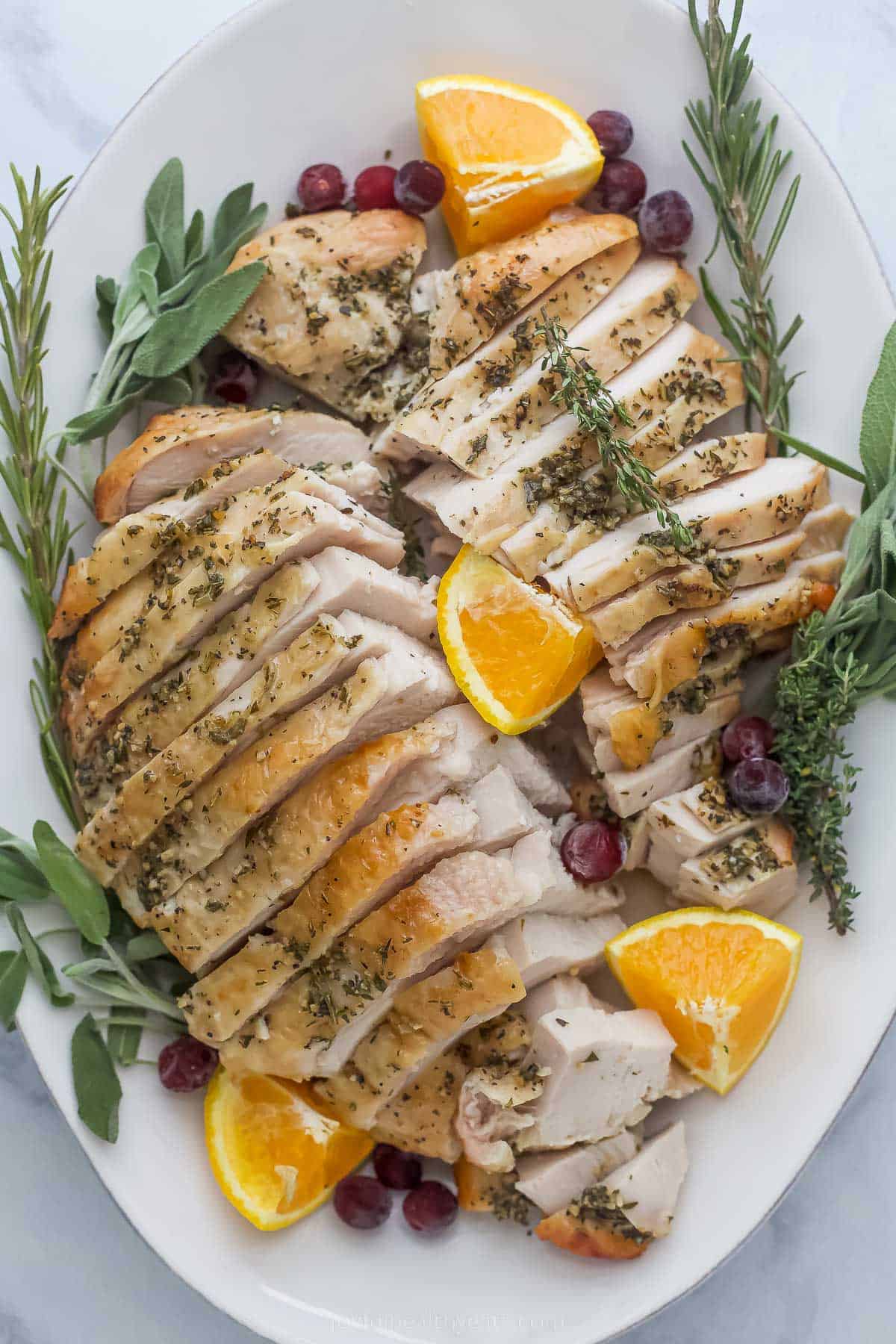 Serving Suggestions
Here are some suggested side dishes for this roasted turkey recipe. Of course, there are all the traditional Thanksgiving sides but then there are a few other options, too!
How to Store & Reheat Leftovers
It's best to store any roasted turkey breast leftovers in an air-tight container in the fridge for up to 5 days. You can eat the leftover turkey cold. Or I like to reheat it in a sauté pan with a splash of chicken stock or broth. This prevents the turkey from drying out while reheating it.
You could also use it up in this epic leftover Turkey Salad Recipe.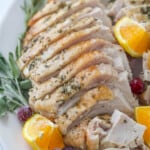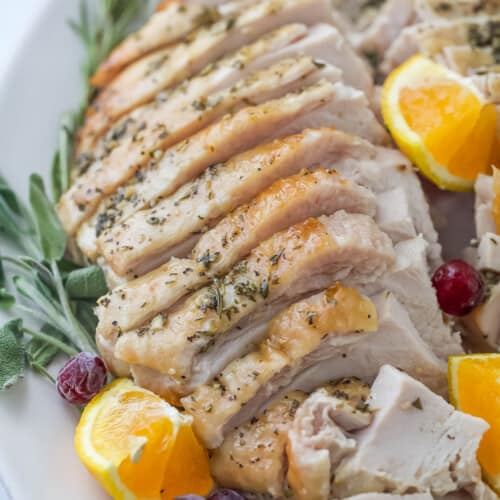 Garlic Herb Oven Roasted Turkey Breast
---
Description
This simple Roasted Turkey Breast recipe is rubbed with Garlic Herb Compound Butter and baked until it's perfectly juicy and tender. It's so simple and has that authentic Thanksgiving flavor!
Scale
Ingredients
4

–

5

lb boneless turkey breast, skin on

1

orange, sliced

1

lemon, sliced
large sheet of double lined cheesecloth
Garlic Herb Butter:
1

stick unsalted butter, softened

2 teaspoons

 salt (I used black truffle salt from Sur la Table)

1/2 teaspoon

ground black pepper

1 teaspoon

 fresh tarragon, chopped

1 teaspoon

 fresh sage, chopped

1 tablespoon

 fresh thyme, chopped

2 teaspoons

 fresh rosemary, chopped

3

 garlic cloves, minced
Instructions
Preheat oven to 350°F.
Place turkey breast on a large wire-rack lined baking pan or roasting pan. Pat dry with a paper towel. Generously season both sides of the turkey with salt and pepper. I used around 1-2 teaspoons of salt and 1 teaspoon of black pepper.
Put orange and lemon slices directly under the turkey breast, you may have to lift the turkey breast up slightly to do this.
To make the garlic herb compound butter: place the softened butter in a medium bowl along with salt, black pepper, tarragon, sage, thyme, rosemary and garlic cloves. Mash together using a fork or spoon until everything is combined.
Separate out 3/4 of the butter mixture, set aside the remaining 1/4 for later use.
Starting at the breast, using your fingers, gently separate the skin from the body of the bird so you have a little "pocket." Gently rub 3/4 of the butter mixture under the skin as well as on top of the skin.
Cover turkey breast with double-lined cheese cloth.
Bake for 1 hour. 
Remove the cheesecloth from the top of the turkey. Top with an additional 1/4 of butter and roast another 15 minutes or until the internal temperature of the turkey is 165°F. 
Once the turkey breast has come to temp, remove from the oven and let rest for 15 minutes before slicing.
Keywords: roast turkey breast, turkey breast in oven, oven roasted turkey breast, baked turkey breast
More Thanksgiving Recipes:
DON'T MISS A RECIPE ->