Looking for Rotisserie Chicken recipes and meal ideas? This 101 guide with a curated roundup is for YOU! Rotisserie chicken is my favourite grocery store item to pick up on the way home for a quick and easy dinner. It's a healthy food with big potential to rework into all sorts of meals and the leftovers are always fun to use up.
---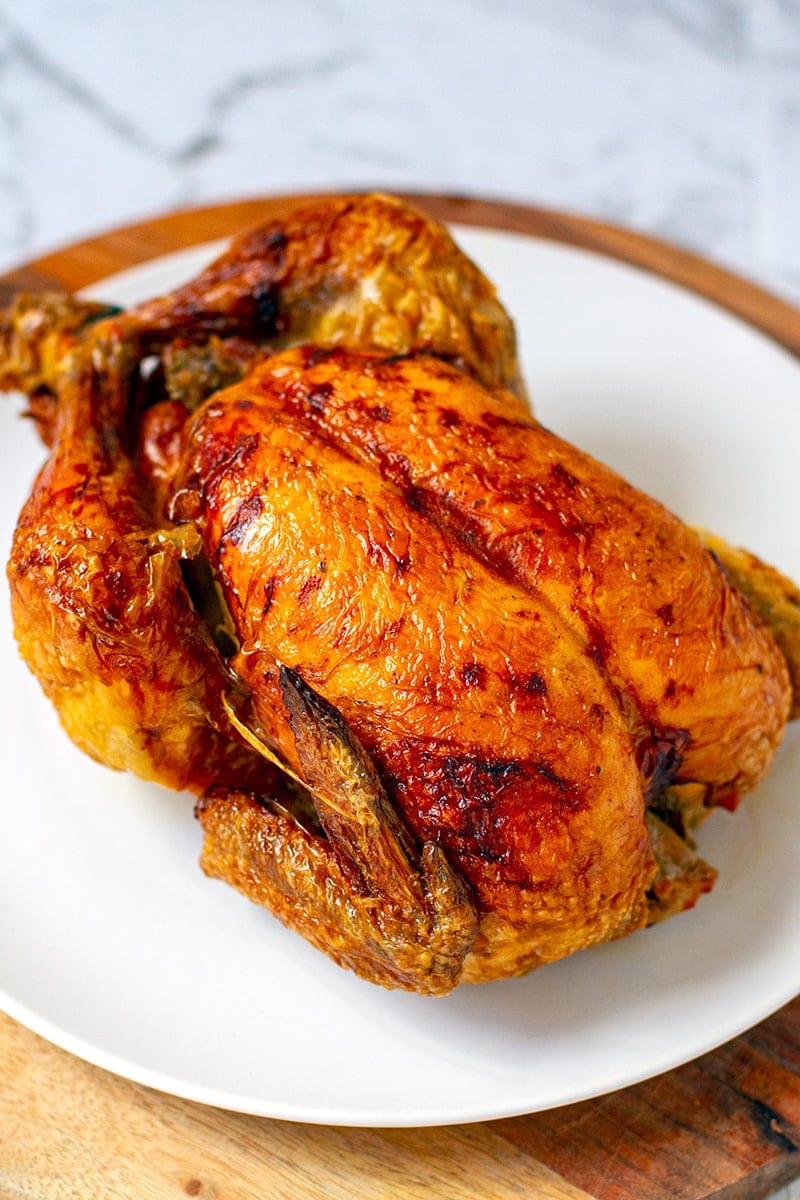 What Is Rotisserie Chicken?
Rotisserie chicken is often used to describe chicken cooked by a particular method. The rotisserie method – or spit-roasting – holds the bird in place and cooks it evenly on all sides, in direct heat. Many people use the term Rotisserie chicken to describe good old roast chicken! 
You can usually find Rotisserie chicken already prepared at grocery stores and bigger supermarkets. It's sold both hot and cold, usually in a plastic or paper bag to keep all the juices in. In Australia, you would find it near the deli section at Coles and Woolworths or from a local chicken shop. 
As food or an ingredient for your next meal, it's relatively inexpensive and is usually cooked to perfection. It is often more cost-effective than roasting your own whole chicken when you take into account the prep and cooking time and the oven usage. 
You can also stretch one bird into a couple of meals, with many leftover Rotisserie chicken recipes to choose from. 
---
Is Rotisserie Chicken Healthy?
The short answer is: YES.
After all, rotisserie chicken is just a way to cook a whole chicken! Not only is the chicken itself a healthy protein option, but cooking with the whole animal has many added benefits. You can cook the organ meats and use the bones for broth which means even more healthy food options versus buying only breasts or thighs. Chicken is high in B-vitamins, many minerals and iron.
Make sure to get free-range chicken, and organic chicken whenever possible! It's not only healthier but tastes much better too.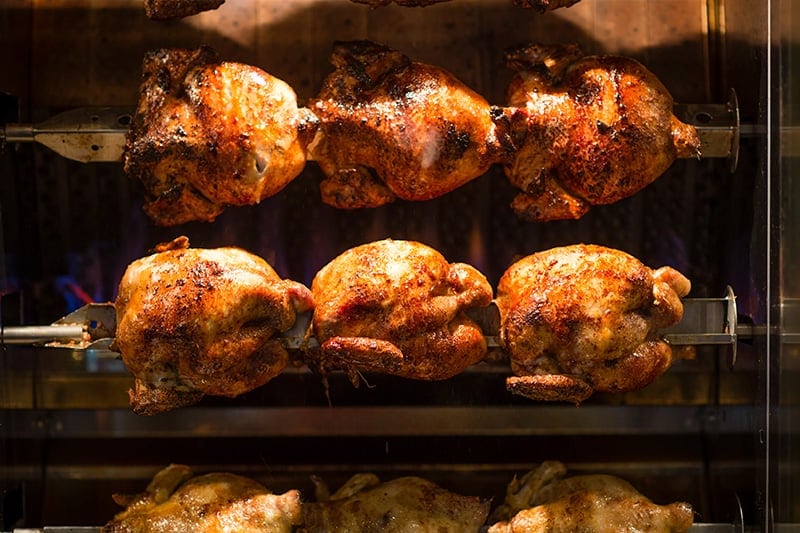 How Many Calories Are In Rotisserie Chicken?
Determining the calories in a rotisserie chicken takes into account the cooking method, how much light meat and dark meat are on the bird, and whether or not you eat the skin. Typically, you can get the accurate calories by measuring your serving of actual shredded chicken which is simple to calculate.
A whole bird consists of approximately 350 g/ 12 oz. of light meat and 250 g / 8-9 oz. of dark meat (think thighs/legs). If you don't count the skin, this comes out to around 1,000 calories for the entire chicken.
Of course, this will vary quite vastly with the size of your chicken. Measuring or weighing individual portions is the most reliable source of calories in a rotisserie chicken, but here are some ballpark figures:
115 g / 4 oz. serving of chicken breast without skin: 162 calories
115 g / 4 oz. serving of chicken thigh without skin: 220 calories
Adding skin will add some calories from fat.
115 g / 4 oz. serving of chicken breast with skin: 198 calories
115 g / 4 oz. serving of chicken thigh with skin: 256 calories
---
How To Cut A Rotisserie Chicken
On a large cutting board, place the chicken breast side up. Prepare to cut the chicken with a boning knife or a serrated knife. If you don't have either, a sharp, long knife is preferable. You can also use kitchen scissors.
First, cut the legs. Pull the leg away from the rest of the chicken and using a sharp knife cut through the connective tissue. Repeat on the opposite side. You may come into some bony sections during this part and others. You can move around the bone and cut closer to the joints if that's the case. Remove the thighs from the drumsticks and set them aside.
Next, you'll carve the breast. You can remove the whole breast by cutting it horizontally and then slicing it. You can also use a very sharp knife to directly cut the breast into slices after making a vertical cut down the centre.
Remove any additional meat from the exposed carcass to clean and snack on. You can also leave the meat to add flavour to bone broth later.
Serve and enjoy.
---
What To Eat Rotisserie Chicken With
Let's make a meal of it! The rotisserie chicken is the perfect protein option – now what? There are so many ways to serve up this grocery store staple at home whether you want something quick and easy or ultra-impressive without all the work.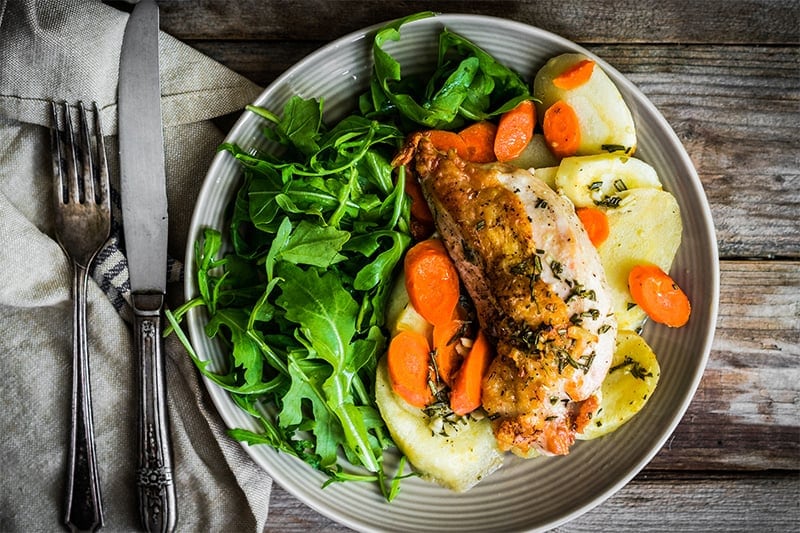 With roast veggies. This is an especially good option if you are making your own rotisserie chicken at home and cooking everything together. Simply toss your favourite veggies in some oil and bake sheet pan style for a nutritious and tasty meal.
With mashed veggies & gravy. Potatoes, cauliflower, whatever you prefer. Mashed veggies with some delicious butter and salt make for the perfect hearty companion to a rotisserie chicken. I love this super easy and quick gravy recipe from Recipe Tin Eats using stock cubes that requires no drippings.
On a salad. Whether you make your own salad with all your favourite toppings or buy a bag salad from the store, rotisserie chicken is an amazing protein option.
In a soup. Soup can be a great way to get a quick and healthy meal on the table, prepare to have leftovers, and use up some extra veggies and ingredients lying around – including a rotisserie chicken. Bonus: make your own bone broth with the carcass.
In a sandwich/wrap/roll. Sliced or shredded roast chicken makes a very delicious sandwich. I love it with garlic aioli (mayo) or honey mustard, avocado and sun-dried tomatoes, or with creamy coleslaw.
On its own. Rotisserie chicken makes for a very satiating snack! Sometimes, you just need a protein boost when you're feeling super peckish.
Find more exciting recipes with rotisserie chicken meat lower down in this post.
---
How To Keep Rotisserie Chicken Warm?
At grocery stores, you'll usually find the rotisserie chickens lined up under heat lamps to keep them warm. This is a great option for a ready-to-eat dinner if you're ready to serve it right after shopping. Otherwise, keeping a chicken warm can be tough to do at home without drying it out.
You can add a shallow pan of water to your oven and place the chicken at a low temperature (250-350F, 121-176C). The water will create a steaming effect which will help to ensure your meat remains moist and tender. Alternatively, you can simply reheat the chicken in the oven or keep it in after buying it to ensure food safety standards. A short period of time likely won't lead to overcooking and drying out.
You could also wrap an already-hot rotisserie chicken in tin foil to keep warmth in, which should work well for periods of time under an hour.
How Long Can Rotisserie Chicken Sit Out?
Food safety is critical for pre-heated foods. The temperature range at which cooked foods produce bacteria rapidly is 4°F-140°F / 4°C-60°C (the fastest rate of growth is at around 37°C). You can safely keep food here for up to four hours if the food was kept at the higher end of the scale previously (say when it was kept at over 60 C at the grocery store).
If you plan to keep your chicken out for longer, you will need to refrigerate it or keep it above 60 C / 140F. This practice will help you to prevent foodborne illnesses.
How Long Does Rotisserie Chicken Last?
A rotisserie chicken can be kept in the fridge for 3-4 days as a rule of thumb. You may have some flexibility before it goes off, but you can simply freeze the chicken in case you don't get around to having it quickly enough.
How To Freeze Rotisserie Chicken
I recommend carving the chicken and freezing it shredded or sliced. This makes it simple to use later by simply reheating the meat or adding it to something like soup when it's still frozen.
Avoid the microwave if you want to retain optimal taste and texture. Lastly, don't defrost chicken at room temperature to ensure safety, do it in the fridge overnight.
Make sure to remove the skin and all cartilage and bones before freezing the chicken. I store them in a separate bag or container to make chicken broth with.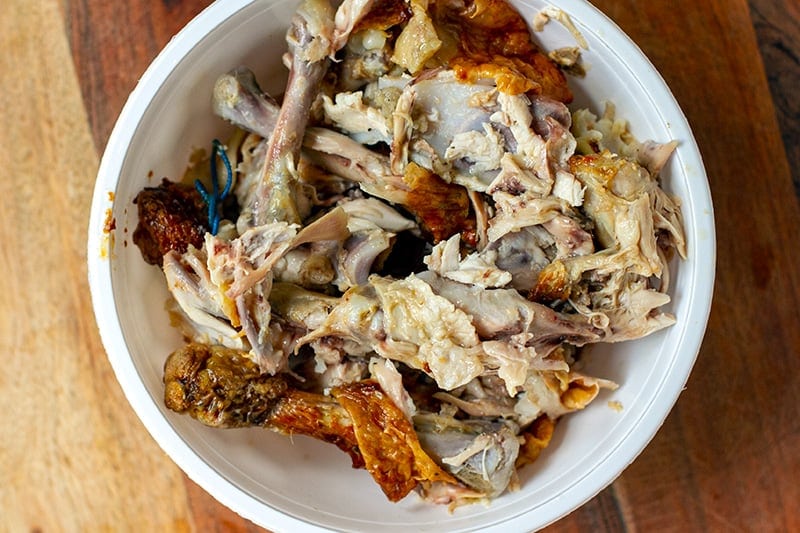 You can store rotisserie chicken in containers or Ziploc bags. I will often store individual portions of shredded or diced meat, including smaller ones for my toddler daughter.
It's best to lay the meat relatively flat in Ziploc bags for easier stacking in the freezer. You can also store layers of shredded chicken between pieces of parchment paper in a larger container.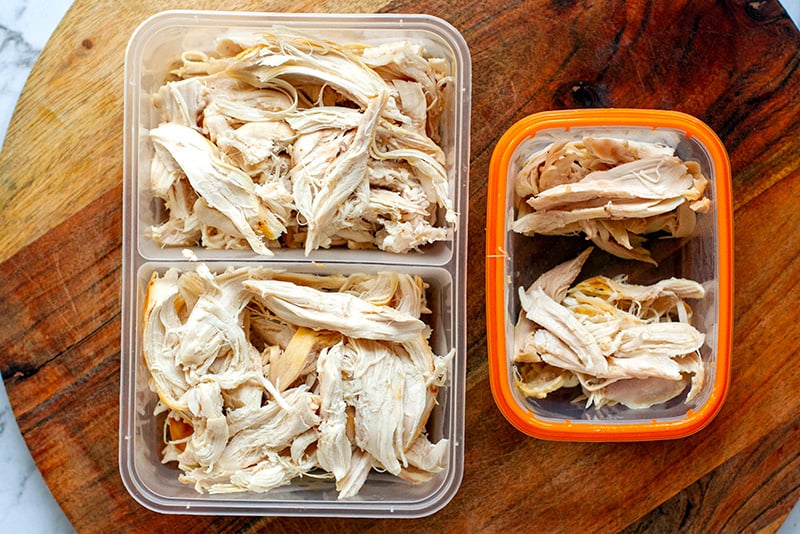 Rotisserie Chicken Recipes
---
---
---
More Leftover Rotisserie Chicken Recipes
Do you have a favourite way to serve rotisserie chicken? Any go-to meals or recipes? Or, if there is something else you'd like to ask about using rotisserie chicken, let me know in the comments.