This post is part of the #SamsSalsaRecipeChallenge hosted by Sam's Fresh Salsa (on IG, on FB)
Well, Kiss my grits! Salsa Butternut Squash Grits with Roasted Shrimp & Corn is an unbelievably fresh, fit, flavorful and fast recipe! Like 15-minute fast! Plus, only 261 calories per serving, 20g protein, 36g carb and 3g fat!
Some of my friends think making amazing-tasting meals, with wholesome ingredients, and on-point macros is an all-day affair. I say nope, nada, and now way to that! Bring a "wow" recipe to the table and impress your family with this easy shrimp recipe that uses a few quality convenience products to make life easier — like salsa like mom would have made from the garden, but prepped and packaged up at peak flavor from Sam's Fresh Salsa.
Sam's Fresh Salsa crafts crave-worthy salsas that are made with real ingredients with zero preservative, zero additives, and zero yucky stuff. You can feel confident you are eating the best salsa around, and the quality is guaranteed.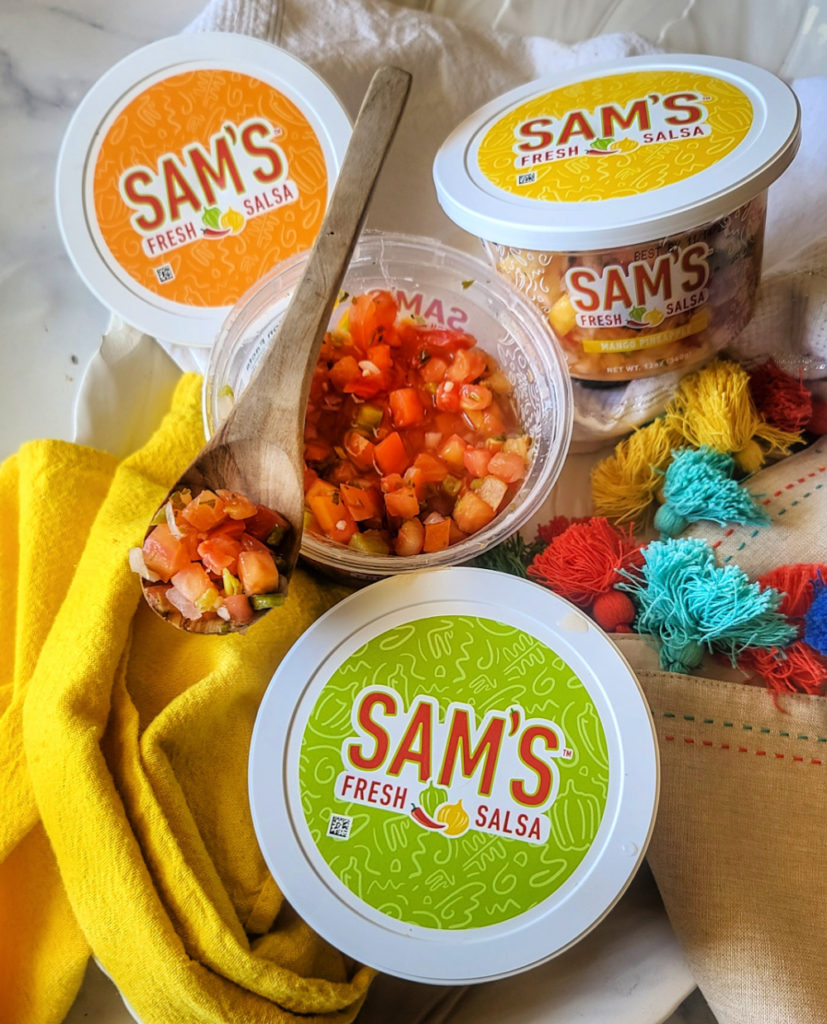 To get this salsa shrimp and girts recipe in just 15 minutes, it's broken up into two main tasks. You can't beat a 15 minute shrimp recipe — and Sam's Salsa gives it the flavor!
First, toss thawed shrimp and frozen corn on a baking sheet and sprinkle with spices and drizzle with olive oil. Bake that for 15 minutes at 425F.
Second, while the shrimp is roasting in the oven, whip up all ingredients for the grits in the MICROWAVE. Quick grits, produce-department cut cubes of butternut squash, and Sam's Fresh Salsa put an unexpected southwestern and seasonal spin on an old-school side dish. It all cooks up in the microwave in 10 minutes and ready just about when the shrimp is done!
Pile grits in a bowl, top with roasted shrimp and corn, and extra Sam's Fresh Salsa, Mild or Medium – your choice! Of course, salsa is great as a dip with chips, but using it as a quick and easy way to elevate the flavor in many recipes without adding a lot of calories or fat — like these salsa shrimp grits.
I've been a fan of making Sam's Fresh Salsa recipes for a while, for dipping chips of course, but also drizzling on fish, salads, and other personal creations like these Salsa Verde Spinach, Corn & Rice Poppers, a popular snack at my house and also works as a party appetizer.
You can purchase Sam's Fresh Salsa at fine stores like ShopRite, Acme, and Safeway. If they are not in your local store, ask them to carry Sam's Fresh Salsa products!
An amazingly flavorful, fit and fast meal, ready in 15 minutes!
Course:

dinner, dinner, entree
Cuisine:

Southwestern
Keyword:

grits, salsa, shrimp
Calories: 261 kcal
Sheet Pan Shrimp & Corn
12




oz




med raw shrimp




peeled, deveined, tail on (or off, your preference), thawed

¾




cup




frozen corn

1




tablespoon




olive oil

1




teaspoon




garlic salt

1




teaspoon




chipotle chili powder

½




teaspoon




ground cumin
Salsa Butternut Squash Grits
2




cups




vegetable broth

¾




cup




quick-cook grits

10-




oz




package ready-to-cook butternut squash cubes




from bag in produce dept

1




cup




Sam's Fresh Salsa




extra for garish– Medium or Mild (your preference)

1




tablespoon




chopped fresh cilantro

2




tablespoons




crumbled feta cheese




optional
Preheat oven to 425F.

Pat thawed shrimp dry with paper towels. Add to rimmed baking sheet Add corn to baking sheet. Drizzle with olive oil; sprinkle with garlic salt, chili powder, and ground cumin. Mix everything up in pan and then spread out into single layer. Roast in oven for approximately 15 minutes, or until shrimp done and corn turning brown in places.

Meanwhile, while shrimp is cooking, prepare grits. Add broth to 2-quart microwave-safe container (I used a 2-quart Pyrex measuring cup). Microwave on high for about 10 minutes topping to stir every 3 or 4 minutes. Grits will be done when water is absorbed and grits and butternut squash are softened. Stir well, and mash up the butternut a little bit with spoon.

Divide grits among 4 serving bowls or one large bowl to present family style. As soon as shrimp are ready, remove from oven and divide among bowls. Garnish with cilantro, additional salsa, and crumbled feta cheese.