The government has been criticised for its "completely inappropriate" endorsement of an e-cigarette manufacturer blamed for fuelling an "epidemic" of underage vaping in the US.
Juul Labs was promoted in an official briefing circulated by the Department of Health and Social Care about the prime minister's plan to close a loophole allowing free samples to be given to children.
The press release – which included quotes from Rishi Sunak, England's chief medical officer Chris Whitty and health minister Neil O'Brien – portrayed the company as a leader in combatting youth vaping, saying it "takes steps to ensure its products do not appeal to and are not used by anyone who is under age, and encourages others in the sector to do the same".
It also included a quote from Joe Murillo, a former tobacco executive and chief regulatory officer at Juul Labs, in which he praised the UK government's policy and called for more to be done "to combat underage use of these products". The briefing – which was sent to journalists before the policy was announced publicly – appears to have directly resulted in positive media coverage for Juul, with Murillo's quote republished by four national newspapers.
But it failed to mention that the company has been blamed more than any other for fuelling an "epidemic" of youth vaping in the US, and in recent months has agreed to pay out more than $1bn to settle claims it unlawfully promoted its products to children.
In the latest settlement, in April, Juul agreed to pay $462m to resolve lawsuits brought by six US states after being accused of targeting teenagers through launch parties, product giveaways and use of young models in social media ad campaigns. The firm has not admitted wrongdoing and said the deals were part of its commitment to resolving issues from its past.
Health experts and campaigners said the UK government's promotion of Juul as a champion of tackling youth vaping was "naive" and "inappropriate" and raised questions about potential influence behind the scenes. Deborah Arnott, chief executive of Action on Smoking and Health, said her '"jaw dropped" when she saw the "completely inappropriate" endorsement, which she said "gave the impression" that the company had been given "a seat at the table in determining how vapes should be regulated". "The government needs to make clear that its policy on youth vaping is going to be determined by the evidence, not the interests of the industry," she said.
Professor Gurch Randhawa, director of the Institute for Health Research at the University of Bedfordshire, said it was "cause for concern that any company that's been accused of fuelling youth vaping through its colourful packaging and flavour variety would be included in government policy announcements".
"Although vaping companies state they do not market to children, their products are currently fuelling the current vaping epidemic among young people in the UK," he said.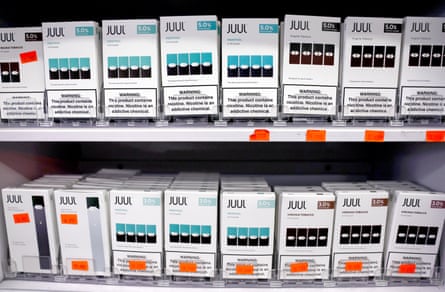 The Department of Health and Social Care said it had "outlined bold action to crack down on youth vaping", including setting up an enforcement team to catch companies selling products to under-18s. "To support our ambition to be smoke-free by 2030, we are working closely with all stakeholders," a spokesperson said. It did not say how Juul came to be included in the press release, or why it had taken a decision to delete a reference to the company from a blog post published on its website.
Labour's shadow health secretary, Wes Streeting, accused the Conservatives of "celebrating a company which has been plugging vapes to children". "This seriously calls into question Rishi Sunak's sincerity when it comes to meaningful action against harmful vaping. Meanwhile a new generation of kids is getting hooked on nicotine," he said.
Juul Labs, which has an office in London and is headquartered in Washington DC, said it was "committed to supporting the government's efforts to provide alternative products to adult smokers while combatting underage use of e-cigarettes".
It added that it had "implemented a company wide reset" to address underage vaping since new leadership took over in 2019 and that underage use of Juul products in the US had declined by 95%. A company spokesperson said: "We do not want any non-nicotine users, especially those who are under age, to try Juul products – which exist only to transition adult smokers away from cigarettes. We continue to take steps to ensure our products do not appeal to and are not used by anyone who is underage, and support policy and regulatory measures designed to prevent underage use."
Research suggests the use of e-cigarettes among young people is relatively low but increasing. NHS figures for 2021 showed that 9% of 11- to 15-year-old children used e-cigarettes, up from 6% in 2018.
Charities are calling for tighter restrictions on marketing e-cigarettes and on the use of the packaging and flavours they say make the products appealing to children. to remove references to the company.