Ministers are considering further new vaping laws such as a ban on colourful branding or flavours to deter their sale to children, amid calls for plain packaging to be extended.
No 10 said the government was considering "further steps" on vaping, with a call for evidence due to close next week. The government announced on Tuesday that it was closing a loophole in the law that allowed companies to give away free samples to children, as concern grows that usage of vapes among under 18s has been on the rise.
A Whitehall source said the government "hasn't ruled out" the idea of plain packaging for vaping and is exploring a number of further measures.
Speaking to broadcasters on Tuesday morning at a lab in Kent, Sunak said the government would take "further action" to regulate the market and promotion of vapes if necessary.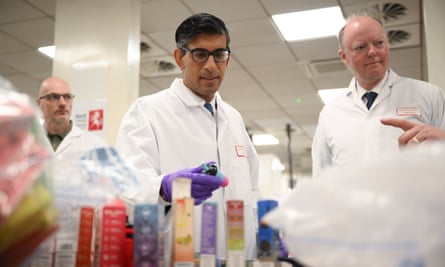 Asked whether he would ban the marketing of vapes to children, he said: "As we have seen here today at this lab, there are a range of products which are clearly not designed for adults. They are designed to appeal to children in the way that they are marketed, promoted, the flavours they use.
"That's why at the moment we are asking for people's views on that and that may well be one of the steps that we take to change how we regulate the market and promotion of vapes.
"They shouldn't be deliberately targeting children, that's illegal. If we need to take further action to do that, that's what we will do."
Asked whether Rishi Sunak backed plain packaging for vapes, similar to that for cigarettes, his spokesperson said there may be "future action that we choose to take".
ASH (Action on Smoking and Health said the ban on free samples was welcome but a "baby step, not the tough action that's needed".
Deborah Arnott, chief executive of ASH, also called for a prohibition on "branding on vapes appealing to children, such as sweet names and bright colours".
"This initial announcement must be quickly followed by more detailed action when the government's current 'call for evidence' on vaping closes next week," she said. "The most important immediate step the government could take now is to put a tax on the cheap disposables which are the vape of choice for children, as well as being bad for the environment."
She said the most popular disposable vape, Elf Bar, can be bought for as little as £2.99 and tax of £5 on a disposable vape would make them much less affordable for children.
Earlier, Javed Khan, who led a review of smoking for the government, told Times Radio that plainer packaging was an "obvious" next step.
"Vaping should be promoted for those adults who currently smoke because it's a much less risky activity than smoking nicotine based cigarettes," he said. "But at the same time, a large chunk of my report talked about the risk of vaping to young people, and set out a whole list of recommendations about what the government needs to do to reduce the likelihood of young people illegally using vape products."
One of the recommendations was closing the loophole on free samples, but others included considering banning the online sale of vapes, banning cartoon characters or images appealing to young people from vaping products, and reviewing the way flavours are described – or even the flavours themselves – to ensure vapes do not appeal to young people.
It also called for an updated school health education curriculum to talk about the risks of vaping and its age restrictions.