On a gently sloping hillside just outside the cathedral city of Salisbury, a group of teenagers are carefully sifting through the chalky earth in search of ancient signs of human life.
Their patience pays off when they uncover pieces of worked flint and fragments of pottery, evidence that this spot in the south-west of England has been settled over many hundreds of years since neolithic times.
This dig is part of a unique pilot project from Historic England to try to improve the wellbeing of young people with challenges in their lives by involving them in archaeology and heritage.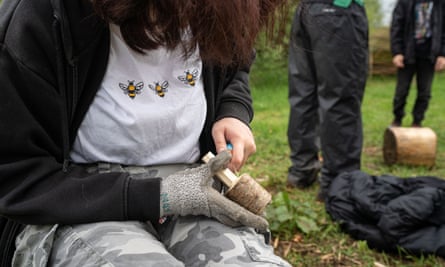 The 13- and 14-year-olds have been exploring the idea of settlements and community in prehistoric Wiltshire. As well as digging, they have constructed shelters, built fires and drawn with ink made from alder cones.
"It's been great to see them," said Leigh Chalmers, the heritage inclusion manager for Wessex Archaeology, which is running the 12-week Rejuvenate project in Wiltshire.
One of her highlights was a girl finding two pieces of pottery (possibly medieval rather than prehistoric) that fitted perfectly together. "She took a picture and sent them immediately to her mum and nan," said Chalmers.
"We know the positive impact spending time outdoors can have on our mood and sense of wellbeing. This project is all about exploring the potential of archaeology to have a positive impact on young people's sense of self, wellbeing and confidence. When they find something they are beside themselves."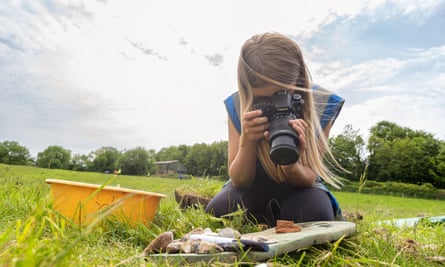 The dig was taking place at Coombe Bissett Down nature reserve, known for its wildflowers at this time of year, including harebells, bee orchids and Wiltshire's county flower, the burnt orchid. It is also a place of settlement, where neolithic, bronze and iron age and Roman artefacts have been found.
They were clearly loving the dig. "Metal detecting and digging is the most fun," said one teenager. "It's quite hard going and it's like you are doing a chore, but it's a fun chore." Another said: "To discover something that has been used from so long ago that you have found by digging is really cool."
The project is inspired by the Operation Nightingale programme, which has been running since 2019, in which archaeology is used to help injured service personnel, and the aim is to roll it out across England.
A second eight-week pilot of Project Rejuvenate is being run in Kent for children who are being supported by the county's youth justice team. There, as well as carrying out digs, the children are exploring wartime tunnels.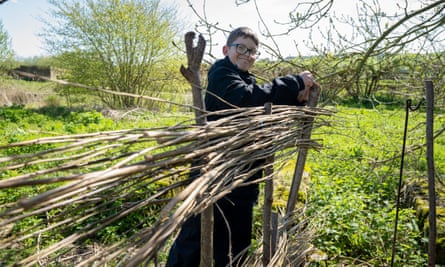 Duncan Wilson, the chief executive of Historic England, said: "This project is all about taking inspiration from history – and prehistory – to learn new skills, get active and build friendships focused on a common task away from the classroom."
Paul Vitty, Historic England's wellbeing and heritage manager, said the children had shown determination and energy. "You can see the joy in their faces. One of them didn't want to stop for lunch – he just wanted to keep digging."
Lena Rose, the safeguarding and welfare officer at St Joseph's Catholic school in Salisbury, said the children taking part were doing better back in the classroom. "We're starting to see benefits with an increase in focus and attendance."